Exceptional military solutions – Safely process and handle hazardous materials
With custom and turnkey building solutions, ClearSpan can help the military and other government bodies handle hazardous materials. ClearSpan offers the most versatile structures, and can design buildings for handling munitions, site remediation, disaster response and much more. ClearSpan's Building Specialists have extensive experience and can help any operation obtain their ideal structure.
The ClearSpan Military Material Storage Advantage includes:
Clear span design – Maximum usable space
Complete containment or natural ventilation
Natural lighting – Cuts energy costs
Build just about anywhere – Permanent or relocatable structures
Low cost per square foot
Quick delivery – Simplified installation
Industry-leading warranties – Up to 30 years on cover, 50 years on steel frame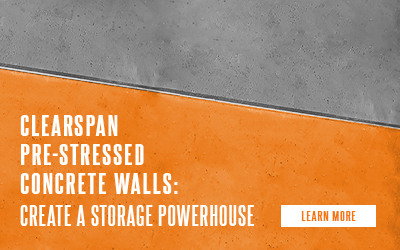 Versatility for Military Applications
ClearSpan offers numerous foundations options, including the exclusive Helical Anchoring System. This helical anchor foundation provides strength, but also allows the buildings to be relocated when necessary. Although it is technically temporary, it is strong enough to be used as a permanent foundation. It is a cost-effective alternative that is ideal for a number of military applications.
When working with ClearSpan, operations have the option to choose between multiple cladding options. Whether it's a fabric cover that provides natural daytime lighting or a metal cladding, customers are sure to get cover that will last decades into the future. Steel frame options include a Truss Arch Frame or an I-Beam frame. The Truss Arch provides a clear span design that is absent of internal support posts, so operations get the maximum amount of usable space in their structure. The I-Beam frame allows buildings to be constructed at the largest scales without sacrificing strength and durability. Both frames feature an industry-leading 50 year warranty that ensures each structure has a long lifespan.
Find out how ClearSpan can help. Request a Quote now.