Indoor Athletic Facilities – A Superior Environment for Training, Competing & Playing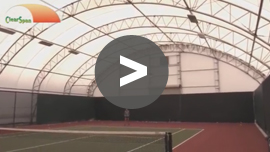 Tennis Facility – Oregon City, OR
Train, compete and play in all seasons. ClearSpan's versatile and unique line of athletic and recreational building solutions is made from the finest, highest-quality materials, ensuring that customers get a building that is durable and dependable. ClearSpan supplies the perfect building solution by creating a one-stop shopping experience that includes in-house design, manufacturing, financing, installation and a wide variety of accessories, so operations can maintain a fully functional building for athletics or recreation.
The ClearSpan Athletics Building Advantage includes:
Buildings for any athletic need
Natural ventilation – Maintains fresh air year-round
Abundant natural lighting – Lowers utility costs, soft on the eyes
Short construction timelines – Utilize buildings sooner
Low cost per square foot
Triple-galvanized steel framing – Durable, long lasting structures

Durable fabric covers – Designed with a rip-stop weave
Climate sensitive covers – Warmer in the winter, cooler in the summer
Industry-leading warranties – 50 years on the frame, 20 years on the cover
Cost-effective foundation solutions – Build just about anywhere, limited excavation
Permanent or temporary building designs
Versatile Athletic Buildings, Superior Structural Integrity
With multiple designs, including fabric, metal and hybrid buildings, there is a structure for any application that can be tailored to even the most specific needs, whether it's for indoor sports complexes or a multipurpose municipal building. These versatile structures can accommodate everything from basketball courts and locker rooms to an indoor track or swimming pool. ClearSpan provides economical foundation options, quick construction timelines, as well as turnkey, stock and design-build solutions, creating budget-friendly structures in a fraction of the time it takes to build traditional wood or red iron buildings.
Frames are built with USA-made, triple-galvanized structural steel that is corrosion resistant and features an industry leading 50 year warranty. Building solutions are available up to 300' wide and at any length, ensuring that no matter the application, there is plenty of available space. ClearSpan buildings can be engineered to meet any municipal and regional building codes, and these structures can withstand balanced and unbalanced snow loads, as well as a minimum of 90 mph winds.
Numerous cover options, including fabric or metal, create an ideal sports center environment. ClearSpan fabric covers feature a 20 year warranty and provide the ability to eliminate the need for artificial daytime lighting by allowing the sun's light to shine through, creating a bright, well-lit atmosphere that lacks shadows. The fabric covers are climate-sensitive and actually keep it cooler in the summer and warmer in the winter. Besides providing an energy-efficient, money-saving option, ClearSpan's fabric covers are also 100% recyclable, ensuring environmentally friendly building solutions that anybody can appreciate.
Temporary in Nature, Durable Enough to be Permanent
ClearSpan buildings can be temporary or permanent and provide an option that can be quickly and easily relocated or expanded upon. ClearSpan provides numerous foundation options, but many customers choose the exclusive Helical Anchoring System. The system is significantly less expensive than traditional foundation options, and it also reduces required excavation. Helical Anchors drill directly into the ground and create a durable foundation that is quick and easy to build. Due to the athletic structures' temporary nature, they generally require little to no property taxes, and this, combined with the minimal required maintenance and the lack of space for rodents and other pests to occupy, creates a solution that is easy and low in cost to maintain. No matter if it's a short or long term solution, these buildings provide the ideal space for any athletic need.
Call a Building Specialist today or Request a Quote