Find the right mining building for your bulk storage needs
When businesses are looking for the right mining building for storage, ClearSpan provides an exception solution and the premier mining bulk storage structure. A mining bulk storage structure from ClearSpan features natural ventilation and allows operations to protect their material and equipment from the elements, keeping it dry and retaining its maximum potential. ClearSpan has a wide variety of foundations that allow materials and equipment to be pushed right up against the edge of the building, creating the maximum amount of storage space.
ClearSpan buildings also feature high clearances and feature designs with no internal support posts, providing the maximum amount of usable space and the ability to operate machinery and equipment throughout the structure. Request a quote today and have ClearSpan's Building Specialists design a mining bulk storage structure specifically tailored to meet the needs of any operation.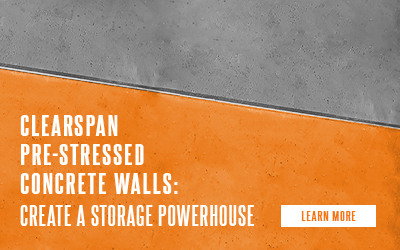 THE CLEARSPAN MINING BULK STORAGE STRUCTURE ADVANTAGE INCLUDES:
A Building of 1,000 Uses – Storage, workspace and more
Multiple foundation options – Build just about anywhere
Maximum height and clearance
Natural lighting – Significantly cut electrical needs
Pre-Stressed Concrete Panels
No internal support posts – Maximum useable space
Multiple cladding options – Metal, fabric or hybrid
Stock and custom designs available
Industry-leading warranties – 50 year warranty on frames

Frame and Cladding – Optimize your operation
ClearSpan's Truss and I-Beam buildings are perfectly suited for use as a Mining Building. Both of ClearSpan's frames are manufactured with triple-galvanized steel, providing strength and resilience against rough aggregate materials. The Truss frame can be built up to 300' wide and at any length, offering enough space to store lots of material, while still providing a comfortable amount of room for workers and equipment. The Truss frame can also be easily expanded on once a company is ready to scale-up their operations. ClearSpan's I-Beam frame design provides exceptional structural stability, allowing structures to be safely built to any size. Both frame options include ClearSpan's industry-leading 50 year warranty.
ClearSpan offers stock, turnkey and custom designs, making it possible to create the ideal Mining building. Every ClearSpan building comes with the choice of fabric or metal cladding. Some of ClearSpan's fabric covers allow light to fill the structure, illuminating everything inside. This helps to create a safe work environment for all those inside, while also helping to reduce monthly lighting costs. ClearSpan also offers metal cladding, providing extra protection for heavy-duty mining applications.
To get more information or start your project, Request a Quote today.