Municipal Hazardous Material Storage
Optimal storage solutions – Custom and turnkey structures for municipalities
Governments and municipalities across the country have to safely process hazardous materials of all kinds, and when they need a custom building solution, ClearSpan is there to help. Whether municipalities need a structure for wastewater processing, leachate containment, air emissions containment, household waste or anything else, ClearSpan's Building Specialists can design a structure that promotes both safety and an ultra-effective working environment. With a ClearSpan structure, townships are able to limit or eliminate dangerous runoff and support a safe local environment.
The ClearSpan Municipal Hazardous Material Storage Advantage includes:
Effective coverage – Limit or eliminate hazardous runoff
Natural ventilation or complete containment
Natural lighting – Significantly reduce utilities runoff
Low cost per square foot
No internal support columns – Maximum usable space
Fast delivery – Quick installation
Controlled climate
Industry-leading warranties – Up to 30 years on fabric, 50 years on steel frame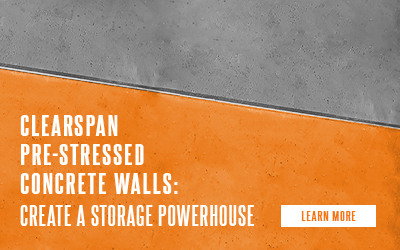 Versatile Building Options for Precise Solutions
ClearSpan has the knowledge and expertise to design, build and install the ideal Municipal Hazardous Material Storage solution for any city or township. When working with ClearSpan, customers have the choice between two quality frames. The Truss Arch frame features no internal support posts, providing the maximum amount of usable storage space and the opportunity for crews to work unhindered by any obstacles. ClearSpan's I-Beam frame is manufactured to provide superior strength, and it allows buildings to be built on a massive scale. Both frames are constructed using corrosion resistant triple-galvanized steel and are backed by an industry leading 50-year warranty.
Each building can be cladded with a number of fabric or metal options. ClearSpan's metal is also triple-galvanized, so it provides an ultra-durable covering. ClearSpan has a few fabric designs that let natural light into the structure, allowing operations to save money on artificial lighting during the daytime.
Find out how ClearSpan can help any municipal need, Request a Quote today.