ClearSpan Cattle Barns – Providing the Best in Livestock Protection
ClearSpan fabric cattle buildings provide a much greater value than the standard cow barn. These structures create an inviting atmosphere that cattle can thrive in. A ClearSpan cattle barn layout can be designed to meet the unique and specific needs of any operation, and besides cattle housing, they are often used as calf barns, milking sheds and more.
The natural design of a ClearSpan cattle building provides a number of unique benefits that can help any cattle operation. The clear span profile, which features no support posts, ensures that each structure has the maximum amount of usable space. ClearSpan cattle barns can provide natural ventilation, and they can be built at a low cost per square foot.
The ClearSpan Cattle Building and Calf Barn Advantage includes:
Comfortable & healthy environments
Promotes rapid weight gain
Clean & dry environments
Limits risk of disease
Natural ventilation
Daytime natural lighting cuts costs
Low maintenance & cost effective 
ClearSpan Fabric Structures provides stock, custom and turnkey designs that can be ideal for any livestock operation. ClearSpan cattle buildings don't have to be just single use. They are great as multi-functional structures, and they allow each operation to get the building that is ideal for their exact needs. 
Check out ClearSpan's famed cow barn, the Beef Master System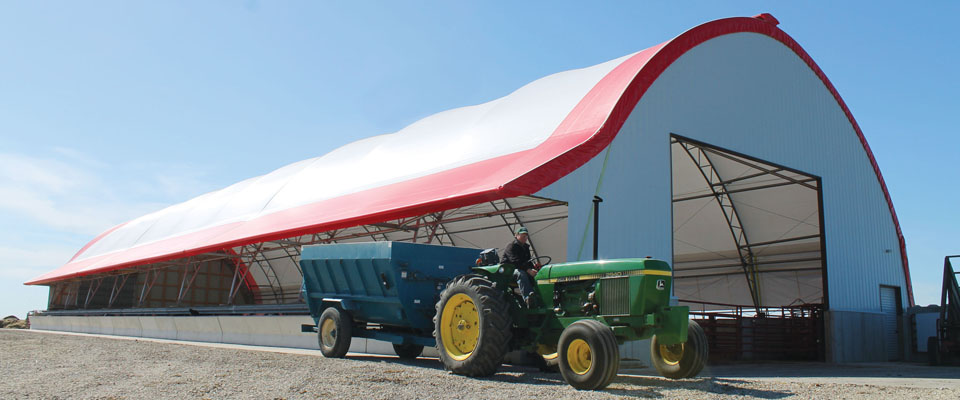 ClearSpan has a long legacy of creating the perfect cattle barn solution. From small and large farms to commercial cattle facilities, ClearSpan has constructed a cattle building for all types of beef and cattle operations. ClearSpan structures can be engineered to withstand the harshest weather, and no matter the winter or summer weather, cattle can be housed comfortably in a stress-free environment. ClearSpan makes obtaining a cattle structure simple by providing in-house design, financing and installation. With ClearSpan there is peace of mind for both the customer and cattle.
Call a Truss Arch Specialist today or Request a Quote