ClearSpan Cattle Buildings – SUPERIOR CATTLE Barn DESIGNs FOR the Best in Livestock Protection
ClearSpan fabric cattle buildings provide a much greater value than the standard cow or hoop barn. These structures create an inviting atmosphere that cattle can thrive in. ClearSpan cattle barn layouts can be designed to meet the unique and specific needs of any operation, and besides cattle housing, they are often used for calf barns, milking sheds, manure management and more.
The natural design of ClearSpan's livestock buildings provides a number of unique benefits that can help any cattle operation. The clear span profile, which features no support posts, ensures that each structure has the maximum amount of usable space for livestock housing and cattle feeding. ClearSpan cow barns can provide natural ventilation that increases air quality, letting fresh air travel throughout the structure for improved cattle comfort. Whether it's a custom design or businesses choose from one of ClearSpan's stock beef cattle barn plans, these structures offer the utmost quality at a low cost per square foot.
The ClearSpan Cattle Building and Calf Barn Advantage includes:
Comfortable & healthy environments
Improves feed efficiency
Promotes rapid weight gain
Clean & dry environments
Limits risk of disease
Natural ventilation
Daytime natural lighting cuts costs
Low maintenance & cost effective
ClearSpan Fabric Structures provides stock, custom and turnkey designs that can be ideal for any livestock operation. ClearSpan cattle buildings don't have to be just single use. They are great as multi-functional structures, and they allow each operation to get the building that is ideal for their exact needs, so they can increase their profit potential.
Check out ClearSpan's famed cattle Barn Design, the Beef Master System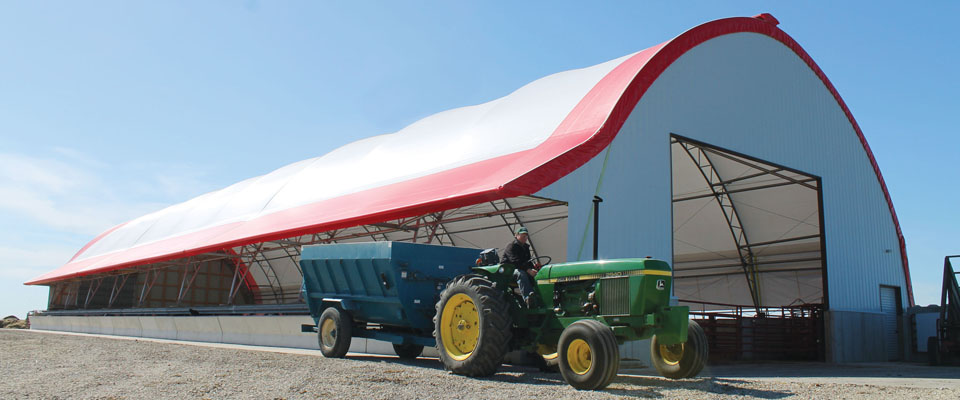 ClearSpan has a long legacy of creating the perfect cattle barn solution. From small and large farms to commercial cattle facilities, ClearSpan has constructed a cattle building for all types of beef and cattle operations. ClearSpan structures can be engineered to withstand the harshest weather, so cattle are able to be housed comfortably in a stress-free environment. The climate-sensitive covers produce an interior that is naturally warmer in the winter and cooler in the summer, protecting against severe wind chill or intense heat.
ClearSpan also makes obtaining a structure simple by providing in-house cow barn design, financing and installation. ClearSpan Building Specialists can lend a hand throughout the entire process, ensuring all cattle barn design plans are tailored around each operation's individual needs. With ClearSpan, there is peace of mind for both the customer and cattle.
To improve your operation with one of ClearSpan's high-quality cattle barn designs, call a Building Specialist or Request a Quote today.
Related Articles
When shopping for livestock solutions, ClearSpan's Beef Master Systems is an obvious choice for cattle operations.
Fabric structures are the perfect agriculture building solution, because of their versatility and long-term dependability.
Making effective use of both passive (natural) and active (mechanical) ventilation systems will displace moisture, heat, pathogens, odor and harmful gases, like ammonia and carbon dioxide.
With the threat of cold and wet seasonal conditions looming, cattle ranchers might find that both they and their herd can benefit from making some changes to a traditional feeding operation.