Looking for New Farm Buildings? Choose Fabric Structures
October 10, 2019
For many years, farmers across the country have used traditional agriculture buildings, like wooden barns, to provide a reliable structure for farm functions. While these structures provide a solution to the needs of a farm, they can be expensive to construct and maintain. Fortunately, there is an innovative type of structure that is more versatile and dependable at a cost-effective price.
Fabric structures are the perfect agriculture building solution, because of their versatility and long-term dependability. Fabric structures also offer environmental benefits for food storage, animals and workers, all at a lower cost per square foot when compared to conventional structures. Farmers in need of new buildings for the farm can find the solution in fabric structures, whether it's for storage, livestock production or anything else.
Read more below to see why fabric structures are the best solution for the needs of any farm.
Durable, Long-Lasting and Affordable Farm Buildings
Wooden agriculture buildings are expensive to build and require regular maintenance that can further increase costs. With the extensive excavation and sitework needed to start building, long construction timelines and quick depreciation, traditional farm buildings are far from cost-effective. Fabric structures, on the other hand, can be uniquely constructed to save farmers time and money without compromising structural integrity.
Fabric structures can have a lower cost per square foot compared to conventional farm buildings. These savings are in part thanks to the way that some manufacturers produce their structures. Many offer designs that use the same sized truss or I-beam frame throughout the entire structure, making the building quick and easy to construct. With faster build times, farmers experience lower construction costs and an overall lower initial investment.
Certain manufacturers also offer fabric structures that can be built on almost any foundation, including wooden posts, concrete pads, helical anchors and even existing foundations. This allows farmers to choose the option that works best for their building site, while potentially lowering construction costs even further. Aside from construction, farmers can also expect to save on regular maintenance.
Fabric structures manufactured with quality materials have drastically reduced maintenance compared to wooden buildings, so farmers can repurpose these savings to improve other aspects of the farm. Farmers should look for a manufacturer that uses galvanized steel for their frames. Galvanized steel frames prevent corrosion in even the harshest conditions, meaning farmers will experience limited maintenance requirements. While a wooden barn can slowly rot away, fabric structure manufacturers that utilize high-quality metals can create a frame that will last for decades.
A well-built frame is an essential component to a long-lasting structure, but the fabric cover is equally as important. High-quality fabric covers are built from reliable materials, like PVC or polyethylene. Polyethylene is a composite plastic favored for use in high-tension scenarios, because of its remarkable strength, ensuring that a fabric cover will not shrink, swell, warp, rip or tear. By choosing a fabric structure with a reliable cover, farmers can use the same building for decades to come without the typical maintenance requirements of traditional farm buildings.
The Ideal Agriculture Buildings for Any Application
Aside from the universal benefits of long-term durability and reduced maintenance costs, fabric structures also offer several improvements to important functions of the farm. Fabric structures offer functionality in any farming application, from storage buildings to dairy barns. Plus, these unique farm buildings can help lower monthly energy expenses.
Some manufacturers offer covers that take advantage of sunlight to light the structure's interior. Fabric structures that allow natural light to filter through create a bright, comfortable environment for livestock, while enhancing visibility for workers. The improved lighting not only creates a safer working environment, but helps inhibit the growth of bacteria and lowers energy expenses. Fabric covers that use natural lighting eliminate the need for supplemental daytime lighting, providing farmers with consistent energy savings.
Farmers who choose fabric structures over traditional agriculture buildings have the opportunity to build a structure that creates a clean, dry environment. The natural ventilation provided by some designs creates a steady flow of fresh air, and often this natural ventilation is enough to hinder the development of mold and bacteria. Preventing mold from developing can save food supplies and lower the risk of disease and mortality in livestock, allowing an operation to be as successful as possible.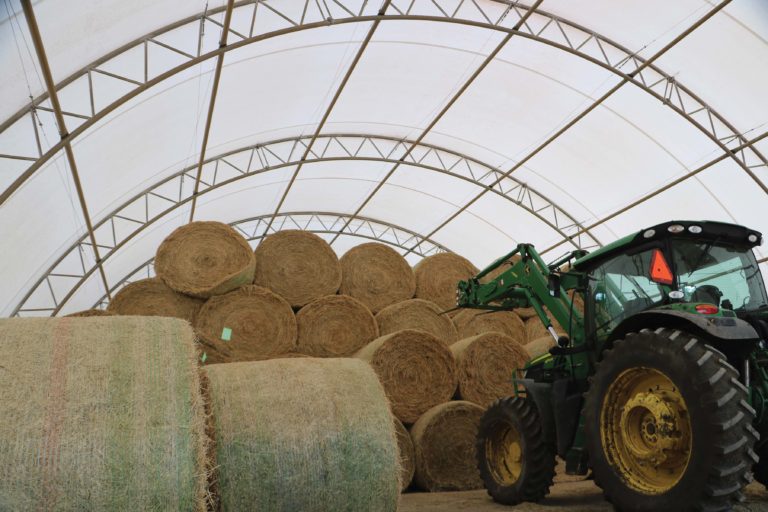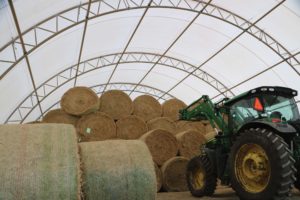 Harvesting and storing feed for cattle, horses, hogs and other farm animals is another critical function for any successful farm or cattle operation. As such, providing proper storage for hay, grain and feed is one of the more important functions of a traditional agriculture building. However, wooden farm buildings have increased susceptibility to problems like mold and pests, which can decimate an entire food supply in severe cases.
Fabric structures, on the other hand, can be designed to ensure hay and other feed is properly stored year-round. Farmers should consider a design that can store large supplies of feed, while also allowing adequate room to store tractors and other farm equipment. One solution to increased storage is building on tall sidewalls, but some manufacturers offer fabric structures that require no internal support posts, providing farmers with maximum storage space and easy access to feed.
The absence of internal support posts can also help farmers create a safer environment for both workers and animals. The added space allows farmers to accommodate pens, stalls, bedding, nurseries and any other housing equipment without limitations. Plus, with a clear span design, farmers can arrange the interior layout of their structure to maximize efficiency and keep livestock stress free, which can promote improved weight gain.
Metal Farm Buildings offer a unique solution to any farming need
Metal buildings can also be a solution for many farms. Farmers should look for metal buildings that can be built to any size, no matter how large, so they can get the farm building that meets their needs. Strong frames, like ones constructed using I-beams, and cladding built with high-grade steel will ensure the structure will last for years to come with minimal maintenance.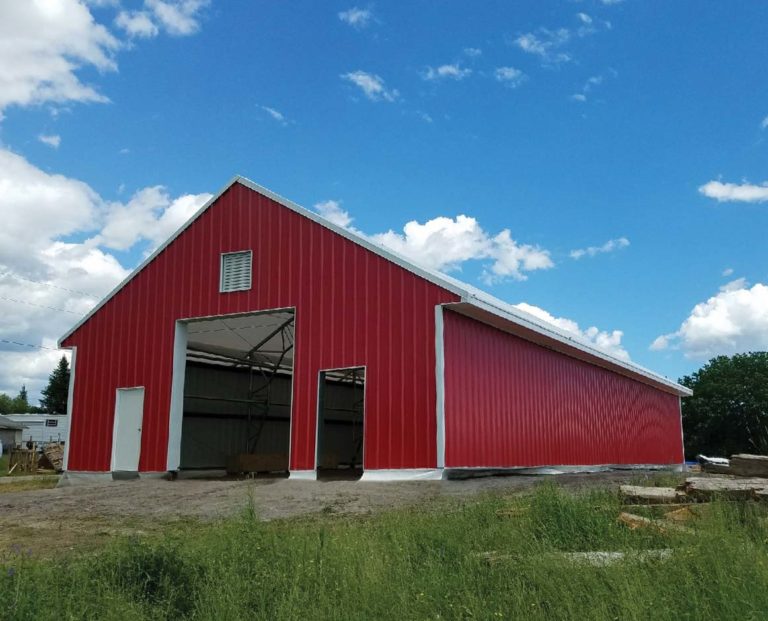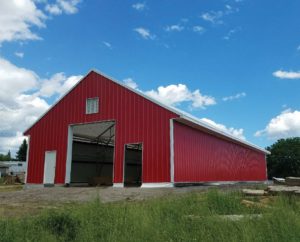 Farmers should choose a reputable manufacturer that offers a range of building customizations. Farmers should also look for metal cladding that is available in multiple channel and color options, so metal buildings can blend in with the rest of the farm. Some manufacturers provide all the necessary building accessories and farm equipment, from lighting, heating and cooling systems, livestock pens and much more. Farmers can ensure their building meets the needs of the farm by getting their structure and building accessories from one, convenient manufacturer.
With a fabric or metal structure, farmers can get a finer agriculture building at a lower cost than conventional options. Superior durability, longer-lasting construction and overall improved environments make fabric and metal buildings the best choice for a new farm building.
To start building now or to learn more about fabric or metal structures used as agriculture buildings, call or Request a Quote today.