Key Traits You Should Look For When Buying A Tent Shed
For consumers, contractors and businesses alike, one of the most common issues that eventually comes up is a lack of space. Whether it's for bulk material storage, vehicle storage or even a workshop or production room, operations and home owners often have to find ways to add new protected areas to their property.
Conventional metal, brick and wood storage sheds can certainly fill the void, but more often than not, these structures are costly and time-consuming to complete. As a result, tent sheds have quickly become a more widespread solution, in large part due to their reputation for being cost-effective, durable and easy to construct.
Still, the market for these structures is flooded with different options, which means there is a surplus of low-quality solutions that businesses and consumers must do their best to steer clear of. This can make navigating the purchasing process difficult, but by referencing the key traits listed below, potential buyers will have the information they need to find a tent shed that's dependable, spacious, versatile and gets the most value out of their budget.
ClearSpan Can Provide Your Ideal Tent Shed
A COMBINATION OF DURABILITY AND AFFORDABILITY
When searching for a tent shed, the first challenge that many businesses and consumers encounter is getting the best value for their money. The cheapest tent shed is never going to be the ideal option, but potential buyers also don't want to overspend on a structure that has an inflated price tag, because of unnecessary features they won't utilize.
Ultimately, the goal is to end up with a durable and long-lasting tent shed that has an effective design, but still offers a low cost per square foot. If potential buyers don't want to end up with a structure that's going to fail after a few years, or even during the first severe weather event it faces, it's important for them to take into account the building materials each tent shed employs.
By factoring the quality of components into their decision-making, they are more likely to end up with a tent shed that stands the test of time, helping them save money long-term from only having to purchase one structure.
A reliable choice for any tent shed's frame is galvanized steel, which is much stronger than other common types of metal used by manufacturers. Galvanized steel undergoes a process where it is applied with a protective coating of zinc, making it more resistant to corrosion, chipping and peeling. A tent shed that's built using galvanized steel framing, like a truss frame, can withstand heavy snow loads, wind loads and even the most caustic environments.
From the right manufacturer, a strong, single cord frame can also be a viable option for these storage shelters. This will not offer as much structural stability as a truss frame, but can be a more economical solution, especially for users located in regions where extreme weather is less of a concern.
Another key component of any tent shed is the fabric material used to cover its frame. Potential buyers will likely run into numerous low-quality covers throughout their search, like thin nylon or polyester, which are often weak and can easily suffer from tears and leaks. Instead of settling for these budget materials, businesses and consumers should opt for a tent shed that utilizes a polyethylene or vinyl cover, as these provide an excellent balance of both dependability and cost-effectiveness.
Polyethylene is a durable and economical cladding option that can last decades when outfitted on a structure. Not only are polyethylene covers typically strong enough to withstand storms, high winds and heavy snow, but they are frequently manufactured with a rip-stop weave, which helps prevent tears from spreading if they do happen to occur.
Additionally, polyethylene covers are known to promote both natural lighting and ventilation, creating a space that's well-lit and comfortable all throughout the daytime, at no cost to the owner.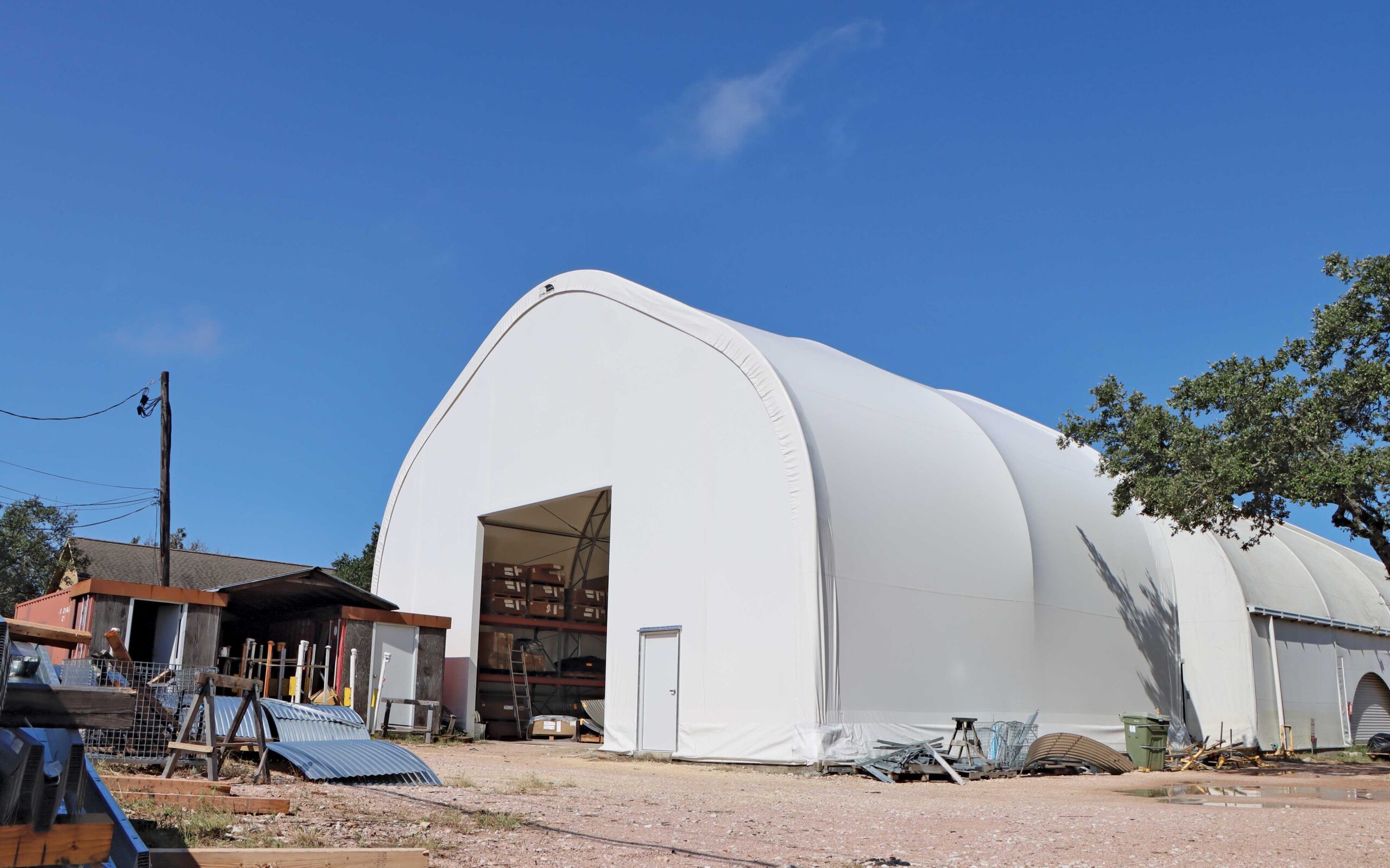 PVC vinyl fabrics are suitable for the most demanding applications and can provide a reliable weather barrier year-round. Many vinyl covers are highlighted by their exceptional price to performance ratio, supplying a tent shed's interior with the utmost protection, while still remaining an economical cladding option. Similar to polyethylene, this material can also be breathable and naturally translucent, helping it promote long-term energy savings.
Sign Up Now to learn more
THE MAXIMUM AMOUNT OF USABLE SPACE
Since the purpose of acquiring a tent shed is often to increase storage or workspace, potential buyers will naturally want to ensure this is a key attribute of their structure. This doesn't mean having to purchase a larger tent shed; rather, it's about finding a design that helps them get the most out of their square footage.
A tent shed's frame plays a significant role in this aspect of its design. Just like other types of framing are unreliable, there are also options that fail to maximize usable space, and the wrong choice during the purchasing process can leave businesses and consumers quickly outgrowing their new structure.
Mentioned prior, truss frames are not only reliable, but they also do a great job of producing wide-open interiors that can be utilized for just about any application. Truss frames take advantage of the triangle's natural strength, allowing them to distribute weight across an entire truss, without the need for interior support posts to manage loads.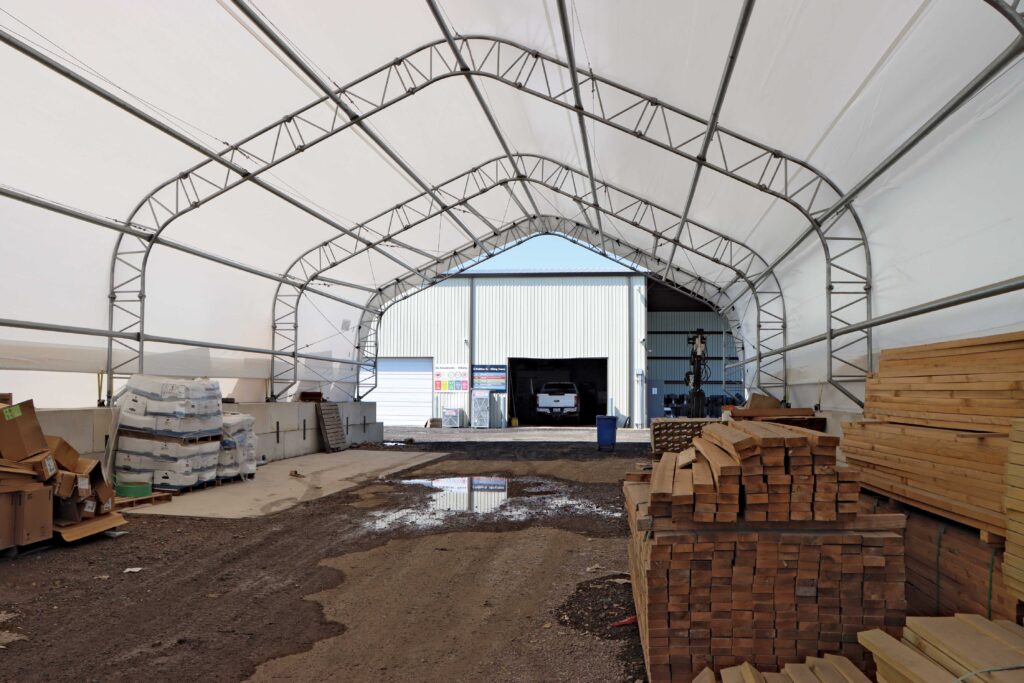 Combined with a high peak that creates naturally tall clearances, this frame can provide an abundance of unobstructed floor area, as well as plenty of overhead space for users to take advantage of.
Another benefit of the truss frame is its ability to be constructed at vastly different sizes. With this framing, structures can be built up to 300' wide and at any length, which means they can accommodate even the largest storage warehouses or production facilities. However, they can also easily be constructed on smaller scales for those in need of a tent shed that fits on their personal property.
CONVENIENCE AND VERSATILITY
In many cases, businesses and consumers looking for a tent shed are doing so to find a quick, cost-effective and versatile solution. In addition to being spacious and reliable, the ideal structure should have no issue meeting those needs, offering fast shipping, installation and an innovative design.
Generally, the best tent sheds fit these requirements by taking advantage of prefabricated construction. Through this method, the components of a structure are manufactured in a separate facility, and then shipped and assembled on site.
By being completed beforehand, and only needing to be fitted together upon delivery to a site, installation is simplified, and construction timelines are shortened significantly. Prefabricated construction allows even the largest tent sheds to be completed quickly, whether they come as a kit or are customized through a design process.
To provide added versatility, a tent shed should also be able to employ a variety of foundation options, so businesses and consumers can choose the solution that best suits their needs. Concrete or ground anchors are some of the most common options, but it's helpful for buyers to be aware of the other possibilities available to them.
Two of the most innovative foundation solutions are shipping containers and helical anchors. These require minimal excavation and sitework, making them much more cost-effective than a concrete foundation, and they also allow a tent shed to be completely portable. Subsequently, tent shed owners can relocate their structure as needs change over time, without having to purchase a brand new tent shed.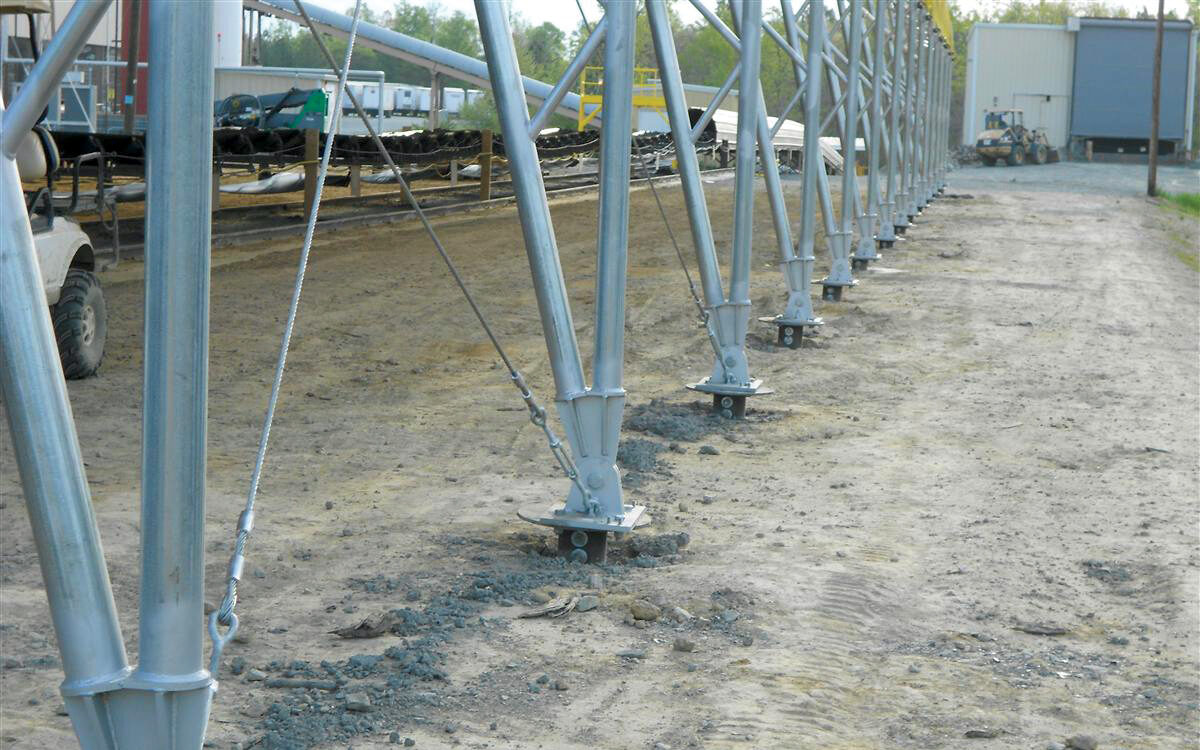 Find The Perfect TEnt Shed For your Application
No matter the requirement, whether it's an outdoor storage solution, new workshop or anything else, ClearSpan has the ideal tent shed for every application. Econoline Truss Buildings can provide any business or consumer with a reliable, protected space at an economical price point, while Quick-Ship Poly Buildings feature a simple, yet effective design that helps them be installed and moved around easily. If operations prefer a metal solution, ClearSpan's Bolt-Up Building offers a cost-effective structure that can ship in as little as four weeks and be assembled with few tools and a limited crew.
For more information or to get help choosing your ideal tent shed, call or Request a Quote today.
RElated Articles
When a business decides to upgrade their storage space with a ClearSpan storage tent, they gain superior protection, steel frame designs that maximize space and versatile foundations that limit construction timelines and excavation costs.
ClearSpan structures employ materials of the highest-quality, while also offering the same core benefits that make Quonset buildings such an attractive option, including mobility, wide-open interiors and an economical price point.
Listed here are some of the most frequently asked questions about fabric storage buildings, along with their answers, so operations can make an informed decision regarding their warehouse facility.
While the word "temporary" does imply short term, a temporary building doesn't have to be a provisional solution for operations, and it certainly doesn't have to be weak or unreliable.