What Determines Building Costs Per Square Foot? Here's What To Know To Reduce Building Cost
Over the course of a building project, there are a number of key steps operations need to go through to bring their vision to life. The pre-construction stage is especially crucial, as this is when they will make most of their important decisions, including which manufacturer they are going to work with, how their building will be designed and where the structure will be erected.
Along with the overall functionality of the building, these choices will also directly impact what an operation's building costs per square foot. Therefore, they need to understand how they can reduce building cost, without compromising on quality or sacrificing features they need to optimize daily workflow.
By making the right decisions during pre-construction, businesses should be able to obtain a structure that fits within their budget and is ideal for their specific application. Using this blog as a resource, they can take a more strategic approach to their project, optimizing cost through their structure's design, mitigating expenses related to permit applications, site prep and labor, as well lowering long-term operating costs.
REDUCING BUILDING COSTS PER SQUARE FOOT IN PRE-CONSTRUCTION
At the beginning of the pre-construction phase, operations will need to decide what kind of structure they intend to build. The design they choose can have major implications on cost estimates, so it's important for them to employ cost-effective building components.
Choosing A Cost-Effective Building Design
Steel frame structures offer an effective alternative to more conventional buildings, because they allow operations to get a large-scale solution, while still limiting what their building costs per square foot. Steel frames are manufactured in prefabricated components, often leading to faster lead times, quicker construction timelines and reduced expenses on installation and labor.
With a truss frame, operations can design a building that's up to 300' wide and any length. This can be done without the need for interior support posts, limiting the amount of materials needed to complete the structure and contributing to a lower overall building cost.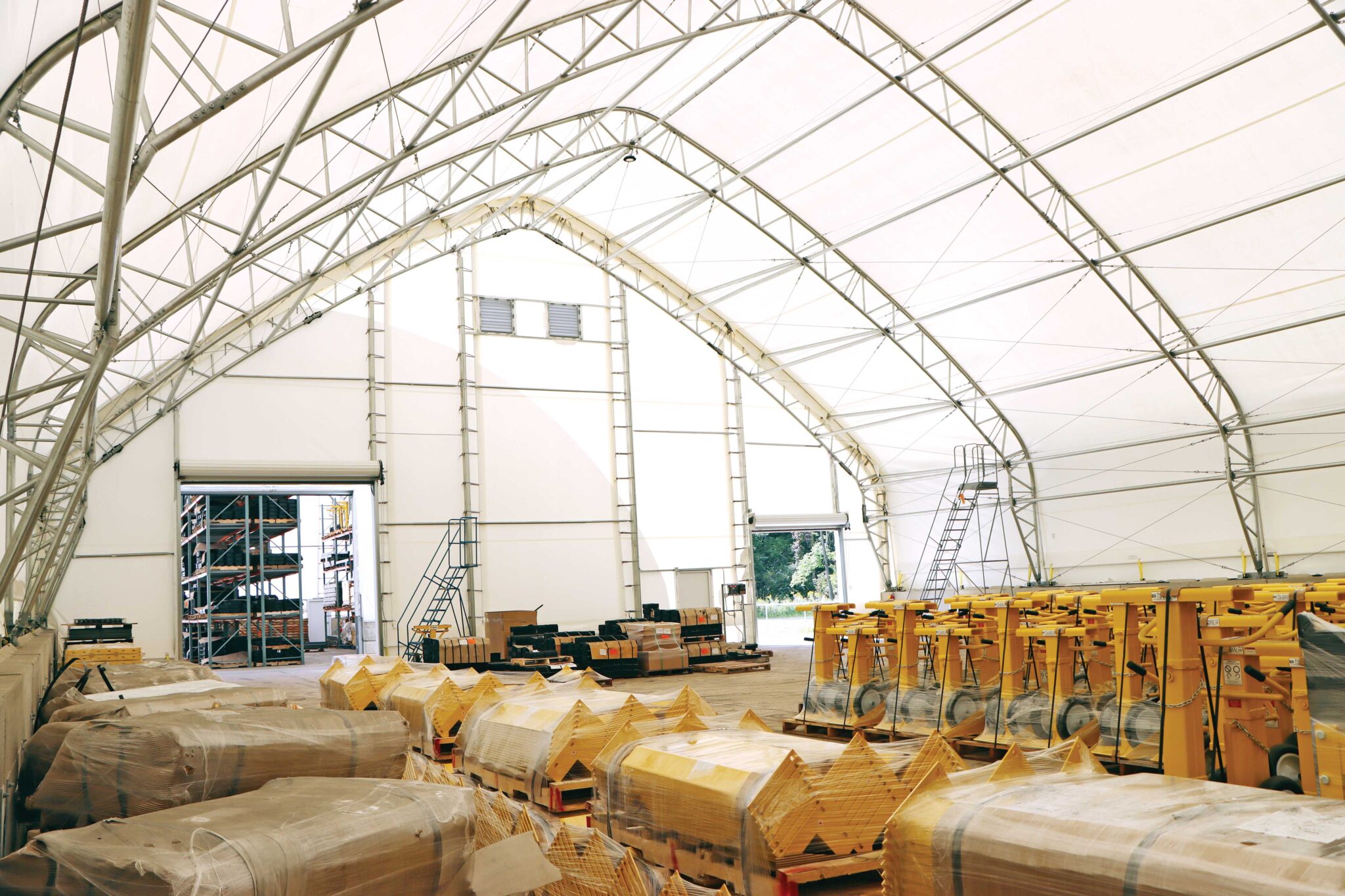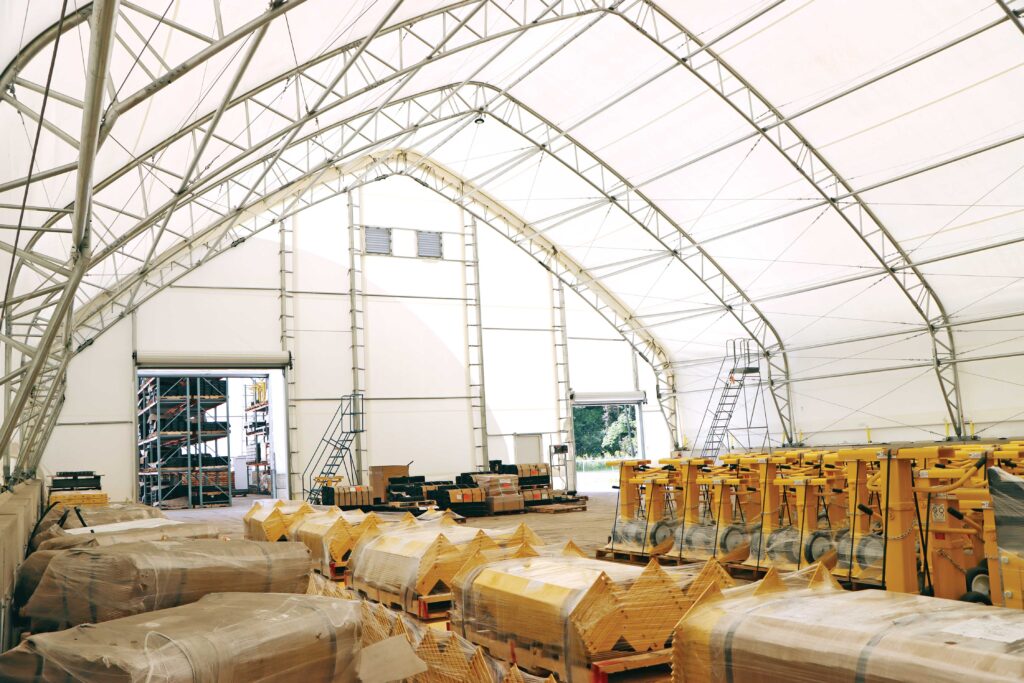 Although I-Beams may require interior supports at larger-scales, their shape does not use excessive steel, making them an economical building component. I-Beam frames can be constructed at any size, so operations are able to get the exact number of square feet they need, even if they want to build a massive structure that still offers lower building costs per square foot.
Businesses can also utilize a bar joist building, which allows for wider spans at a cost-effective price and decreases labor requirements during installation. This structure's design takes advantage of both I-Beams and open-webbed trusses, combining maximum strength with the potential for nearly limitless square footage.
With any of these three frame choices, operations also gain total control over the size of their structure and the subsequent material costs. Since prefab buildings are designed and assembled in sections, they can be expanded upon infinitely in length.
As a result, businesses can spread out their building cost over time, starting with a smaller structure and then increasing its length once their budget allows. By reducing the size initially and freeing up a portion of their finances, operations may be able to allocate funds to other design elements, like interior finishes or additional accessories that help them boost efficiency.
To complete their design, operations will also be able to choose between fabric or metal cladding. Both options are highly cost-effective and are quick and easy to install, promoting faster construction timelines and a lower building cost when compared to more traditional structures.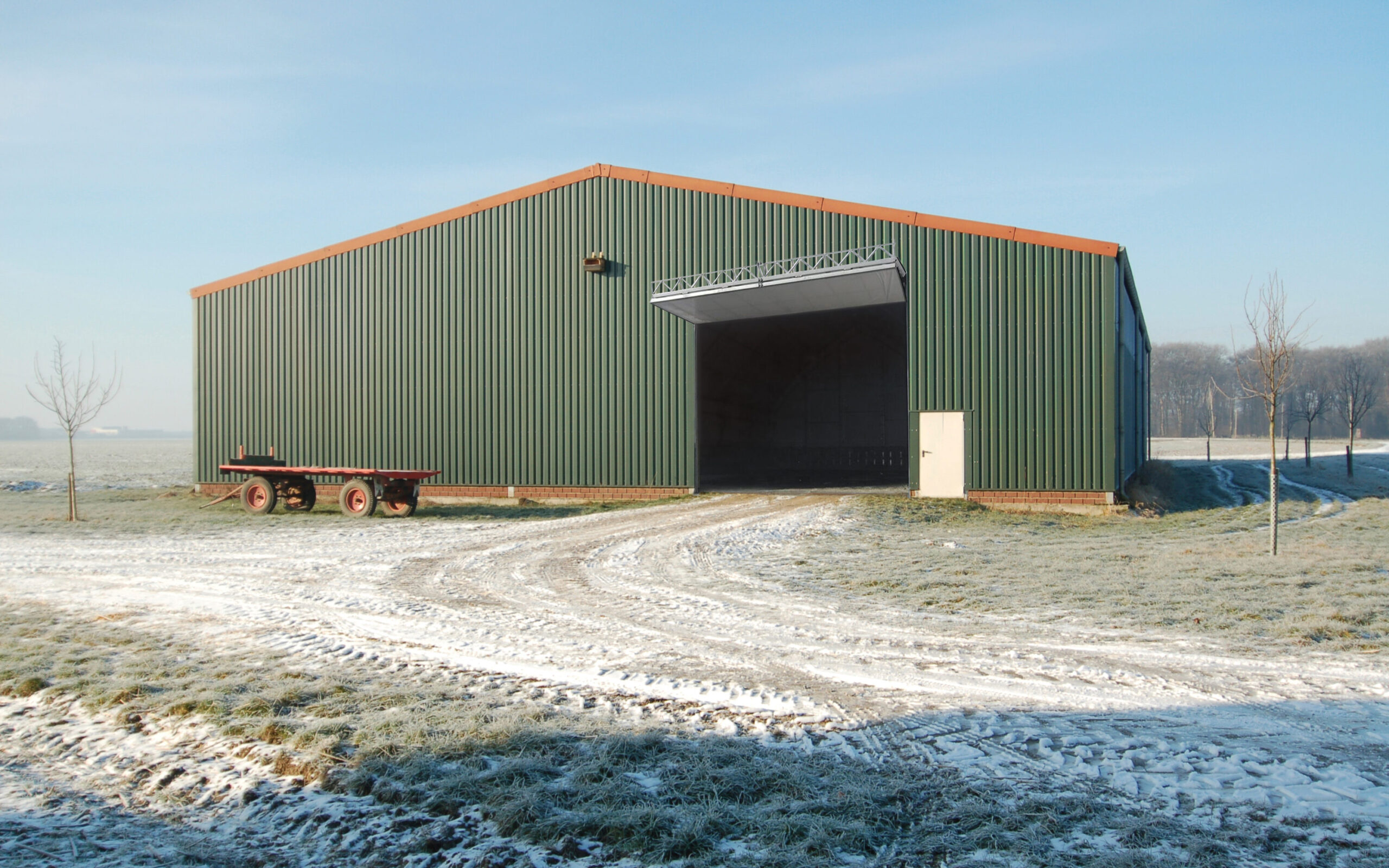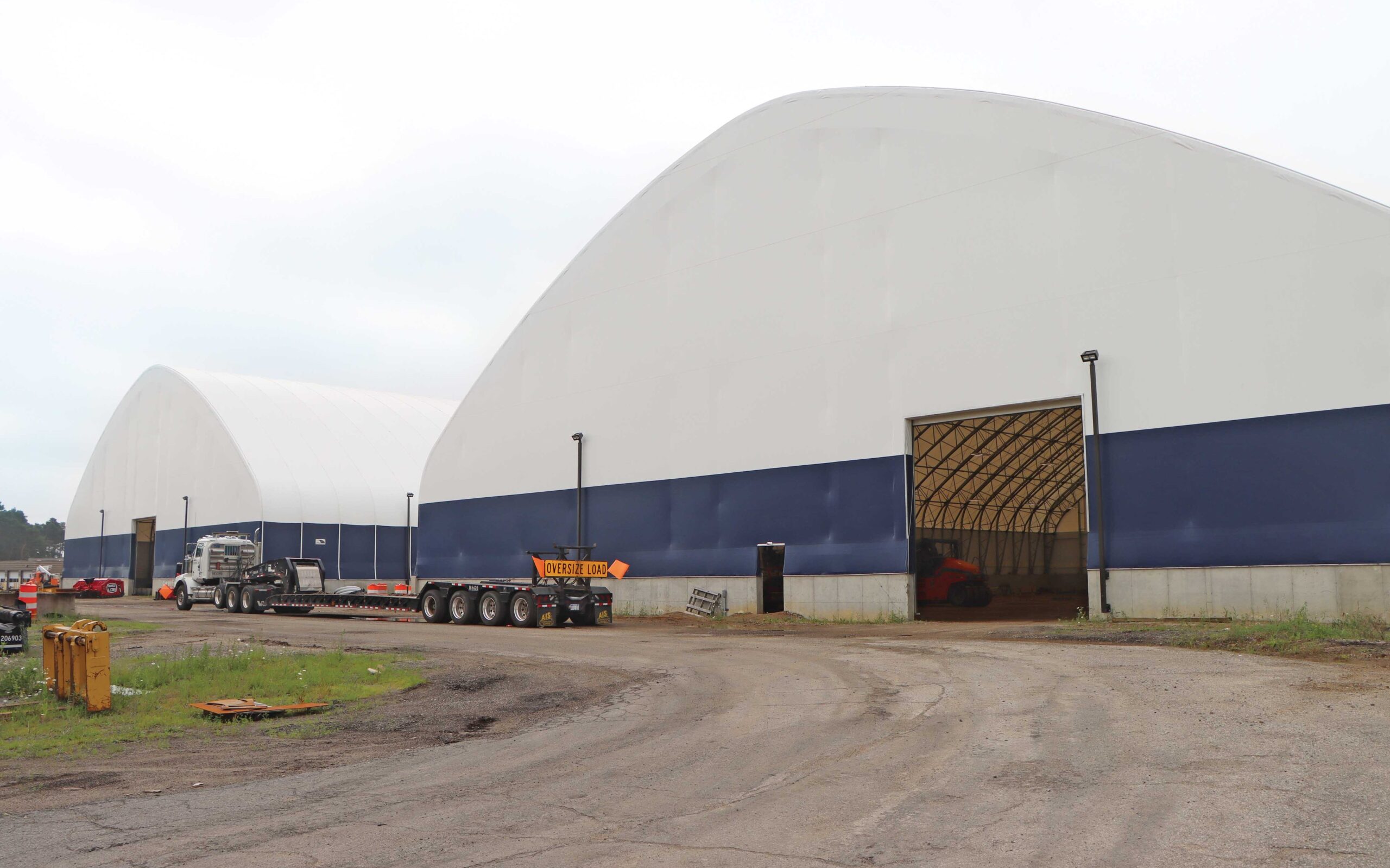 Permits & Engineering
Once operations have their design picked out, they can begin the process of acquiring building permits. In most cases, they will need to bring their project plans to a local government agency, who will then give them approval in the form of a permit.
This generally requires businesses to go through an application process, which entails various fees. Local governing bodies may also require supplemental materials, like stamped engineered drawings that certify the building will be up to code.
For many operations, this stage of pre-construction can lead to rejected applications, delays and unnecessary expenses. However, by using ClearSpan, businesses gain access to a team of experienced engineers and Building Specialists who can help them complete any permit applications and ensure their structure is designed around all local and state requirements.
Sign Up Now To Learn MOre
Reducing Building Cost Through Site Prep & Foundation Selection
After having their plans approved and acquiring building permits, operations will then need to get their site ready for installation. This is where their foundation and chosen location are essential, since the land will have to be prepared accordingly before any construction can begin.
Site conditions are important, because they can determine just how much excavation and grading is needed to install a foundation. Most foundation solutions require a level and solid building bed, and the more land that needs to be graded to make a lot suitable, the higher a building costs per square foot.
Many foundations also come with higher construction costs and require operations to be more selective with their construction site, as they require specific soil conditions to ensure stability. A common example of this is traditional concrete slabs.
Fortunately, there are numerous foundations available that are reliable, cost-effective and can be built almost anywhere. The most notable choice is a helical anchoring system, which drills directly into the ground and requires minimal sitework.
Helical anchors are excellent for speeding up project timelines and limiting the average cost to build a structure. Blocks can also be beneficial, providing a dependable base on less adequate soils, while still being more cost-effective than many other foundation options.
CLEARSPAN OFFERS FASTER PROJECT TIMELINES AND LOWER BUILDING COSTS PER SQUARE FOOT
HOW BUILDING COST IS AFFECTED IN POST-CONSTRUCTION
Many operations think of the post-construction phase as final inspections and walkthroughs to ensure their structure has been completed as planned. However, they should also be thinking about post-construction as the expenses required to keep their structure running over time.
Ultimately, the decisions operations make in pre-construction will not only impact what their building costs per square foot, but their long-term building cost as well. This makes it crucial for them to utilize design elements that help make their building energy-efficient and low-maintenance.
As years pass, average prices for utilities continue to trend upwards, which makes having an energy-efficient building more valuable than ever. While a conventional structure typically costs significant amounts of money to run each month, a steel frame building that's designed properly can consume very little energy.
More often than not, cladding has the greatest impact on energy-efficiency. Fabric covers are both climate-sensitive and naturally translucent, making them an ideal solution for mitigating HVAC and artificial lighting requirements.
Because of these features, fabric structures stay naturally cooler in the summer, warmer in the winter and require little to no daytime lighting. Fabric cladding also promotes natural ventilation, helping fresh air travel throughout the structure, without the need to run a large number of circulation or exhaust fans.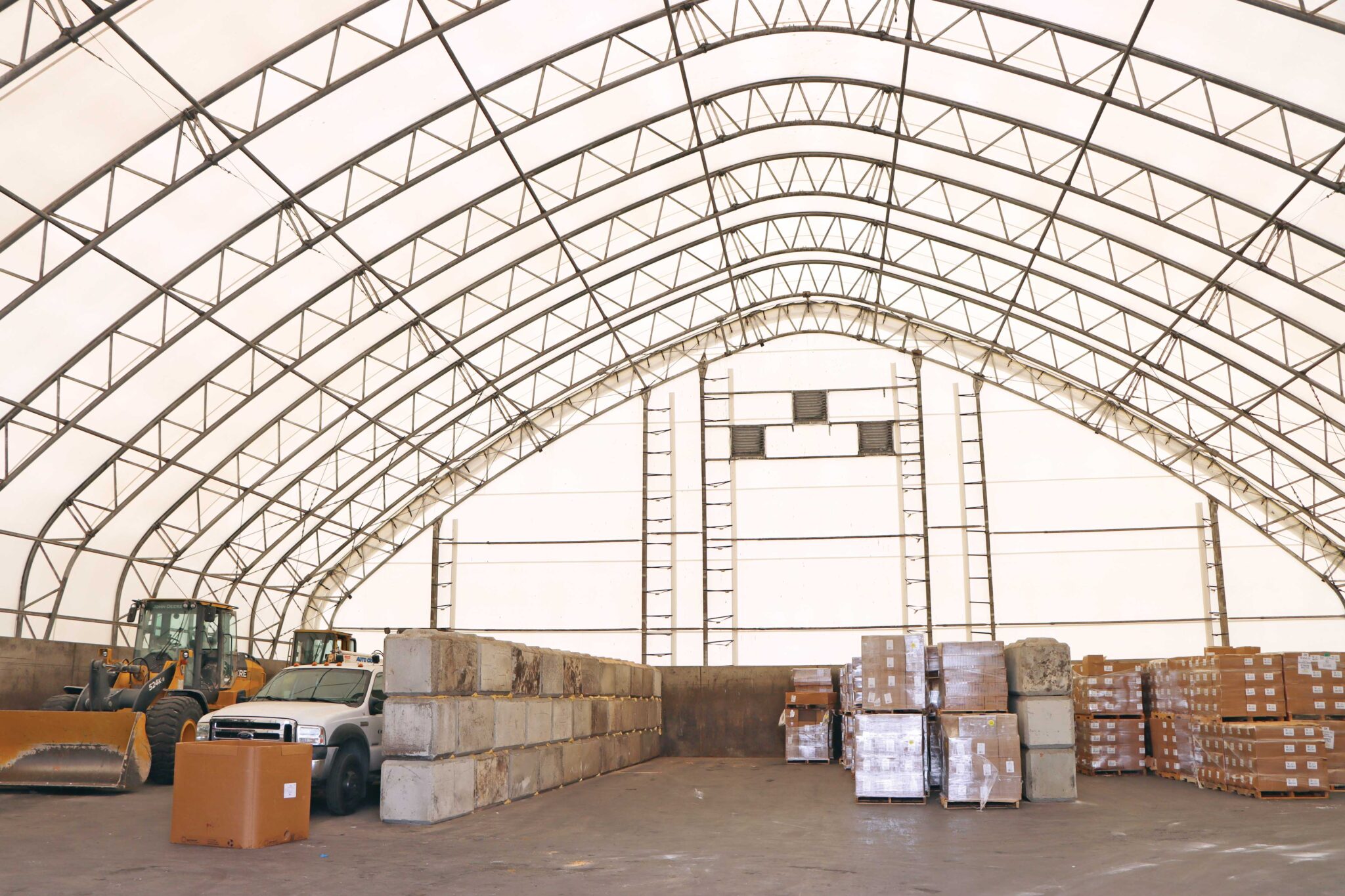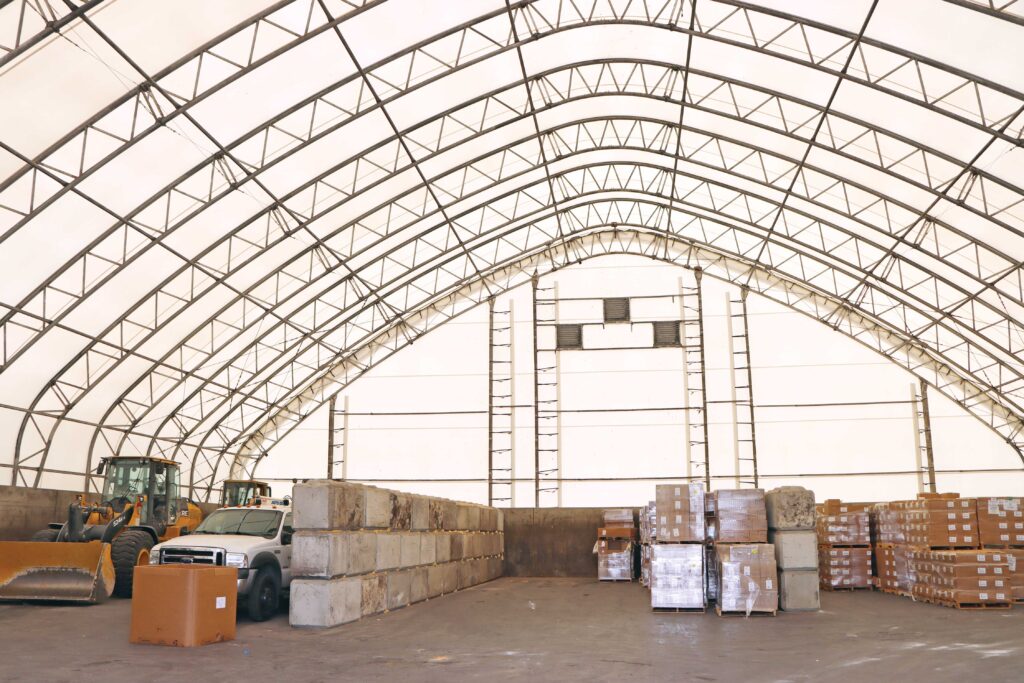 Although this isn't the case with metal cladding, this material can still be highly energy-efficient when combined with insulation. The right insulating material will equip metal buildings with a high R-value, helping them retain heat during cold temperatures or optimize cooling efforts in the summer.
Both of these cladding options require limited long-term maintenance as well. Fabric covers are durable, yet cost-effective and are quick and easy to clean. ClearSpan's fabric cladding options are also backed by twenty and thirty year warranties, so when operations do end up needing to replace their cover after several decades, it can be done quickly and without heavily impacting building cost.
When compared to other materials used in commercial building projects, or even home construction, metal cladding requires far less upkeep. As other stone, wood or painted surfaces get broken down over time by harsh weather conditions, metal cladding's durability allows it to last decades and help operations continue saving on their building cost. To support this, ClearSpan's steel cladding features forty year paint and twenty year substrate warranties.
In general, the decisions businesses make during pre-construction will have a significant effect on what their building costs per square foot, as well as how much the building costs to run long-term. By taking a strategic approach to the design, permit application and site prep stages of their project, they can acquire a structure that meets all of their needs, without going over budget.
To learn more about building costs per square foot and how to reduce building cost, call or Request a Quote today.
Related Articles
Fabric building prices can be impacted by a wide variety of factors, from the design of the structure itself to the site it's being built on.
Prefab buildings have emerged as a major player in the building market, offering businesses increased versatility and a variety of other unique benefits.
When businesses start looking for solutions to their warehousing dilemma, there are several factors they need to keep in mind, so they can limit their warehouse construction cost and create a space that best fits their application.
With how many factors contribute to an effective commercial building design, a number of operations end up making errors that impact the quality of their structure.