How Businesses Can Reduce Warehouse Construction Cost And Improve Operational Efficiency
Businesses everywhere depend on warehouses to help their operation run more efficiently. Whether it serves as an additional workspace or supplemental storage room, these large, protected areas can support greater production and provide safe housing for valuable goods and equipment.
However, getting adequate warehousing at an affordable price isn't always easy. Designing and installing a building can be a time-consuming project that results in exorbitant costs for an operation. This often stems from expensive construction, and more recently, the rising price of building materials.
When businesses start looking for solutions to their warehousing dilemma, there are several factors they need to keep in mind, so they can limit their warehouse construction cost and create a space that best fits their application. These key building features include an innovative design, a cost-effective foundation and the potential for customization. Additionally, it's important for operations to work with a reputable manufacturer that prioritizes efficiency and quality.
With the right considerations, businesses should be able to establish an effective work or storage space that helps them boost productivity, as well as save money on short and long-term costs.
INNOVATIVE DESIGN
The cost to build more traditional types of warehouses is frequently higher due to their outdated, impractical designs. Between the kind of materials used and the amount of time it takes to complete them, these structures are not only expensive to purchase, but cost-intensive to operate as well.
Buildings with steel frames, like ClearSpan's truss frame or I-Beam frame, have become an attractive solution for warehousing applications. Both frames can be manufactured, delivered and assembled quickly, and they are able to be constructed at larger scales, while still maintaining a low cost per square foot.
Truss frames can be built up to 300' wide and at any length. They require no interior support posts, which increases cost-efficiency by limiting the amount of materials needed to complete a building. This also produces a wide-open interior that's ideal for maximizing usable space, allowing operations to enhance their storage capacity or give personnel a safe, expansive work environment.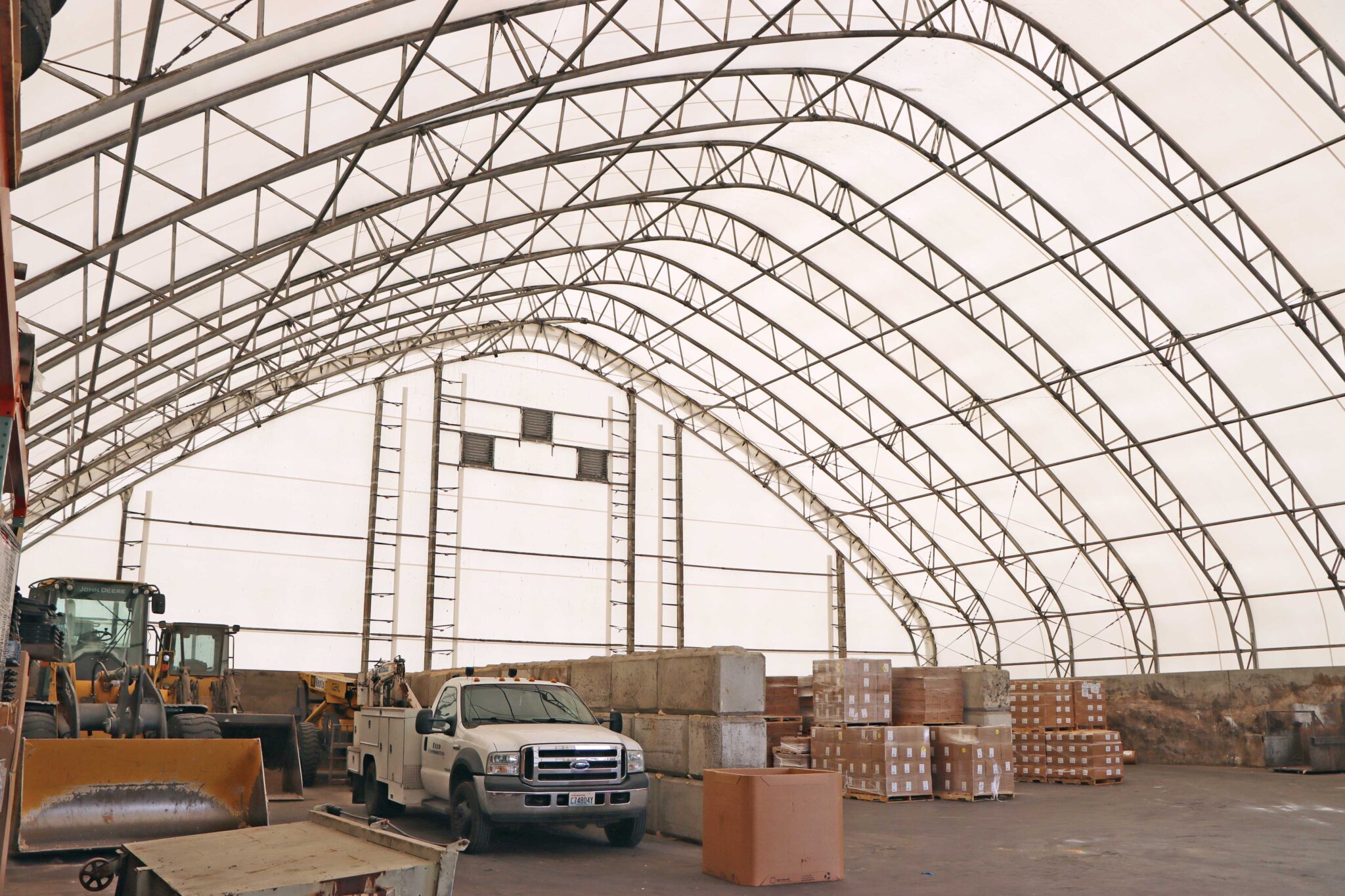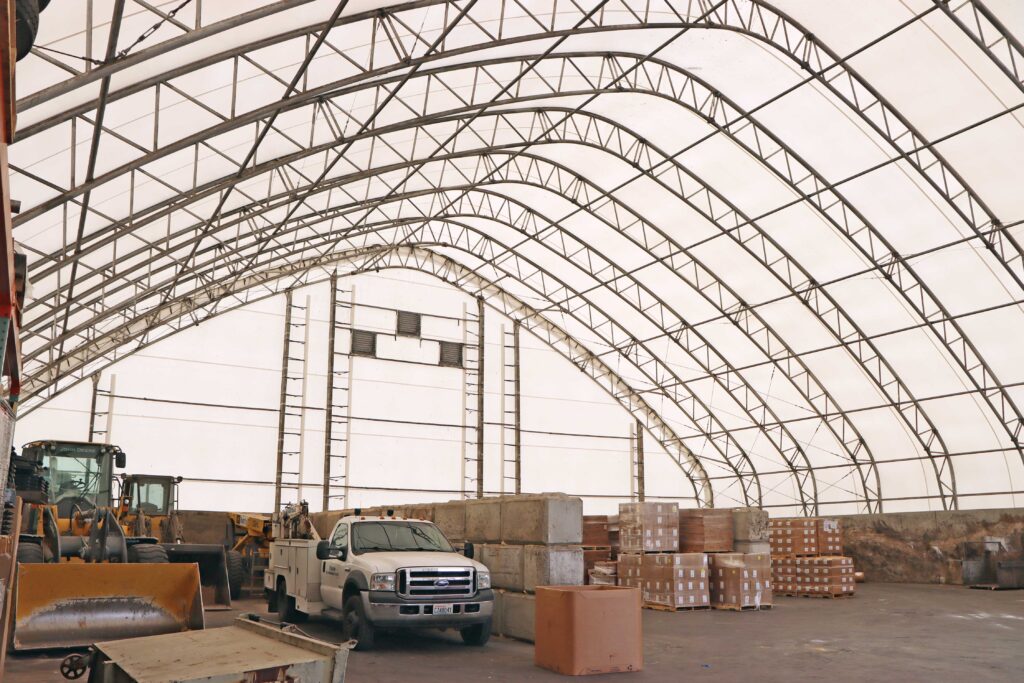 I-Beam frames are ideal for warehouse projects on the largest scale. This type of framing provides unmatched structural integrity at any size, while still remaining an economical building component. The shape of I-Beams does not use excessive steel, so operations can build a massive structure that still helps limit their warehouse construction cost.
Businesses can then outfit their frames with fabric cladding to further reduce warehouse construction cost. ClearSpan's fabric cladding requires less time and labor to install than more conventional options, like concrete walls. In addition to faster timelines and reduced upfront costs, operations benefit from limited maintenance requirements and industry-leading warranties, ensuring their warehouse remains cost-effective over time.
To bolster storage capabilities, without having a big impact on warehouse construction cost, operations may also want to consider attaching pre-stressed concrete walls to their steel frame. These offer the durability and strength that storage warehouses depend on, but are far more cost-effective than high-walled poured concrete.
Truss Frames Can Employ Different Designs To Suit Various Warehousing Needs
COST-EFFECTIVE FOUNDATIONS
Often times, a common contributor to a high warehouse construction cost is an expensive foundation. Whether it's a result of difficult site conditions or extensive excavation requirements, standard foundation solutions can quickly eat into an operation's budget.
Fortunately, there are a number of innovative foundation options that can help lower construction costs and improve a building's functionality. One notable choice for warehousing applications is a shipping container foundation.
Shipping containers provide a sturdy base with convenient, secure storage built directly into them. These durable metal crates offer added protection for valuable tools and machinery, without impeding on the usable space inside a structure. A shipping container foundation can even add natural height to a warehouse, limiting the amount of building materials needed and producing a lower cost estimate.
It can also be beneficial for operations to build their warehouse on helical anchors. A helical anchor foundation is a cost-effective solution that allows buildings to be completed almost anywhere. With minimal sitework required and little impact on the surrounding environment, helical anchors can be installed or removed quickly to help limit warehouse construction cost.
Sign Up Now To Learn More
CUSTOMIZATION
Customizing a building can be a great way for operations to increase efficiency and achieve a lower warehouse construction cost. By tailoring a structure around their specific needs and budget, they can get all the features they need at an affordable price, rather than taking on the burden of a hefty construction loan.
One of the major benefits of steel framing is the control it gives operations over the size of their structure. Since ClearSpan's steel-frame structures are designed and assembled in prefabricated components, they can be expanded upon infinitely in length.
This means operations can spread out their warehouse construction cost over time, customizing the scale of their building as they see fit. They can start with a smaller structure, and when their budget allows, easily increase the length of their warehouse and give themselves extra space for storage or production.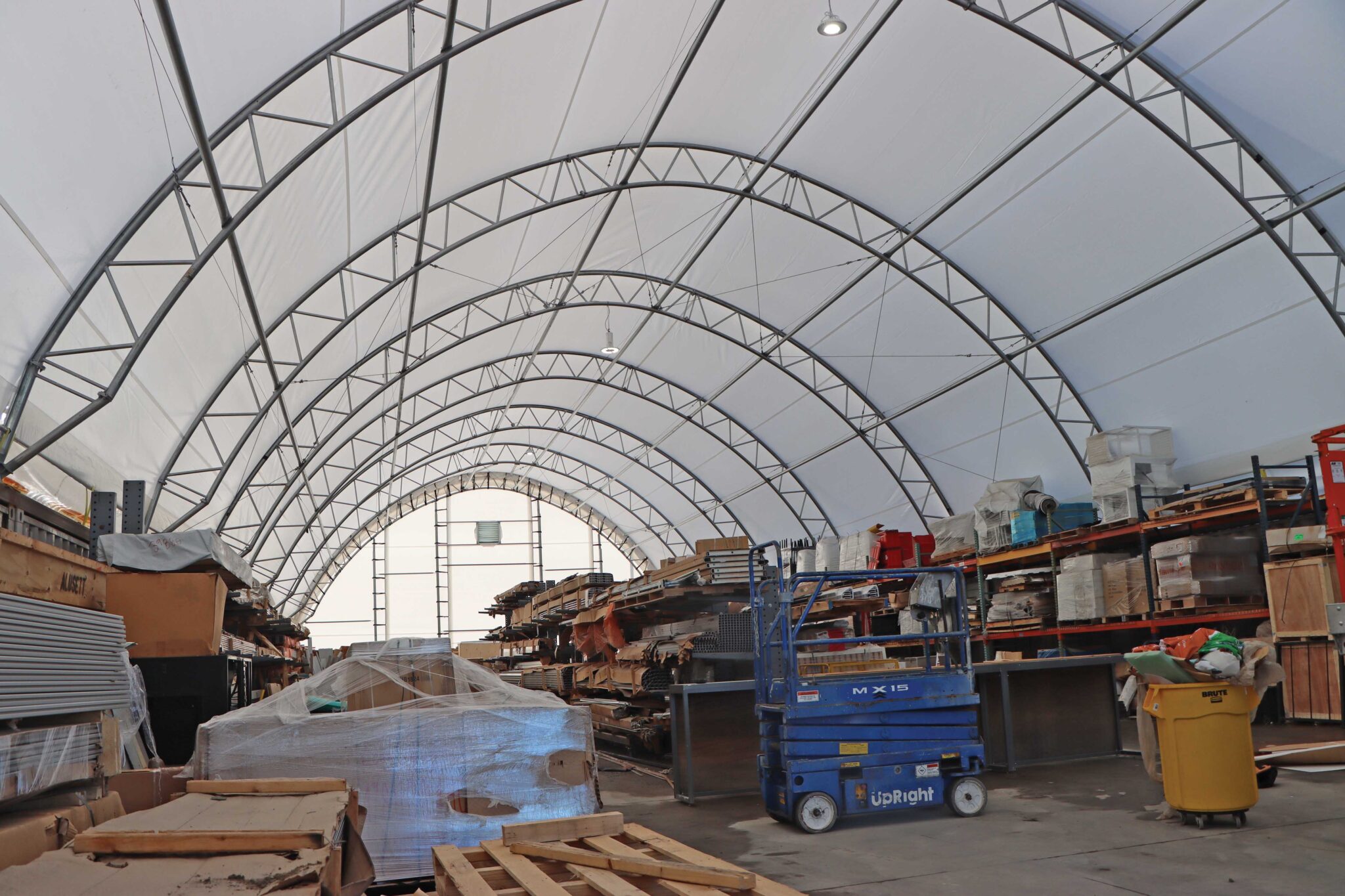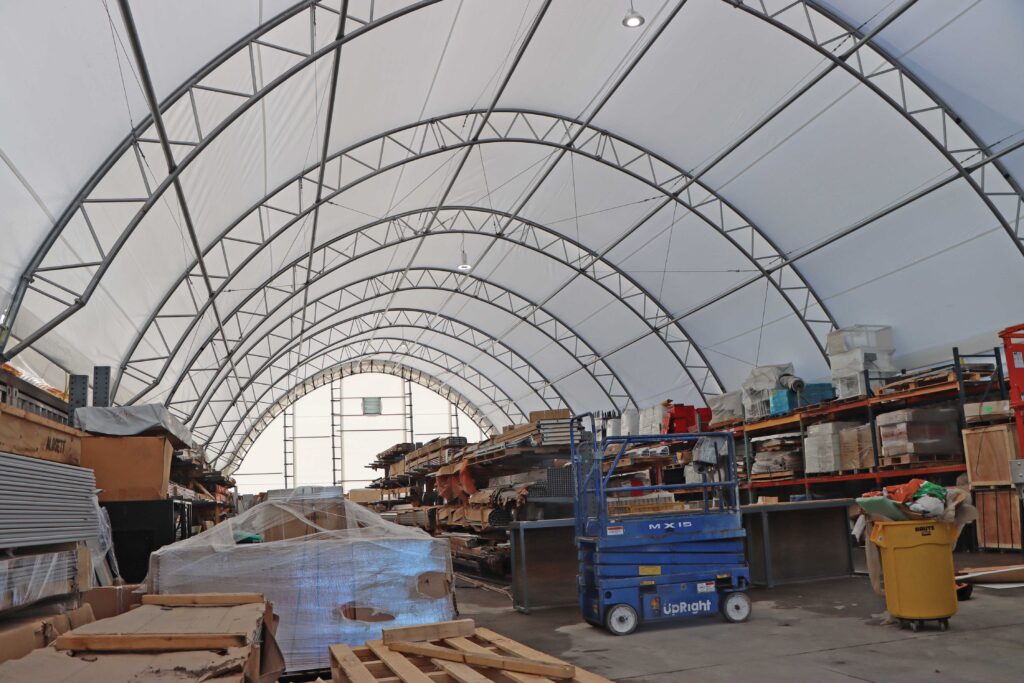 Depending on operational requirements, customization can also be effective for meeting specific workflows or satisfying local building codes. If needed, businesses can equip their warehouse with features like fire suppression systems or mechanical ventilation, so they avoid any potential fines and ensure work continues safely.
MANUFACTURING BENEFITS
Where a building is produced, and by whom, can play a significant role in warehouse construction cost. Operations will want to ensure they work with a reputable manufacturer who can deliver them a high-quality structure on time and on budget.
ClearSpan's manufacturing process offers significant benefits that are passed down to each operation and their warehouse project. Every structure is produced in-house using precision technology at ClearSpan's manufacturing facility in Dyersville, Iowa.
Not only does this guarantee a high-quality building, but being in a central location in the U.S can also help streamline distribution and make transporting materials across the country less expensive. With rising shipping rates and current obstacles in the supply chain, mitigating transportation requirements can be highly effective for reducing warehouse construction cost.
In the end, operations shouldn't have to break the bank to build their new warehouse. By finding the right manufacturer that utilizes innovative, cost-effective design elements, businesses can create their ideal storage or workspace, while still reducing warehouse construction cost.
To learn more about limiting your warehouse construction cost and maximizing efficiency, call or Request a Quote today.
Related Articles
When a business decides to upgrade their storage space with a ClearSpan storage tent, they gain superior protection, steel frame designs that maximize space and versatile foundations that limit construction timelines and excavation costs.
Warehouses are becoming more innovative in their attempts at being eco-friendly, turning to options like automation and retrofitting to become greener.
Listed here are some of the most frequently asked questions about fabric storage buildings, along with their answers, so operations can make an informed decision regarding their warehouse facility.
The sheer versatility of ClearSpan structures truly makes them advantageous to virtually any type or quantity of storage need.