The Ultimate Guide On Building An Indoor Pickleball Facility
Pickleball continues to be one of the fastest growing sports in the country. With an expanding player base and the rise in popularity of professional organizations, like USA Pickleball (USAP) and Major League Pickleball (MLP), the game is amassing a sizeable following across the United States. As the number of players and fans involved in pickleball increases, so too does the demand for quality indoor pickleball facilities.
Outdoor courts are at the mercy of the elements, which can cause a number of issues, like frequent court maintenance or cancellations during severe weather. However, an indoor pickleball facility provides courts with year-round protection, helping operations save money on routine upkeep and ensuring play can continue through any weather.
For businesses, recreation centers and sports complexes looking into building an indoor pickleball facility, it's crucial they understand the requirements of the sport, as well as what kind of structure they need to create an enjoyable pickleball experience. This comprehensive guide will help operations create the ultimate indoor pickleball facility, so they can not only be a part of this rapidly growing sport, but also develop into a premier pickleball destination in their region.
DESIGNING THE STRUCTURE FOR AN INDOOR PICKLEBALL FACILITY
To start, operations need to plan out the structure that will house their courts. Indoor pickleball facilities feature unique designs compared to other athletic buildings, and there are a variety of factors to consider prior to construction.
"For clubs and facilities planning to cover pickleball courts, the first questions we recommend resolving are the number of courts to be covered and whether the courts will be pickleball-only, or a combination of tennis and pickleball with blended lines," says Tania Tomoroga, Director of Marketing for ClearSpan Structures.
Tennis and pickleball courts use different dimensions, so it's important for operations to make this distinction in the beginning stages of their project. If they intend on building tennis courts that also accommodate pickleball, they will need to plan the size of the structure accordingly, and it will likely influence how many courts they are able to offer.
Tomoroga also notes that indoor pickleball facilities will differentiate based on an operation's location and the playing environment they want to create.
"Given the four-season climate where each facility is located, we want to understand if the facility can be open-air with partially open sides and ends, or to the other extreme, if the goal is to fully enclose and insulate the indoor court spaces," said Tomoroga. "The great news is that ClearSpan Athletic Specialists have the ability to optimize the dimensions and enclosure goals with each facility owner."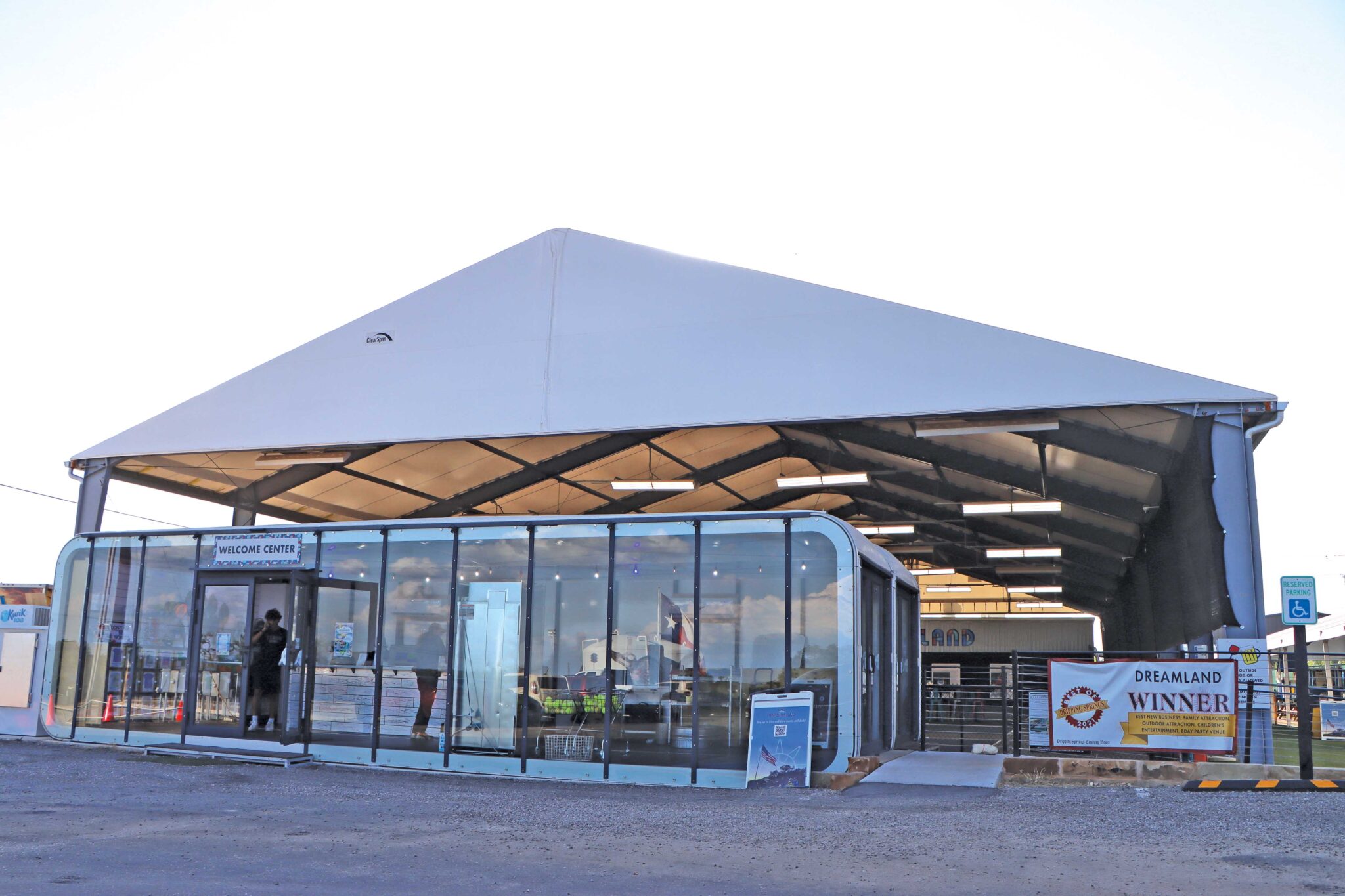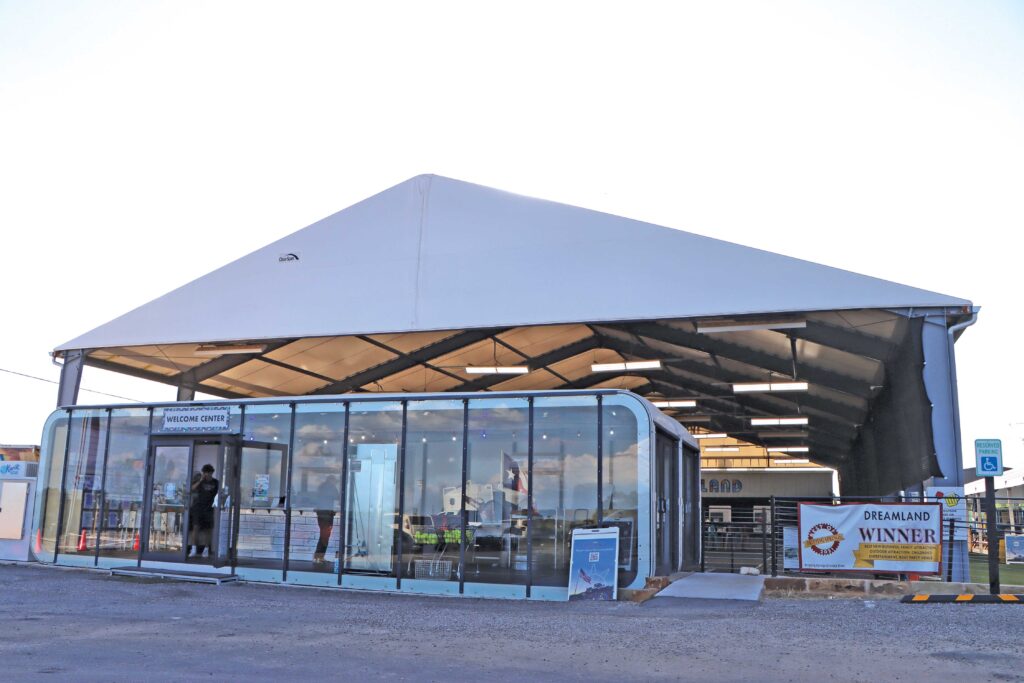 After deciding on the size and design of their structure, operations can then choose their ideal cladding to cover that facility. Insulated metal panels offer a viable solution when building an indoor pickleball facility in more severe climates. This cladding is highly durable, quick to install and provides excellent thermal efficiency for maintaining interior temperatures.
Another effective option is fabric cladding, which has become a prominent feature on numerous indoor pickleball facilities. ClearSpan's fabric covers are both naturally translucent and climate-sensitive. This means they allow sunlight to filter into an indoor pickleball facility throughout the day, while also keeping the interior naturally cooler in the summer and warmer in the winter. Building an indoor pickleball facility with fabric cladding helps produce a comfortable, natural feeling space for play to continue year-round.
According to Daryl Cummings, Owner of Cape Henry Racquet Club in Virginia Beach, Virginia, his ClearSpan fabric structure "has an element of nature about it, which makes it more fun than playing in something that feels like a warehouse."
Despite not needing artificial daytime lighting, it may still be beneficial for operations to provide players with nighttime access to their indoor pickleball facilities. In this case, ClearSpan can design the structure with everything required, like energy-efficient LED lighting or indirect lights. Since indirect lighting is aimed upwards at the ceiling and produces very little glare, it has become a staple for indoor pickleball facilities.
Businesses are also able to incorporate other essentials for their indoor pickleball facilities, including netting, entry gates or fencing to separate different courts.
Sign Up Now To Learn More
COURT CONSIDERATIONS
Naturally, one of the most important factors when building an indoor pickleball facility is the courts themselves. Constructing courts that are both sized correctly and comfortable to play on is vital to creating a superior pickleball experience. The information below will help ensure indoor pickleball facilities are designed around each player's needs, as well as allow operations to get the most out of every square foot of their structure.
Court Surfaces
Two of the most widely used surface types for pickleball courts are concrete and asphalt. Both are affordable, durable options, with asphalt requiring more long-term upkeep than the former.
On outdoor courts, operations generally have to grade these surfaces to allow for proper drainage. But, by building an indoor pickleball facility, their courts gain protection against inclement weather, and they can instead focus on simply creating a level playing surface.
Weather protection also means operations can worry less about having to resurface their courts. Resurfacing requires them to re-apply their courts with a coating system, so they can restore their texture and appearance.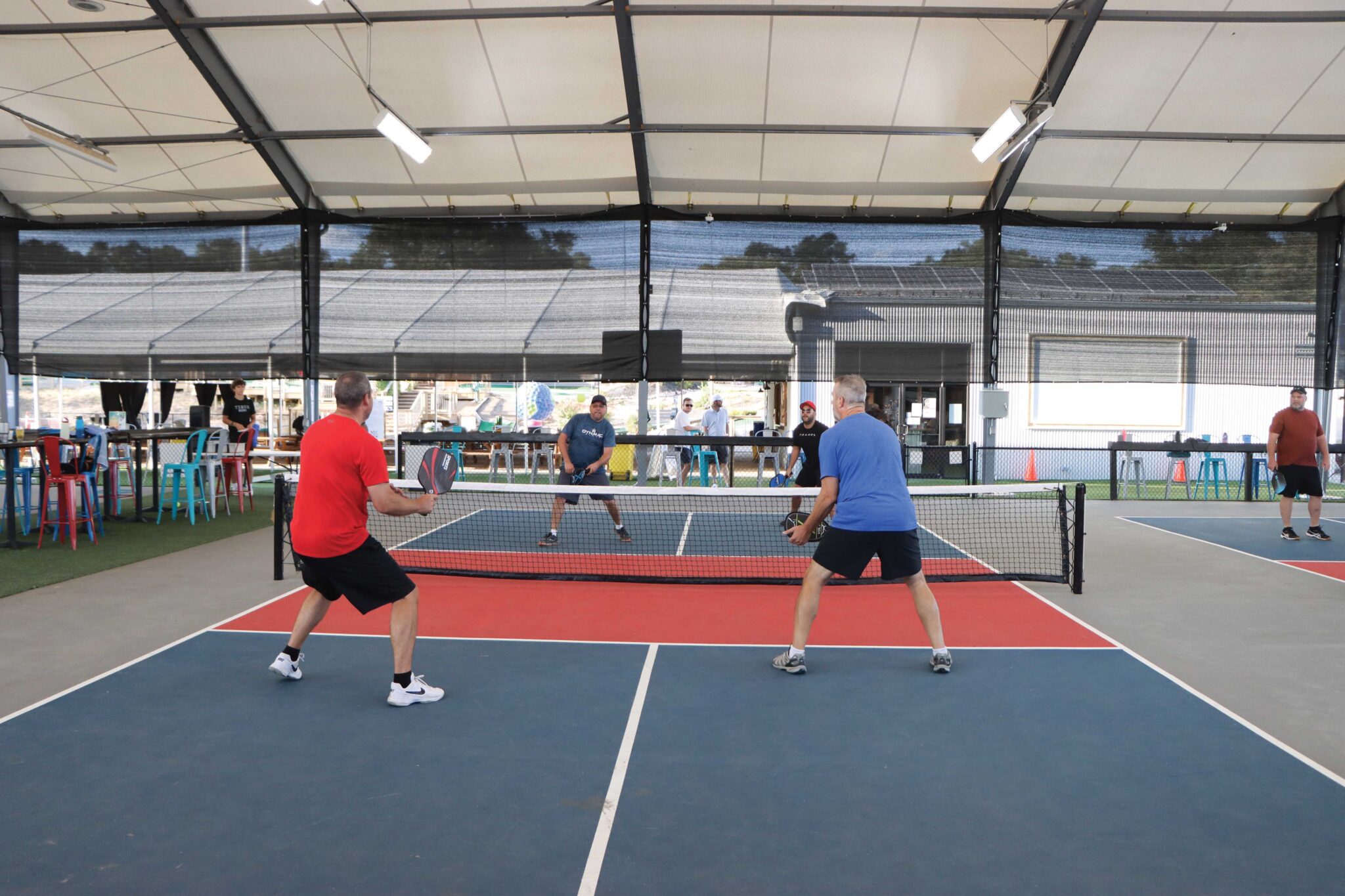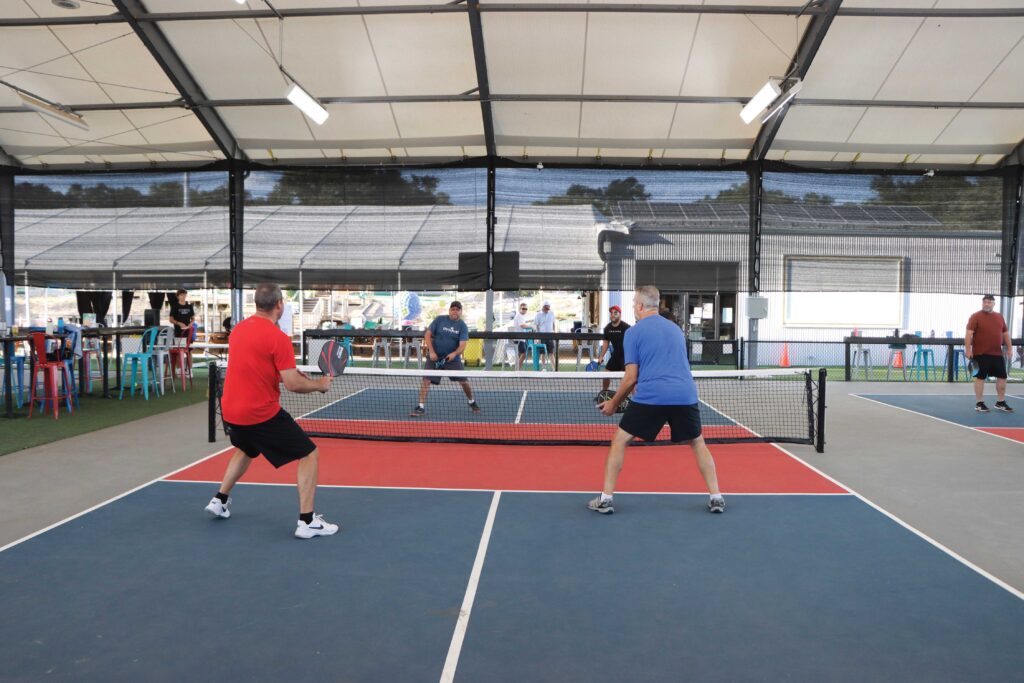 It's recommended that indoor pickleball facilities use a 100% acrylic coating to surface their courts. This will help create a dependable base for play, limiting slipping and player injury, producing a true pickleball bounce and minimizing wear and tear on the actual pickleballs.
Lastly, indoor pickleball facilities will also need to take their court colors into consideration. Surface colors can impact ball visibility, which means it's a good idea for operations to have their court contrast the color of the pickleball. Common pickleball colors include yellow, orange and lime green, making blue courts one of the most popular options.
Court Dimensions & Layout
During court construction, indoor pickleball facilities will want to follow these guidelines to create a consistent experience across each playing area.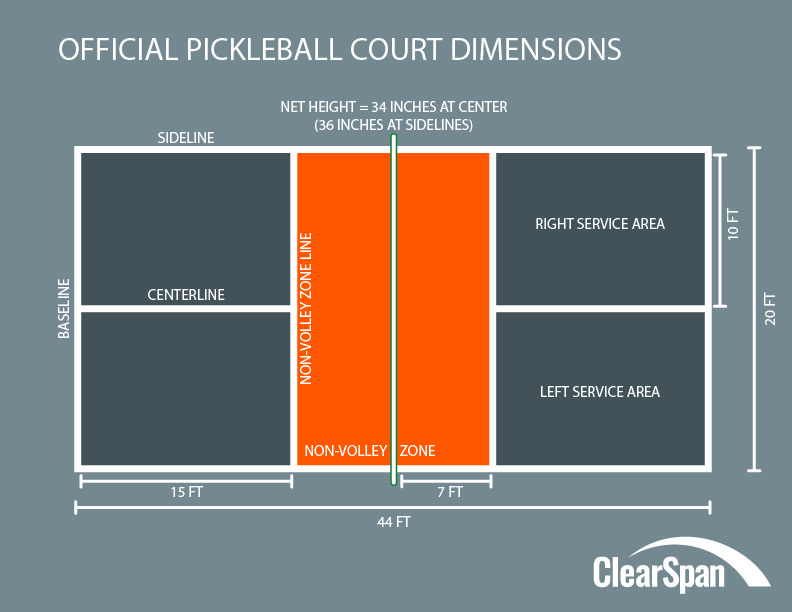 Sidelines – These span the length of the court, totaling 44'.
Baselines – A baseline sits at each end of the court, spanning 20' in length and running parallel to the net.
Centerline – The centerlines separate the service areas and run directly down the middle from the baseline to the non-volley zone.
Service Areas – Created by the centerline, there are two 15' long service areas on either side of the net.
Non-volley zones – Two 7' wide non-volley zones sit on opposite sides of the net, and they are commonly referred to as "the kitchen." These run parallel to the baselines and separate the service areas from the net.
Net Height - Pickleball nets are 36" at the sidelines and slope down to 34" in the center of the court, spanning its entire width.
While these are the actual court dimensions, they do not make up the total playing area in pickleball. For casual and open play, the court and its surrounding space should measure 30' wide by 60' in length. In competitive and tournament play, the preferred dimensions are 34' wide by 64' in length. Building an indoor pickleball facility with ideal size playing areas will ensure every court can be used simultaneously, without players interfering in each other's games.
Court Quantity & Spacing
When building an indoor pickleball facility that's permanent, operations should plan thoroughly for how they will organize their space. By determining how many courts they need beforehand, they can size out their building to comfortably house each playing area, along with any additional features.
Number Of Courts
In the past, it's been common for indoor pickleball facilities to start small and gradually add courts over time. Now, more and more operations are building an indoor pickleball facility that can accommodate over fifteen courts, right from the start.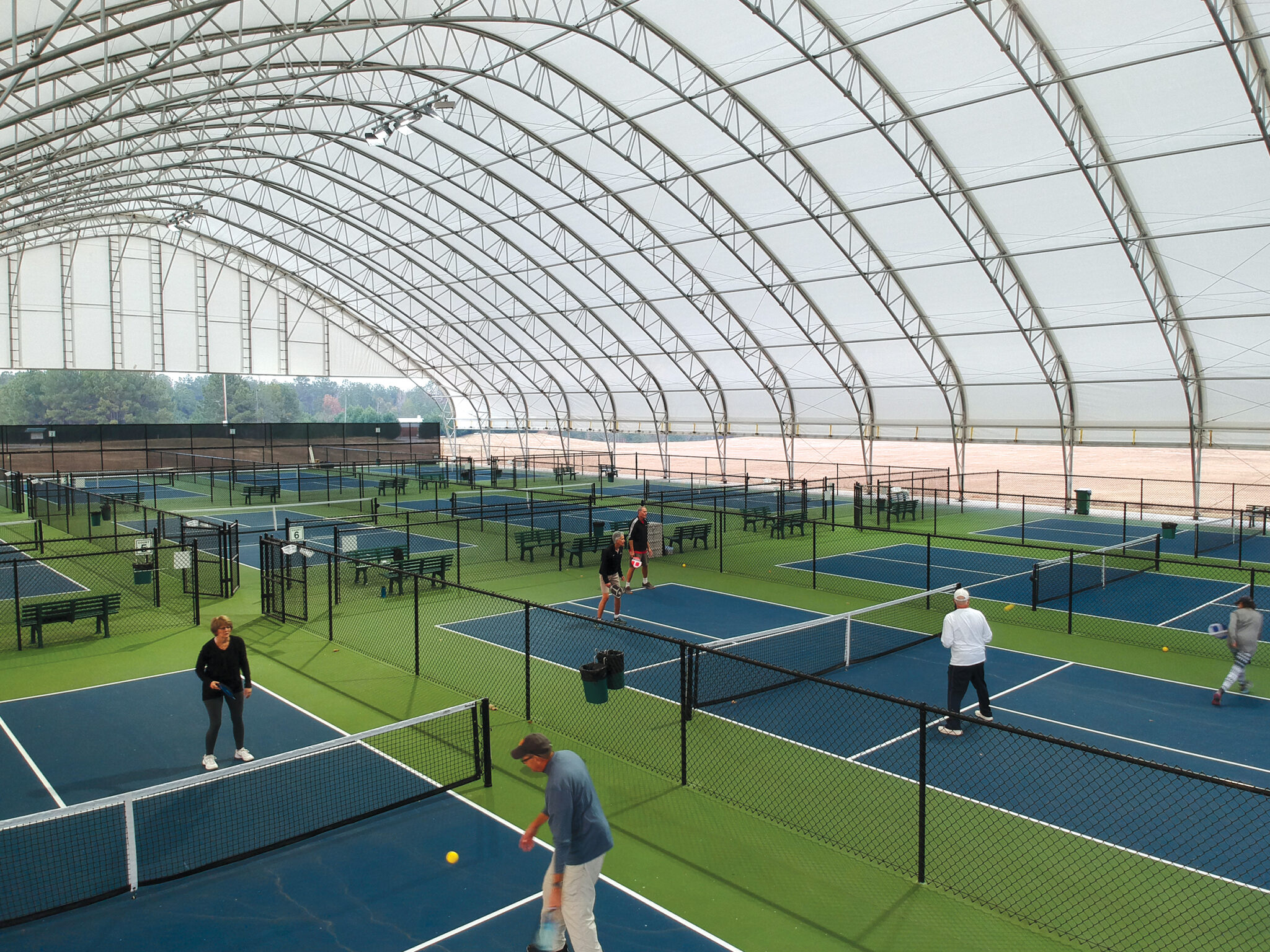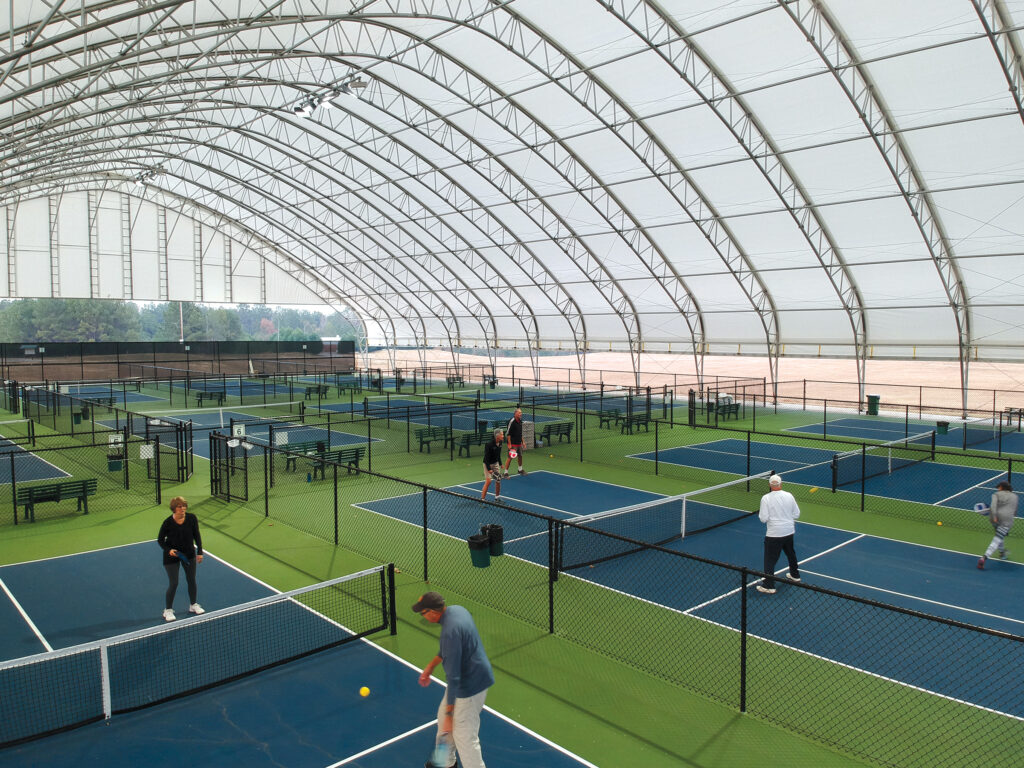 As Tomoroga suggested, court quantity is a design element that operations should try to finalize beforehand. But, since ClearSpan buildings can be constructed to just about any size, as well as be expanded upon in the future, they offer a solution to either approach.
Regardless of what strategy operations choose, their indoor pickleball facilities should employ a minimum of eight courts. This will give them enough flexibility to host a variety of types of play, from smaller tournaments to a recreational pickleball club.
Court Spacing
However many courts an operation decides on, they will want to make sure their indoor pickleball facility has adequate spacing. If they try to build too many courts inside their structure, it likely means they are not following the recommended guidelines for the size of each playing area. Consequently, players can end up too close to the walls, fencing or each other during play, resulting in potential injuries.
If businesses are building an indoor pickleball facility to serve as an all-in-one style of venue, their court spacing will also impact the remainder of the structure. These indoor pickleball facilities should leave ample room for extra amenities, like concession and rest areas, locker rooms, spectator sections or even a pro shop.
What The Ultimate Indoor Pickleball Facility Can Look Like
For an idea of what building an indoor pickleball facility might look like, it's hard to find a better example than the Opelika Sportsplex in Opelika, Alabama. As an addition to their existing recreation facility, their operation wanted to create a dedicated indoor venue capable of hosting the region's growing pickleball player base.
Ultimately, the athletic complex decided to incorporate a ClearSpan fabric truss building, totaling 140' in width and 210' in length. The structure provides ample coverage for twelve indoor pickleball courts, allowing their business to accommodate everything from casual play to Olympic qualifying tournaments, regardless of the conditions outside.
"Constantly during the summer, we have those little pop-up rain showers in the afternoons, which ends pickleball for the day if you're in an outdoor facility," says Sam Bailey, Director of Opelika Parks and Recreation. "In our ClearSpan structure, we just play right through it."
Building an indoor pickleball facility has made an immediate impact on the community of Opelika. After seeing their local fan and player base grow exponentially, the Sportsplex was determined to further increase their court capacity, so more players could participate on a regular basis.
"Our design for the Sportsplex in Opelika, Alabama was so successful for promoting the expansion of pickleball tournaments, that the Sportsplex came back to ClearSpan to design and construct their second covered pickleball structure," said Tomoroga.
Since ClearSpan structures can be expanded upon post-installation, the sports complex has the ability to add even more courts in the future. With the trajectory of pickleball and the level of interest Opelika has generated, this may be a much needed feature down the road.
To get started on building an indoor pickleball facility for your operation, call today or
Request A Quote
Related Articles
ClearSpan fabric structures have already been used in a variety of applications across dozens of industries, but their use in athletic and recreational applications is on the rise.
From organized sports to exercising in a local gym, the design of a gym building needs to create an environment where athletes or guests can perform their best.
Indoor athletic facilities are more than just places to practice in the winter; they're climate-controlled environments with superior playing conditions that allow everyone, from players to coaches to spectators, to be a part of the experience 24/7/365.
In Oregon City, Oregon, one tennis enthusiast decided that if she wanted to practice tennis year-round, it was time to get off the outdoor courts and into an indoor tennis building.