Why Fabric Structures Make Superior Commercial Tents
In the retail and event industries, commercial tents are common structures that provide covered spaces for businesses and organizations. Tents are perfect for a variety of commercial applications, with their goal being to create a more comfortable, enjoyable environment for the guests and vendors utilizing the space. However, not all commercial tents are created equal, and businesses will want to ensure they acquire a structure that's worth the investment.
ClearSpan's fabric structures possess strength and versatility that allows them to be used in a number of different industries. For retail and event purposes, they help facilitate an overall better experience for guests and customers, whether they're covering an outdoor farmer's market or serving as a space for a special event. At the same time, they feature energy-efficient designs and long-lasting construction that significantly benefits the operations who employ them.
By utilizing innovative designs and the highest-quality materials during manufacturing, ClearSpan commercial tents can meet any business's requirements, while offering them a larger, superior space and long-term cost savings.
ABUNDANT, COMFORTABLE SPACE FOR ANY OPERATION
Plentiful room and a comfortable environment are key to the success of any event or retail setting. Businesses need an atmosphere that keeps vendors happy and encourages guests to stay-on site for extended periods of time.
This was precisely the case with the Owensboro Regional Farmers Market in Owensboro, Kentucky. As an outdoor retail operation, the market was at the constant mercy of the weather. Knowing they needed a covered space that would allow their business to stay open and bring the community together, the market acquired a 60' wide by 100' long ClearSpan fabric structure. Now, their new commercial tent lets them operate in spite of the conditions outside, helping to keep guests shopping and their vendors profiting.
ClearSpan's fabric structures include a number of unique features that allow them to produce an improved interior environment, beginning with their frame. The frames these commercial tents are built around are designed to provide operations with spacious covered areas.
In particular, fabric commercial tents excel when paired with ClearSpan's truss arch frame. The truss frame features a high peak for naturally tall clearances and does not require interior support posts, creating a wide-open space with no obstructions. This maximizes usable space and gives businesses the freedom to determine the best interior setup for their needs.
The frame is then clad with ClearSpan's fabric covering, which presents operations with distinct advantages over traditional commercial tents. To start, the fabric cladding is naturally translucent, which means it lets natural sunlight filter through into the tent's interior.
This produces bright lighting that's still soft on the eyes. It also helps mitigate the need for businesses to run artificial light fixtures, saving them money on their monthly energy costs.
Fabric covers also work to keep commercial tents cool, without the need to run extensive HVAC systems. They are climate-sensitive, which can keep commercial tents ten degrees cooler in the summer and ten degrees warmer in the winter.
ClearSpan's fabric is breathable, so it encourages natural ventilation and prevents commercial tents from getting stuffy. The tent sidewall can be left open as well to help fresh air flow through the structure. For additional comfort and convenience, ClearSpan offers an extensive line of commercial tent accessories.
Sign up now to learn more
COMMERCIAL TENTS THAT STAND THE TEST OF TIME
After operations invest in a commercial tent, the last thing they will want to do is worry about buying a new one. Still, since many commercial tents are designed to be temporary, they are often constructed with lower-quality materials that can break down quickly.
ClearSpan's commercial tents are built to last decades, allowing businesses to save money over time by using the same, durable structure. These fabric structures also require little maintenance once they're erected, so operations aren't burdened by constant upkeep.
Built with reliable, American-made steel, the frames of ClearSpan commercial tents feature industry-leading 50-year warranties. To compliment the frame, the fabric cladding options offer businesses up to 30 years on their warranty.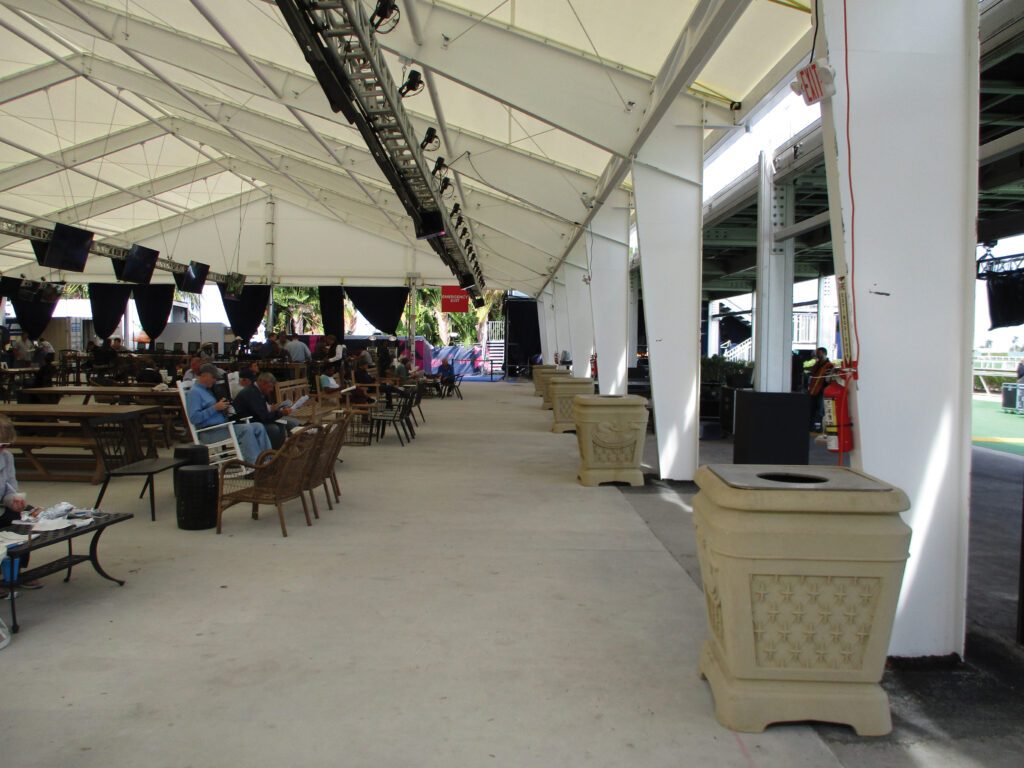 Fabric structures are designed to thrive in even the harshest environments. They can be engineered to stand up to the most extreme weather, including wind loads of up to 185 mph and snow loads up to 100 lbs.
WHAT IS THE MATERIAL USED FOR TENTS?
Commercial tents are made from different materials based on their manufacturer, but ClearSpan structures can feature two styles of high quality fabrics. The standard cladding option is a 12.5 oz. polyethylene fabric that features a rip-stop weave. This allows it to stand up to severe weather and helps prevent rips or tears from occurring.
For those in need of more heavy duty commercial tents, they can choose the exclusive Armor Shield Cover as their cladding. The Armor Shield Cover is designed with seven-layer construction that makes it the most durable and long-lasting cladding option for a fabric structure. Each layer contributes to the cladding's quality and long lifespan, adding durability, preventing moisture buildup and repelling dirt.
COST-EFFICIENCY THAT PROMOTES LONG-TERM PROFITS
Perhaps the best design element of these commercial tents for businesses is their cost-efficiency. Compared to traditional buildings, they require a less substantial initial investment. Since they also last decades, businesses get far more value out of their budget when they choose ClearSpan commercial tents over alternative frame tents.
The cost-efficiency of ClearSpan's commercial tents begins with manufacturing and construction. These structures are built in prefabricated components, which are shipped and then assembled on site to streamline the construction process. ClearSpan also offers innovative foundation options that are less invasive and easier to install than other foundations, like helical anchors.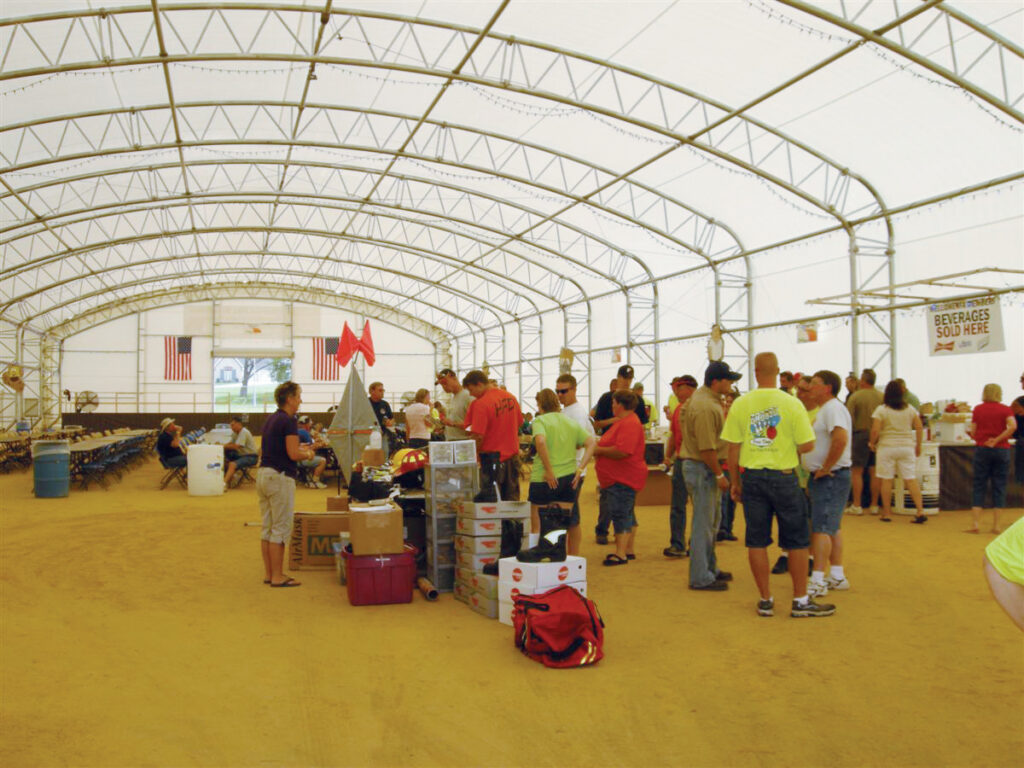 Helical anchors allow commercial tents to be portable and classified as temporary. As a result, the moving process is far simpler if businesses need to relocate their structure in the future. This also means that operations don't have to spend money on a new covered space when they move, making the structure even more cost-effective.
The fabric cladding's unique features, like natural lighting, natural ventilation and climate-sensitivity can have a significant impact on energy-savings. Over time, businesses will consume less energy, without having to sacrifice on quality or comfort in their structure. This sustainable design allows businesses to focus more on their operation and increasing their bottom line.
No matter the application, ClearSpan's commercial tents can provide businesses with a superior event and retail space. Through durable construction and innovative designs, operations will create a natural feeling environment that guests and vendors enjoy, while increasing their profits over time.
To upgrade from your old commercial tent, or to learn more about ClearSpan's fabric structures, call or Request a Quote today.
Related Articles
With how many factors contribute to an effective commercial building design, a number of operations end up making errors that impact the quality of their structure.
From light assembly to heavy-duty goods, all the way to company distribution centers, a ClearSpan manufacturing building can accommodate any type of industrial facility.
In this guide we'll go over the basics, from common building components to designing a structure for peak efficiency, and make sense of the process to simplify the integration of a new steel frame structure into any facility.
While the word "temporary" does imply short term, a temporary building doesn't have to be a provisional solution for operations, and it certainly doesn't have to be weak or unreliable.