A ClearSpan Shelter Building Provides The Ideal Protected Environment
When extreme weather hits, businesses and communities need a place to house supplies and keep people safe. However, most permanent shelters are often expensive and confined to one location, while temporary shelters don't provide the reliable protection that people require.
A ClearSpan shelter building offers a solution to both of these issues. For operations that need a permanent answer, ClearSpan's structures are dependable, cost-effective and capable of enduring decades of storms or other extreme conditions. In emergencies, these buildings can be installed and deployed quickly, as well as be moved between different locations.
With high-quality materials, innovative design features and quick construction timelines, operations can quickly get the ideal structure for their region. Wherever there's harsh weather, a ClearSpan shelter building guarantees protection, so businesses and communities can keep their valuables and loved ones safe.
AN IMMEDIATE SHELTER BUILDING SOLUTION
Storms and natural disasters give little warning, so many times a shelter building is needed on short notice. To help prepare for any severe weather or survival situation, ClearSpan can ship structures quickly for rapid deployment.
No matter the type of shelter, whether it's a short-term emergency shelter or a permanent shelter building, customers can get their structure in a hurry. ClearSpan manufactures these buildings in pre-built parts, which are then shipped and assembled on-site. This results in one of the industry's quickest construction timelines, and to further speed up the process, ClearSpan can also install the structure upon request.
Emergency shelters can be shipped fast and have been used in a variety of applications, including pandemic response, temporary housing, weather disasters and more. These structures are designed to create a comfortable interior environment, even when they are used by a large number of people.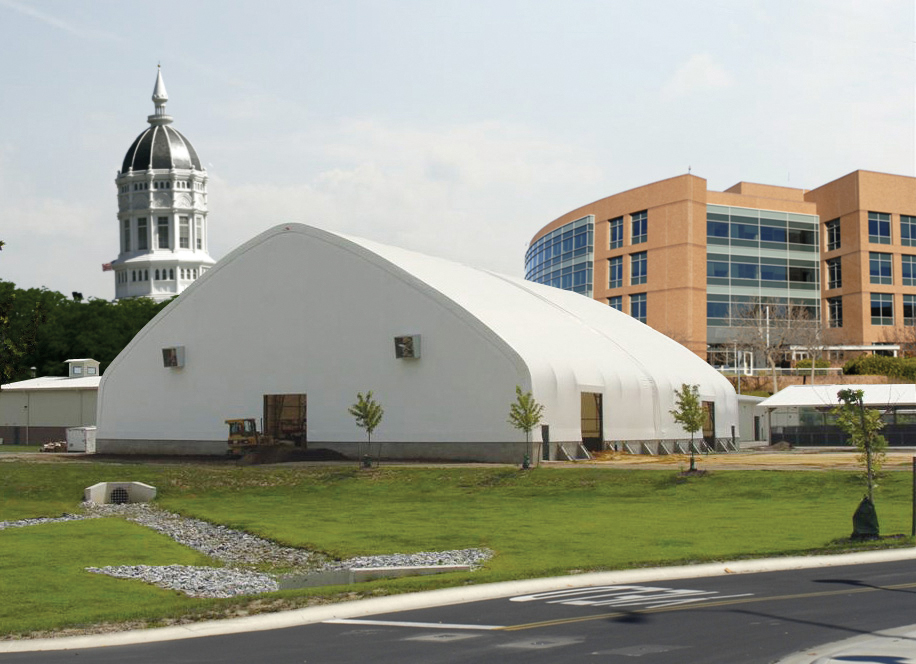 The ClearSpan emergency shelter building has no internal support posts and offers naturally high clearances. As a result, businesses and communities get the maximum amount of usable space to house people and necessary supplies.
They are designed with ClearSpan's standard fabric cladding, which is both naturally translucent and climate-sensitive. This means they allow natural light to filter through into the structure, while also keeping the interior naturally cooler in the summer and warmer in the winter. Additionally, the fabric cladding is breathable to promote natural ventilation.
These features help an emergency shelter building to require minimal artificial lighting or HVAC equipment. This makes them easier to deploy when they are needed most, as well as more energy-efficient and cheaper to operate.
SIGn up now to learn more
IS A PORTABLE STORM SHELTER AN OPTION?
A good shelter should be portable, which is why a ClearSpan shelter building is capable of being moved between different locations. Thanks to unique designs and innovative foundation options, operations can conveniently relocate their frame shelter where they need it most.
A ClearSpan shelter building has minimal foundation requirements, making it easy to build just about anywhere. Whether it's an open field, parking lot or the harshest terrain, the structure can be installed and secured to ensure the inside stays protected.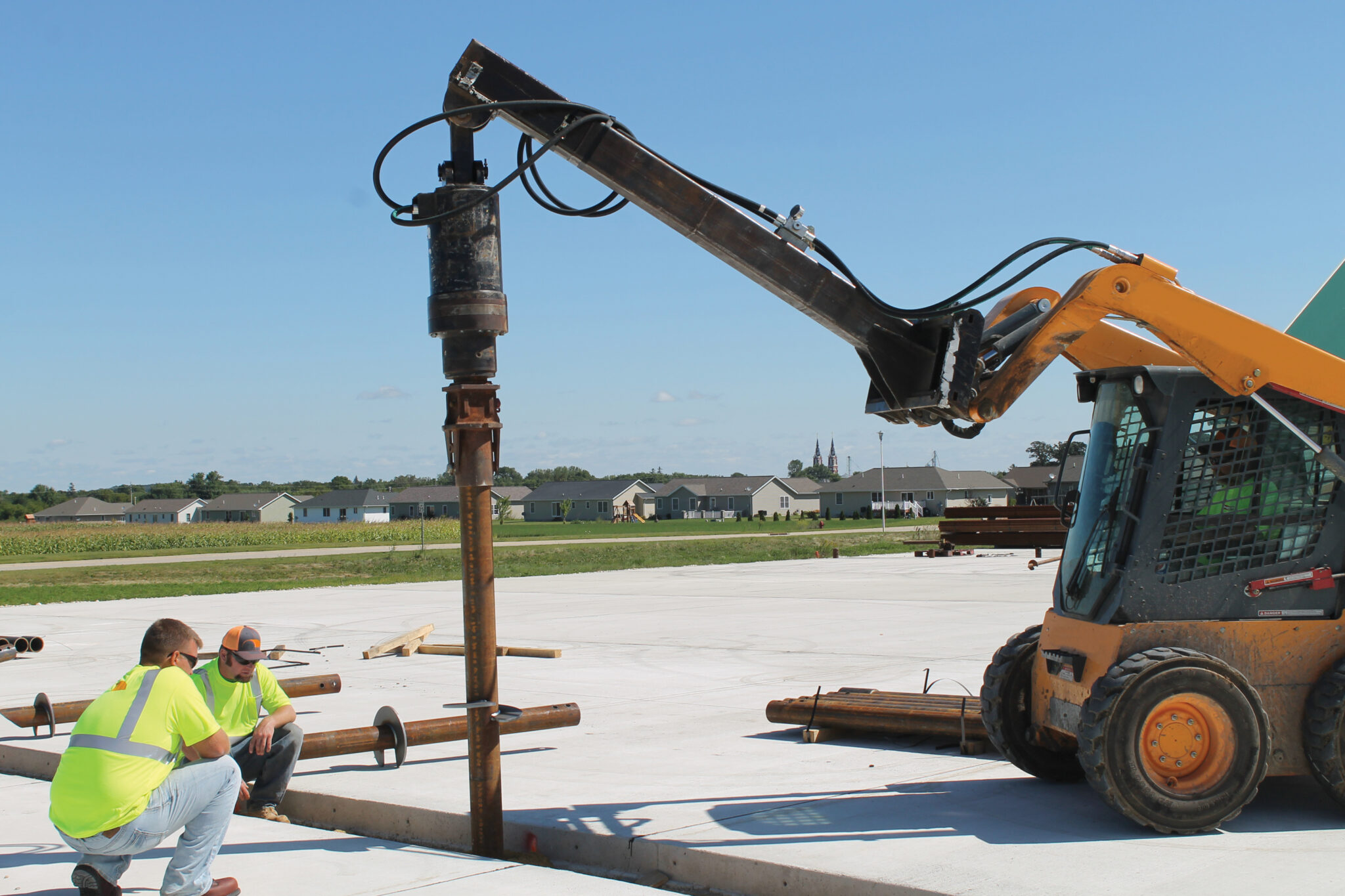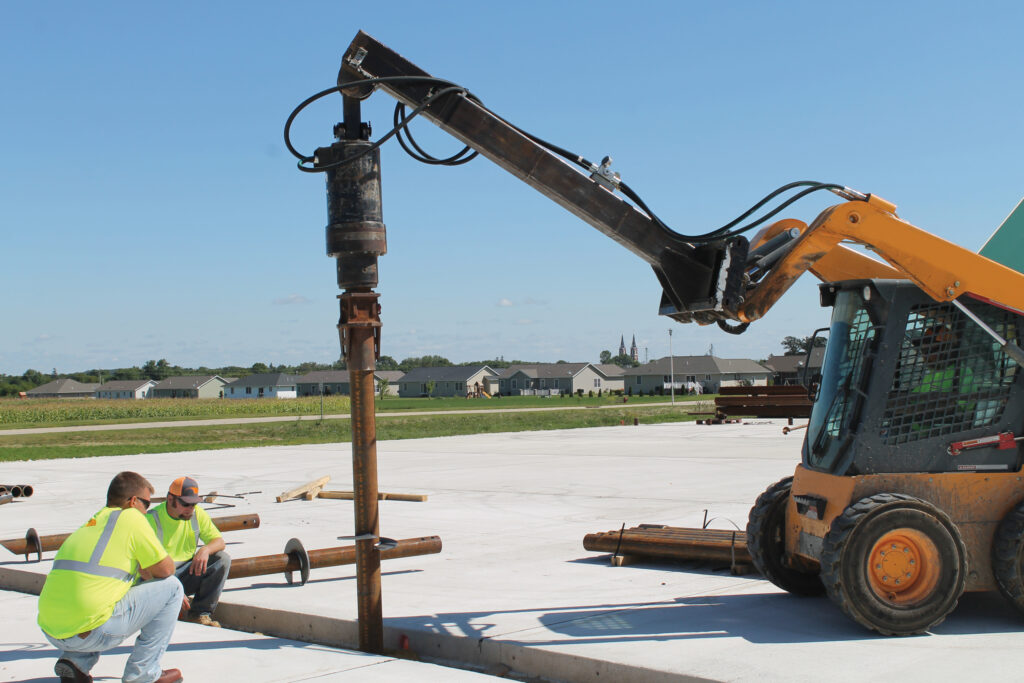 The most prominent foundation that contributes to these structures' portability is ClearSpan's Helical Anchoring System. Helical anchors provide the strength and stability of more permanent foundations, with added versatility.
Helical anchors require minimal excavation and site work by drilling directly into the ground. They are completely temporary and eliminate the need for other anchors like poured concrete or posts. This leads to a shelter building that is simple to relocate and more cost-effective than standard buildings, and it is a big reason why they make such excellent portable structures.
Storage containers also create an excellent portable foundation. These containers are durable, can be transported and installed quickly and provide additional storage space for valuable supplies. Operations can secure important items within the foundation, leaving the entire inside as usable space.
RELIABLE PROTECTION IN EVERY ENVIRONMENT
The best storm and survival shelters should be able to withstand just about any extreme weather. From severe wind and rain to heavy snow and cold wind, a ClearSpan shelter building provides a reliable, protected space for nearly every situation.
They can be built around two high-quality frames made from durable, American-made steel. The two frame options for a shelter building are the truss frame and the I-beam frame.
The truss frame takes advantage of triangles' fundamental strength, which lets them distribute weight and stress across the entirety of each truss for greater stability. This also allows a shelter building to be built up to 300' wide and to any length, while still upholding its structural integrity. These frames are triple-galvanized to help them stand up to the most caustic environments.
ClearSpan's I-beam frame is one of the strongest on the market. The frame, purlins and secondary framing are constructed from grade 55 steel and allow a shelter building to be built to any size. After being coated with a primer, the I-beam frame provides excellent corrosion-protection.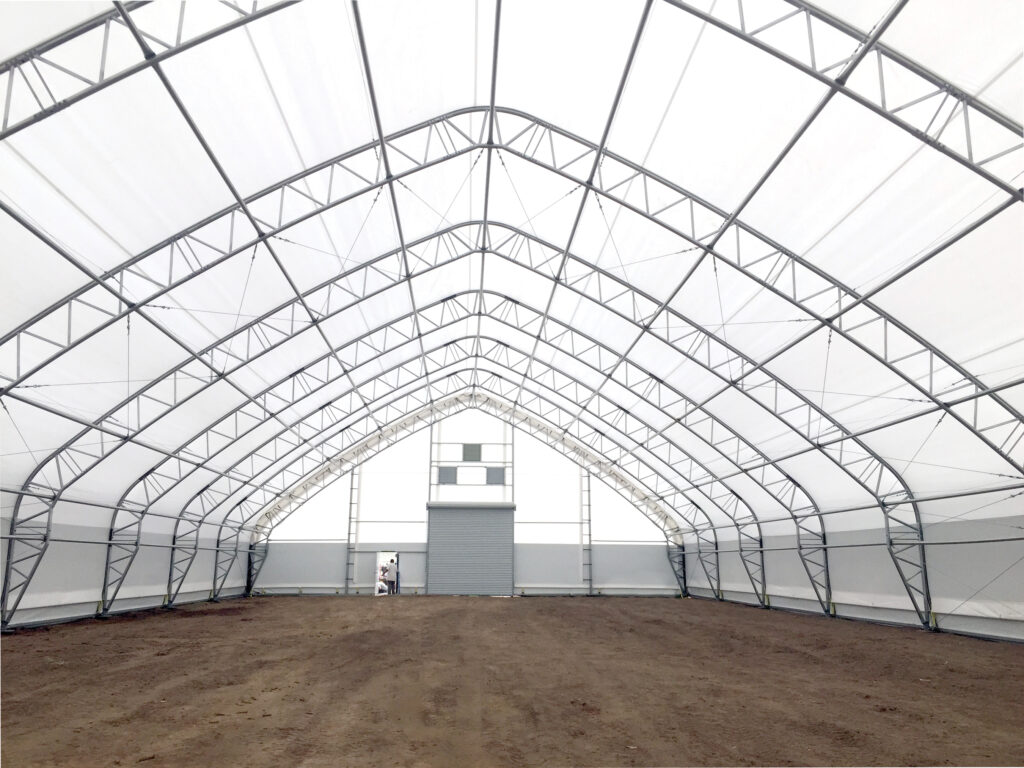 There are several cladding options to choose from to cover a shelter building. As the first of two fabric covers, ClearSpan's 12.5 polyethylene fabric cladding features a rip-stop weave that helps prevent rips and tears. If punctures do happen to occur, like from a fallen tree, the cover's design stops them from spreading.
The second fabric cladding choice is the exclusive Armor Shield Cover. This high-quality cover employs seven layer construction that supplies a shelter building with superior strength. Each layer helps make the cladding more effective, adding durability, preventing moisture buildup and repelling dirt.
A shelter building may also be covered with ClearSpan's metal cladding. Metal cladding is constructed with grade 80 steel that adds strength and durability for the most demanding environments. Its cost-effective design maintains a low cost per square foot, while still offering ultimate weather protection.
These cladding options feature up to 30 year warranties and both frames are backed by an industry-leading 50 year warranty to bolster their dependability. A shelter building can be custom engineered to stand up to wind loads of up to 185 mph and snow loads up to 100 pounds.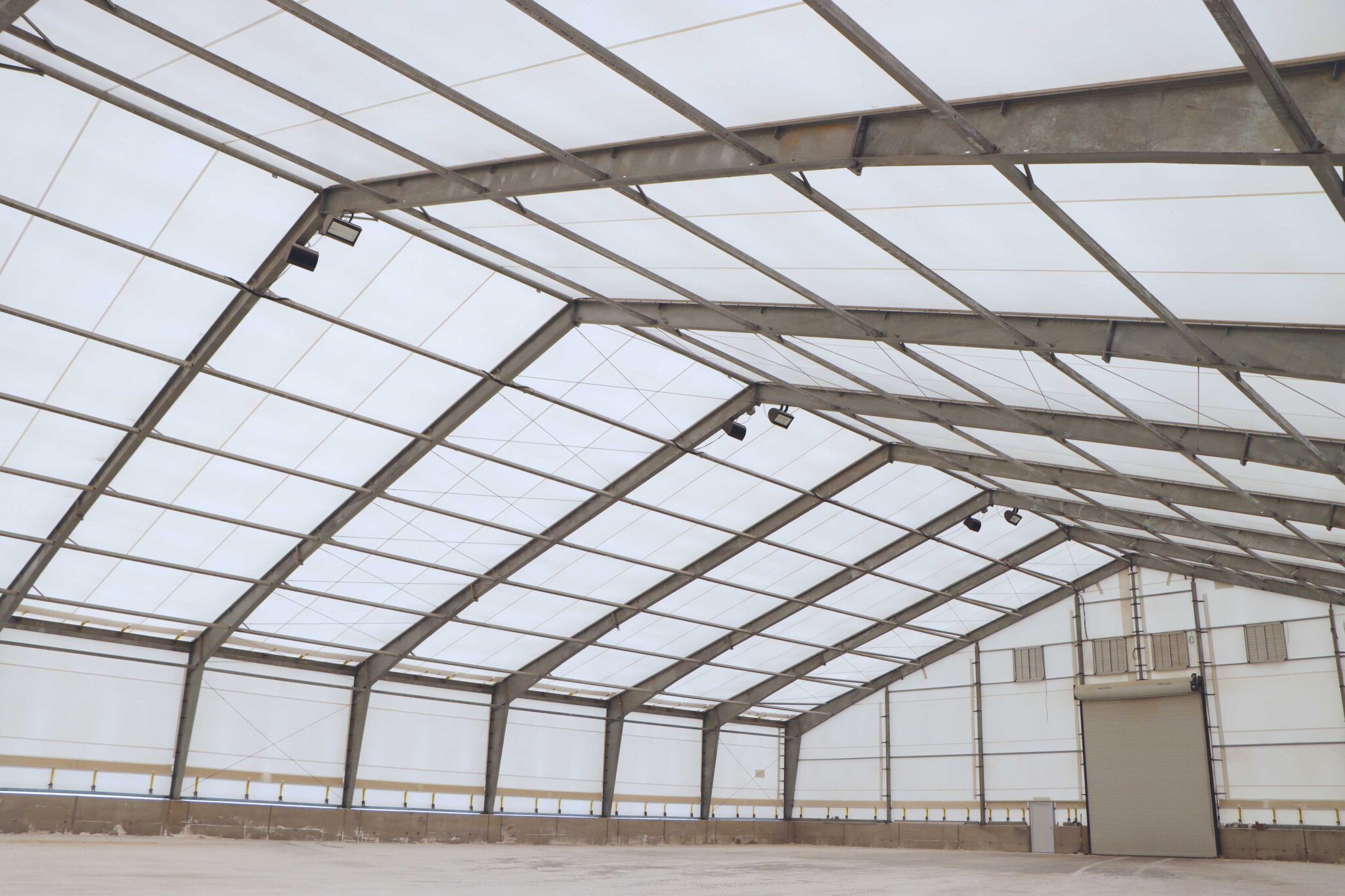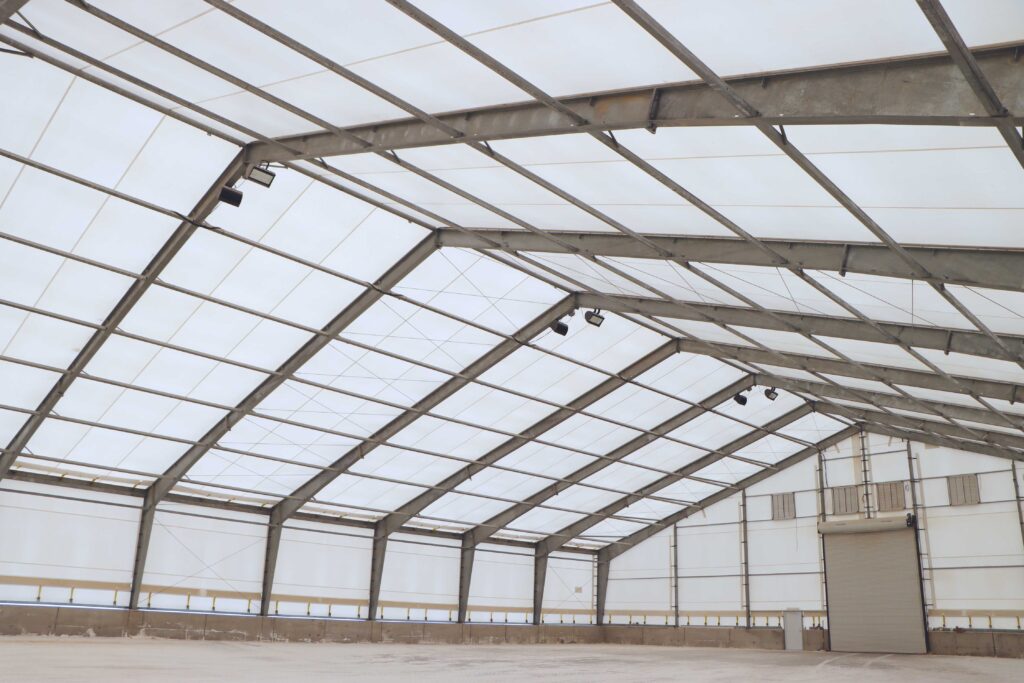 Regardless of location, a ClearSpan shelter building can provide a quick, protected space that lasts decades. Since they are also more convenient and cost-effective than other structures, operations in the harshest environments and with limited budgets can still get their ideal shelter solution.
To help prepare your business or community for extreme weather, call or Request a Quote today.
Related Articles
ClearSpan fabric structures are easily designed to fit any emergency requirements, and ClearSpan Truss Arch Specialists can accommodate additional needs, like bathroom facilities, food service areas or designated medical areas.
The sheer versatility of ClearSpan structures truly makes them advantageous to virtually any type or quantity of storage need.