4 Types Of Building Construction Materials You'll Encounter In Your Project
The pre-construction phase of a building project is often times the most important, since this is when operations will make a majority of the decisions that impact the design of their structure. In particular, one of the most daunting tasks businesses are faced with is selecting their building construction materials.
This can be a challenge, as different manufacturers specialize in certain types of structures, which means the materials they employ can be vastly different. Common resources like concrete, steel, brick, wood and more all have unique properties, can be incorporated into structural designs in multiple ways and are best suited to specific applications.
As a result, it's become increasingly important for operations to work with reputable manufacturers who can help them navigate this portion of their project. For those in need of a fabric or metal building, ClearSpan makes choosing the right design elements a far simpler process.
With experienced Building Specialists on staff and an emphasis on quality, operations are able to get the dependable, yet functional structure they need, while also experiencing a streamlined process from start to finish. As a starting point, below are some of the building construction materials operations can expect to choose from when beginning their ClearSpan project.
1. STRUCTURAL STEEL
Like with any building, operations will start by choosing the ideal frame for their structure. ClearSpan constructs frames out of steel, a strong and versatile metal alloy made from iron and carbon, which has proven to be one of the longest lasting building materials available.
Compared to other building construction materials, steel has a high strength to weight ratio, and is also lightweight, easy to work with and often cheaper to ship than many types of building materials. This makes it the perfect candidate for use in modern structures, which is why so many manufacturers today employ structural steel in tall buildings and large commercial facilities.
At ClearSpan, structural steel is used to create two types of framing: the truss frame and the I-Beam frame.
The truss frame is designed with USA-made, triple-galvanized steel. Galvanization enhances steel with a protective layer that helps prevent rust caused by moisture and corrosion.
During production, truss frames are made using round steel tubing, which is cut at precise angles and takes advantage of the triangle's fundamental strength. Triangles cannot be distorted by stress, so by incorporating their shape into the frame's design, buildings are able to distribute weight and stress across an entire truss, even at incredibly large spans.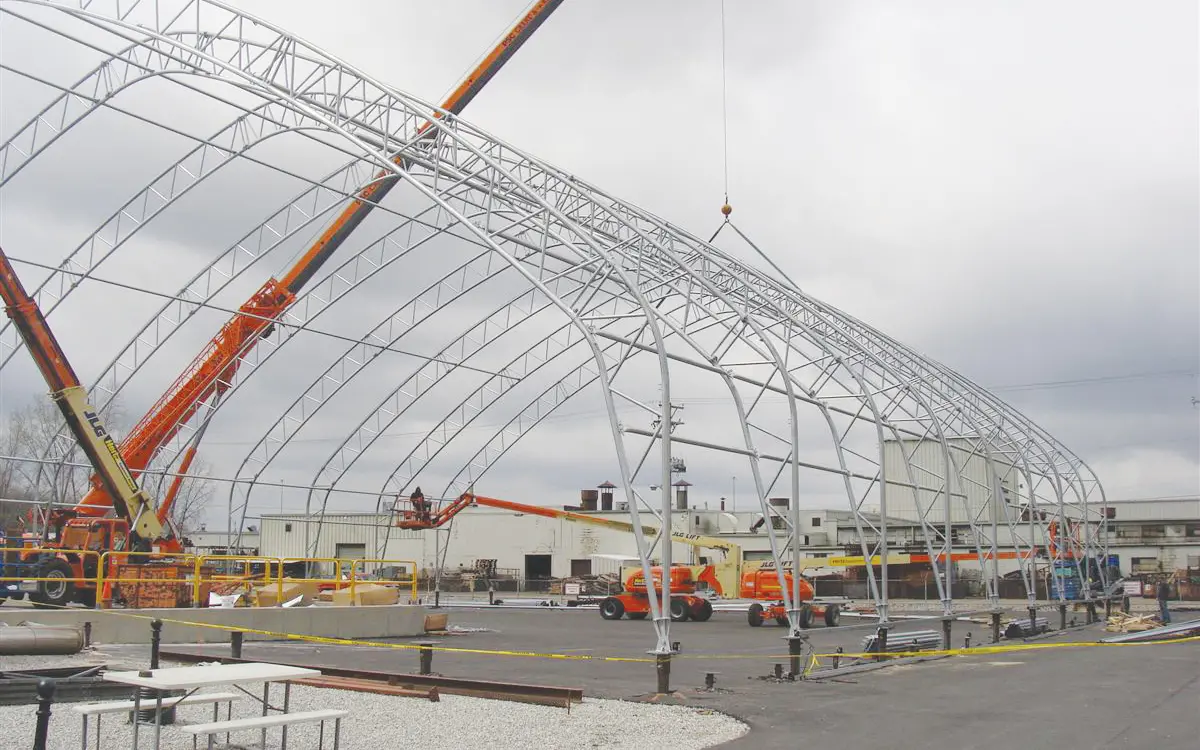 ClearSpan's I-Beam frame, along with the purlins and secondary framing, are constructed from grade 55 steel. Grade 55 steel is a high-strength metal alloy that is designed to ensure the utmost structural stability. While not triple-galvanized like the truss frame, I-Beam frames can be finished with a special PPG painting system that provides additional corrosion, chemical and abrasion resistance.
I-Beam frames are used to create ClearSpan's Beam Buildings, which are designed primarily using vertical columns and horizontal beams. The horizontal beams are able to transfer severe loads from the roof to the columns, which in turn transfer loads vertically to the foundation, and then ultimately to the ground beneath the structure.
2. METAL CLADDING
In addition to its use for structural framework, steel's versatility allows it to be incorporated into other design elements, like cladding. Steel cladding supplies a building with reliable protection against the elements, and when combined with a good insulator, operations can gain total control over their structure's interior climate.
Many manufacturers enlist other types of metal for their cladding, like aluminum or copper, but steel generally offers a more reliable and longer-lasting option. ClearSpan's metal cladding is constructed with grade 80 steel, which is a type of high-strength, low-alloy steel that is durable, yet still highly formable.
This metal cladding is produced in 26 gauge, prefabricated panels and is available in numerous channel designs, including R panel, AG panel and U panel. Unlike metal cladding made from other building construction materials, 26 gauge steel panels are known for their ability to withstand more extreme weather conditions, like hail, snow and strong winds, making them an excellent choice for any operation in need of a metal building.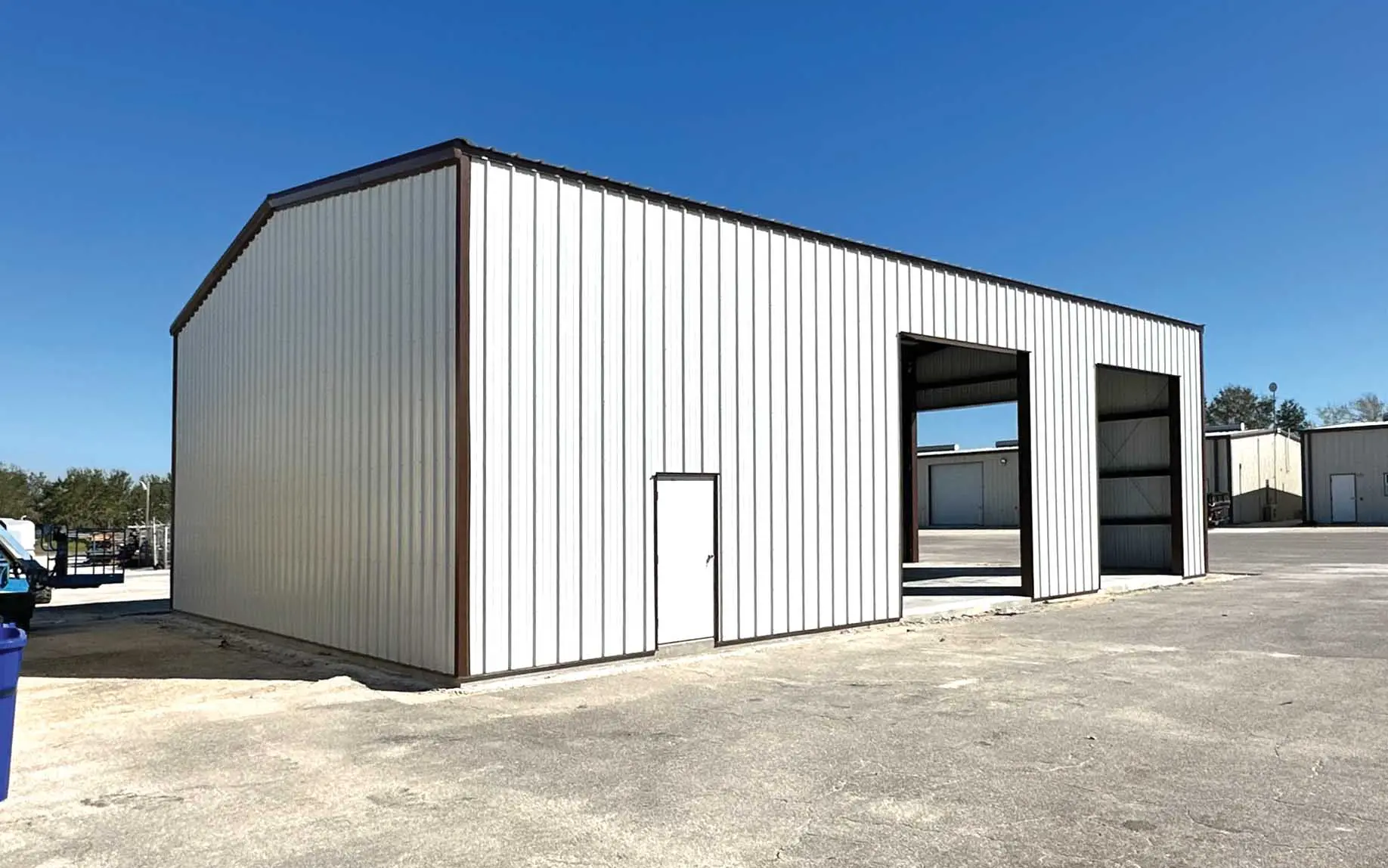 Sign Up Now For More information
3. FABRIC COVERS
Across a number of industries, fabric cladding has quickly become one of the most widely used building construction materials. Many operations prefer fabric covers, because they offer a variety of benefits, like being lightweight, durable and cost-effective.
With ClearSpan, businesses can choose from two types of fabric cladding to cover their structure. The standard option is made from 12.5 oz. polyethylene fabric and features a rip-stop weave that helps prevent rips and tears, significantly extending its lifespan.
This cover is thoroughly tested to ensure both a high degree of tensile strength and energy-efficiency, making it ideal for operations who want to protect their structure's interior, while also saving money over time. Polyethylene covers allow natural light to filter through them, which produces a well-lit space that doesn't rely on artificial light fixtures during the daytime.
Additionally, these covers are climate-sensitive, so they keep a building's interior naturally cooler in the summer and warmer in the winter. They are quick to install, 100 percent recyclable and require far less cleaning and maintenance than more traditional building construction materials, like many types of wood.
When operations want a fabric cover with superior strength, they can clad their building with ClearSpan's exclusive Armor Shield Cover. This 29 oz. architectural vinyl cover is designed using seven-layer construction, including a PVDF top coat on both sides that is designed to improve durability and repel dirt, allowing for easy long-term maintenance.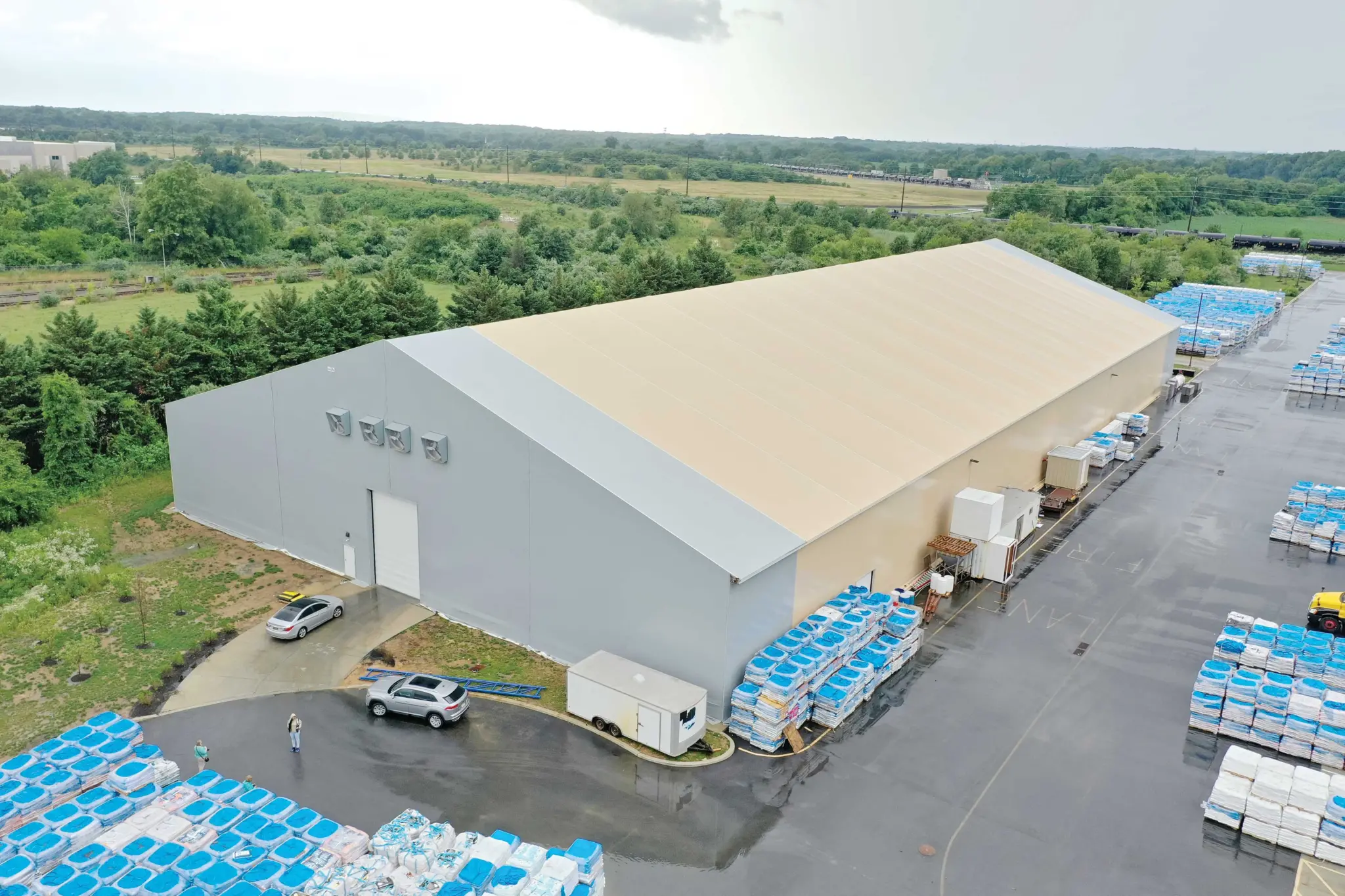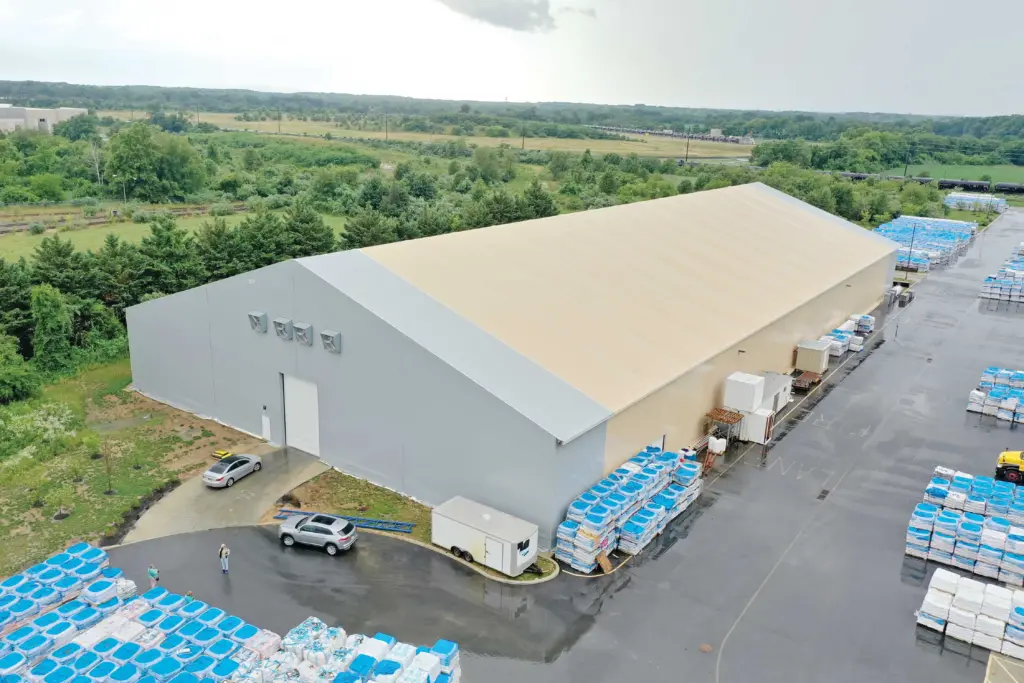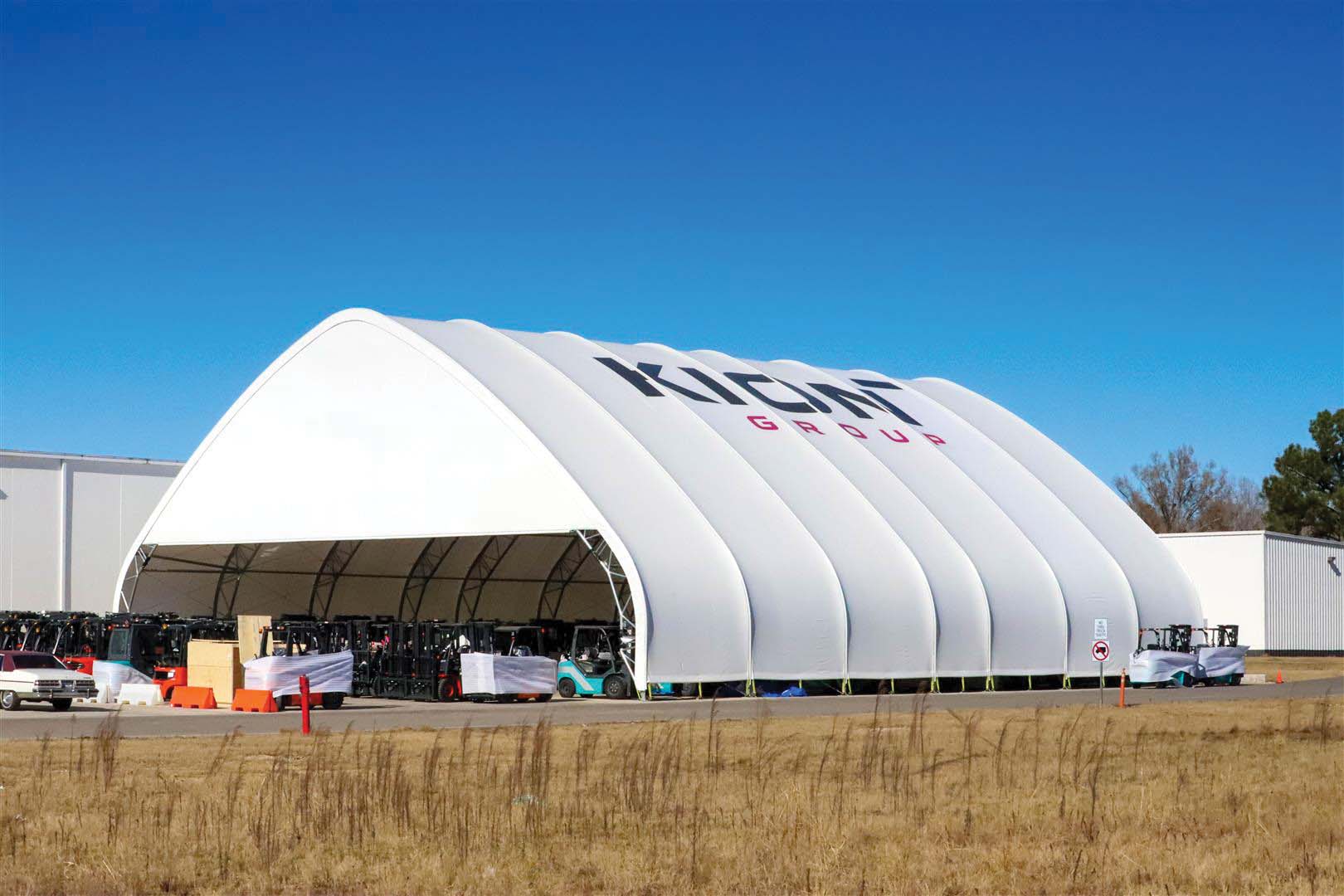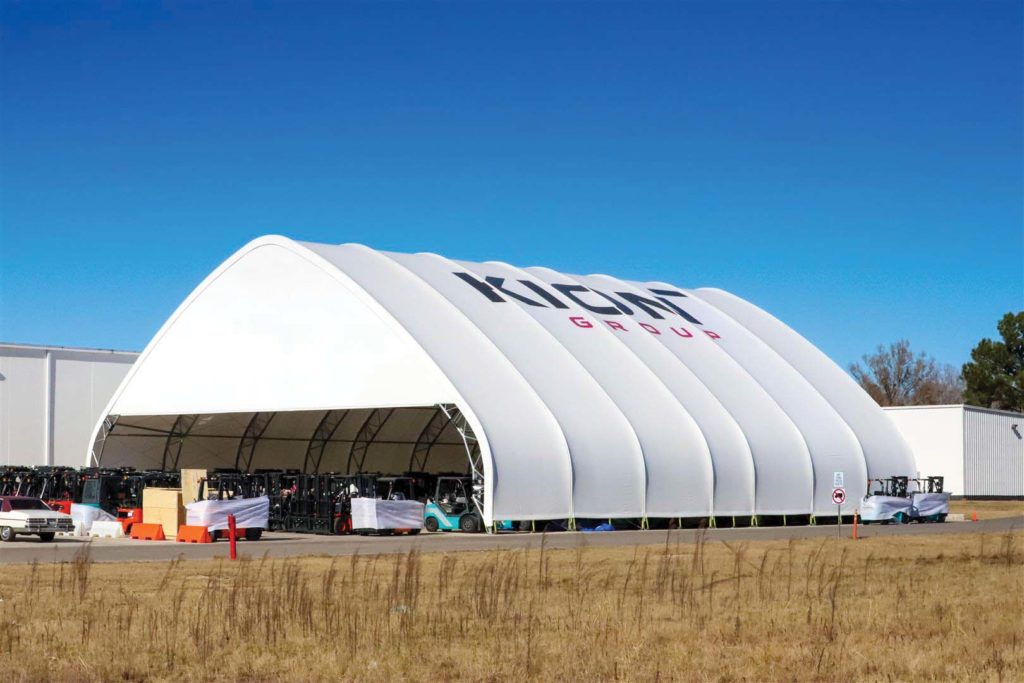 4. CONCRETE FOUNDATIONS
Concrete is a composite material that has become an integral part of most modern buildings. This is not the case with fabric and metal structures, though, as concrete is often only incorporated as a foundation option. In fact, these buildings are able to take advantage of other, more versatile foundations, so businesses have the choice to not use this material at all.
Still, concrete does provide an effective and reliable base when operations plan to keep their building in one location. Two of the most popular concrete foundations businesses can utilize are poured concrete and concrete blocks.
As the name indicates, poured concrete is poured into place, flowing through pre-constructed molds to fit an operation's desired foundation shape, where it is then left to cure and harden. Poured concrete is effective, because it is quick to install, simple to waterproof and holds up well against ground soil as it expands and contracts over time.
Rather than a mixture that needs to be poured, concrete blocks are stacked to form a foundation wall. Concrete block foundations generally offer more compressive strength than poured concrete, meaning they can bear heavier vertical loads from large structures. Concrete blocks are also easier to transport and are a viable solution when using poured concrete is either logistically challenging or too costly.
While it works great as a foundation, ClearSpan can still utilize concrete in other ways to benefit fabric and metal buildings. Pre-stressed concrete walls are one of the most popular building construction materials for storage applications, as they allow operations to store just about any commodity or piece of equipment right up against the edges of their structure.
Pre-stressed concrete walls have a unique design that makes them inherently stronger than traditional concrete. Their panels are compressed and tensioned with steel tendons before installation, which results in a concrete panel that is better able to withstand tension. They attach directly to a building's frame, allowing for quick and easy installation.
When planning to construct a fabric or metal building, operations shouldn't have to navigate the design process on their own. ClearSpan makes choosing from a list of building construction materials simple, so operations can get through the pre-construction phase with ease and obtain the ideal building for their intended application.
To learn more about the building construction materials ClearSpan employs, call or Request a Quote today.
Related ARticles
With how many factors contribute to an effective commercial building design, a number of operations end up making errors that impact the quality of their structure.
Prefab buildings have emerged as a major player in the building market, offering businesses increased versatility and a variety of other unique benefits.
By making the right decisions during pre-construction, businesses should be able to obtain a structure that fits within their budget and is ideal for their specific application.
In this guide we'll go over the basics, from common building components to designing a structure for peak efficiency, and make sense of the process to simplify the integration of a new steel frame structure into any facility.