Why A Fabric Structure Is The Best Choice For A Military Tent
If there's one consistent trait across every military branch, it's a high standard of quality for any military shelter or piece of equipment they utilize. When it comes to a military tent, the armed forces depend on superior manufacturing practices that can provide them with the most reliable structure possible. This way, their operations can ensure valuables and personnel have ample protection and comfort, year-round.
This is something ClearSpan takes seriously in its building design, which helps a fabric structure meet a number of applications across various industries. A fabric building's advantages for the bulk storage industry have been covered in a previous blog, but its benefits make it a perfect fit for military efforts as well. By offering distinctive features and customization opportunities, fabric structures have become the superior choice for a military tent.
With spacious interiors and ultimate weather protection, as well as decades of guaranteed dependability, ClearSpan's fabric buildings help the armed forces get the most potential out of their military tent. From housing and storage to a mess hall or command post, there are numerous ways for every military division to benefit from a ClearSpan military tent.
A MORE CONVENIENT LARGE MILITARY TENT
Two factors that are incredibly important to a military shelter are convenience and space. For any military operation to function properly, they often need quick building solutions for their supplies and personnel.
Throughout manufacturing and on-site construction, fabric structures are designed to be erected quickly and conveniently. Shorter construction timelines and less invasive excavation help lower the total costs considerably, even with a large military tent.
This rapid deployment is assisted by ClearSpan's versatile foundation options, which allow any operation to create their ideal military tent. Whether it's a permanent solution for one location or the structure has to move to different sites, no foundation makes a military tent more convenient or adaptable than ClearSpan's helical anchors.
As a foundation that's considered 100 percent temporary, helical anchors provide the durability of a more standard option, while still allowing a military shelter to be easily relocated. Since they are drilled directly into the ground, they require minimal excavation and allow for simpler installation or removal.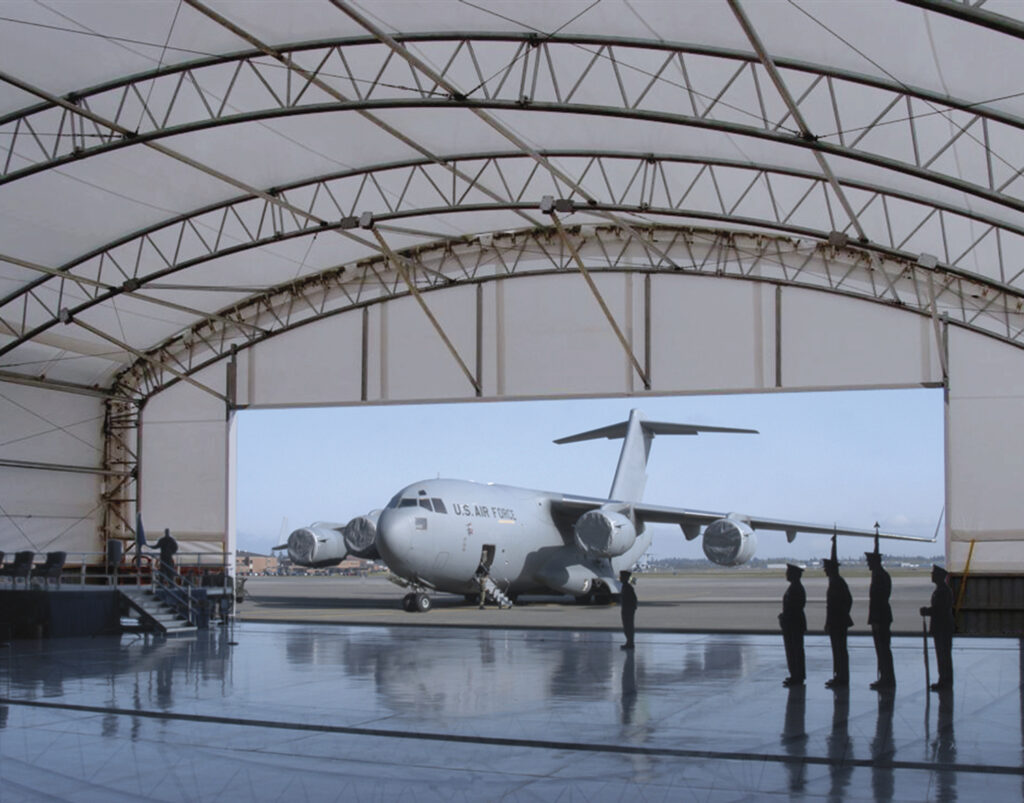 A ClearSpan military shelter is manufactured with high-quality components that contribute to its portability and streamlined construction. This includes both frames, the Truss Frame and I-Beam Frame, which also let a military tent be built to nearly any size.
In both a small and large military tent, these frames provide spacious interiors and naturally high clearances. Through this design, military operations can maximize the square footage of their military tent, regardless of its size or purpose. Additionally, even the tallest machinery or vehicles can be stored and maneuvered comfortably, like large planes for the air force.
If operations are based in a location with limited access to electricity or other resources, a ClearSpan military tent provides convenient features that help alleviate this challenge. The fabric covers are naturally translucent, meaning they let sunlight filter through and flood the structure's interior. During the day, this allows for comfortable lighting that's easy on the eyes and decreases the need for artificial light.
Additionally, these covers are also climate-sensitive, which helps them create a more comfortable environment inside a military shelter. Temperatures are reduced ten degrees during the summer and raised ten degrees in the winter, mitigating the need to run extensive HVAC systems. For operations that may need their military tent to be relocated, these natural benefits make the process far less complicated.
Sign up Now to learn more
THE PROTECTION A MILITARY SHELTER DEPENDS ON
In order to keep morale high and stored goods protected, the armed forces need a military tent that's designed to stand up to the harshest elements. A ClearSpan fabric structure provides just that, creating a military shelter that troops can depend on consistently.
With every structure, whether it's a smaller solution or a large military tent, the army can choose between two different fabric covers. Each cladding is designed to last decades and provide sufficient weather protection, even in the most demanding environments.
The standard option is a 12.5 oz. polyethylene fabric cover. Featuring a rip-stop weave, this cladding boasts increased durability, an extended lifespan and does a great job of standing up to severe weather and flying debris. When a military shelter does face harsher weather, the cover's design helps prevent tears from taking place, as well as from spreading if they do happen to occur.
For maximum strength and resilience, military branches can acquire the exclusive Armor Shield Cover. This cladding is designed for the most challenging applications and turns a military tent into a safe haven from the elements.
By keeping moisture out and repelling dirt, a military tent with an armor shield cover will need little maintenance once it's erected. For increased durability, ClearSpan also offers metal cladding that provides a military shelter with additional strength.
Since military outfits often travel to different locations, they also need a structure that can meet the demands of various regions. To supplement the strength of the covers, a ClearSpan military shelter uses high-quality steel for its frames and can be engineered to stand up to specific environments. When operations get their military tent engineered for high wind and snow load requirements, they are guaranteed their structure will stay reliable, no matter where a mission takes them.
Additional protection can come in the form of customization, offered by ClearSpan to create a one-stop-shop for military outposts. For more secure storage, a military tent can be anchored with a different foundation, like shipping containers. Other durable accessories are also available, like a Commercial Coiling Sheet Door, which is manufactured with galvanized grade 80 steel, and is designed to provide long-term dependability.
GREATER DURABILITY AND LONGEVITY
Typical army tents are built for quick deployment, but by doing so, they often sacrifice a substantial amount of strength and longevity. Unlike other shelter systems, a ClearSpan military tent is designed to produce a durable solution that holds up over time.
While both covers and frames provide a number of other benefits, it's the high-quality manufacturing that truly sets a ClearSpan military shelter apart. To support this claim, each component is backed by an industry-leading warranty that ensures operations get the long-term solution they need.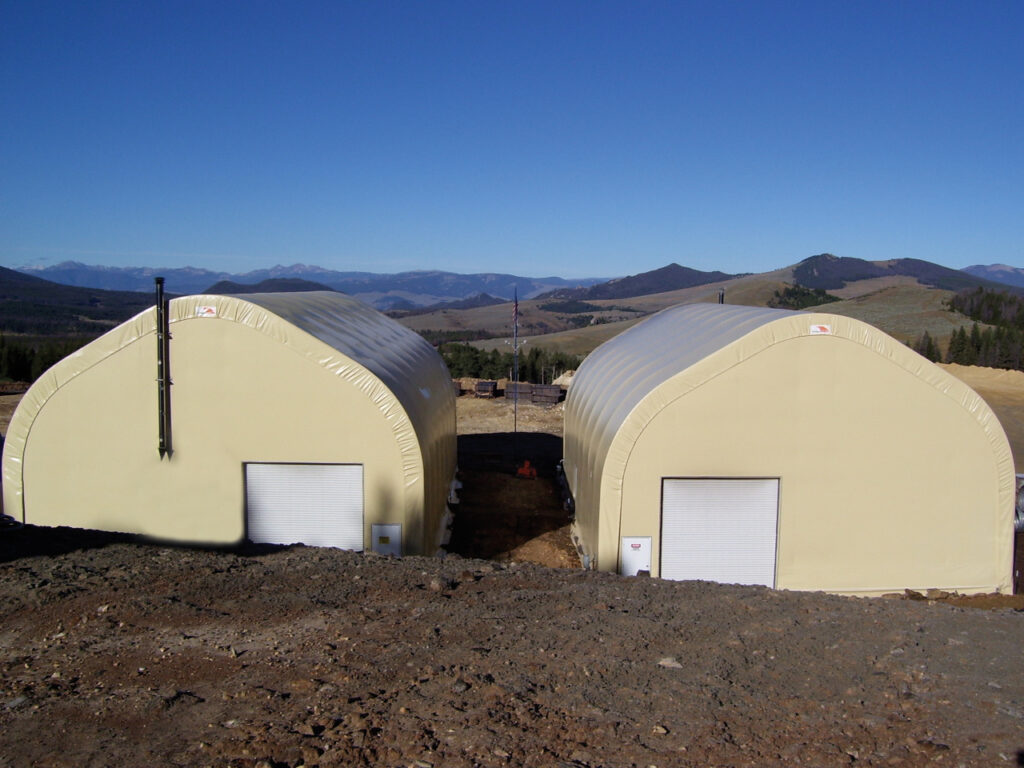 In order to thrive in more caustic environments, the frames provide corrosion-resistance that helps a military tent avoid rust. The Truss Frame is triple-galvanized to offer the most strength possible, and the I-Beam Frame uses high-grade steel that's been coated with a primer. Both frames include 50 year-warranties.
ClearSpan's 12.5 oz. fabric cladding is supported by a 20-year warranty, while the Armor Shield Cover comes with a 30-year warranty. In their designs, the standard fabric uses its rip-stop weave to provide a military shelter with additional strength, and the Armor Shield Cover employs seven-layer construction for ultimate reliability.
Within these seven layers, the base fabric promotes resilience and supports a longer lifespan. Additional layers help protect the initial fabric and improve the cover's overall durability, as well as repel dirt off of a military tent.
The needs of the armed forces are constantly changing, and military operations need a military tent that can adapt with them. By acquiring a ClearSpan military shelter, any division can gain valuable weather-protection, unmatched versatility and can maximize their usable space for personnel or storage.
To learn more about how the armed forces can benefit from a ClearSpan military tent, call or Request a Quote today.
Related Articles
A ClearSpan structure's versatility allows it to suit any air travel application, from plane hangars to airport repair facilities or aircraft storage buildings.
In the aviation industry, fabric structures have proven to be an especially worthy investment for aircraft storage.