Play, Train or Compete Year-Round with ClearSpan Fabric Structures
August 21, 2019
In the wintertime, heavy and frigid cold encourage athletes to stay indoors. In the spring, rainstorms can washout any chance for sports or outdoor activities. In the summer, scorching heat can force closures and cancellations. Luckily, there's a cost-effective solution becoming popular for athletes and business owners looking for year-round activity.
ClearSpan structures are sturdy, long lasting and feature industry leading warranties. They provide excellent weather protection and create comfortable environments that make them the ideal buildings for any athletic or recreational activity. Before hearing from ClearSpan customers on their experience working with the company, check out this list of benefits provided by ClearSpan structures.
The ClearSpan Athletic and Recreational Advantage Includes…
Hercules Truss Arch and I-Beam frames – Strong, built with USA-made, triple-galvanized steel
Maximum usable space – No internal support posts
Natural lighting & ventilation – Lowers utility costs, creates the ideal environment
Cost effective – Low cost per square foot
Durable fabric covers – Designed with a rip-stop weave, withstand heavy snow and high winds
Robust steel cladding – Available in multiple colors and channel designs
Climate-sensitive covers – Warmer in the winter, cooler in the summer
Various foundation solutions – Build just about anywhere with limited excavation
Industry-leading warranties – 50 years for the frame, 20 years for the cover
With these benefits in mind, read insights from ClearSpan customers below to better understand why these structures are quickly becoming the premier choice in the athletic and recreational industries.
Wide-open Design Creates the Ultimate Training Experience – Indoor Gym & Training Facility
"We mostly cater to children and young adults, focusing on training them correctly. We also work with coaches and provide a training venue for them," said Dave Peluchette, co-founder and owner of the Total Athlete Indoor Training Center in Triadelphia, West Virginia.
Peluchette, along with two others, Buzzy Evans and Terry Edwards, felt that there was a need for a training center in their area. The trio all have accolades in training and coaching in various sports and felt they could bring their knowledge and expertise to a wide audience of athletes. "I have been training for forty years and have always wanted to open a big facility. We were originally going to use an existing structure, but that didn't work out," Peluchette said.
That's when Peluchette began researching alternatives and discovered ClearSpan. "We wanted a wide-open building with a lot of height," he said, "I was really impressed by the openness of ClearSpan structures." The trio decided to choose a 72' wide by 220' long ClearSpan Hercules Truss Arch Building for the newly founded Total Athlete Indoor Training Center.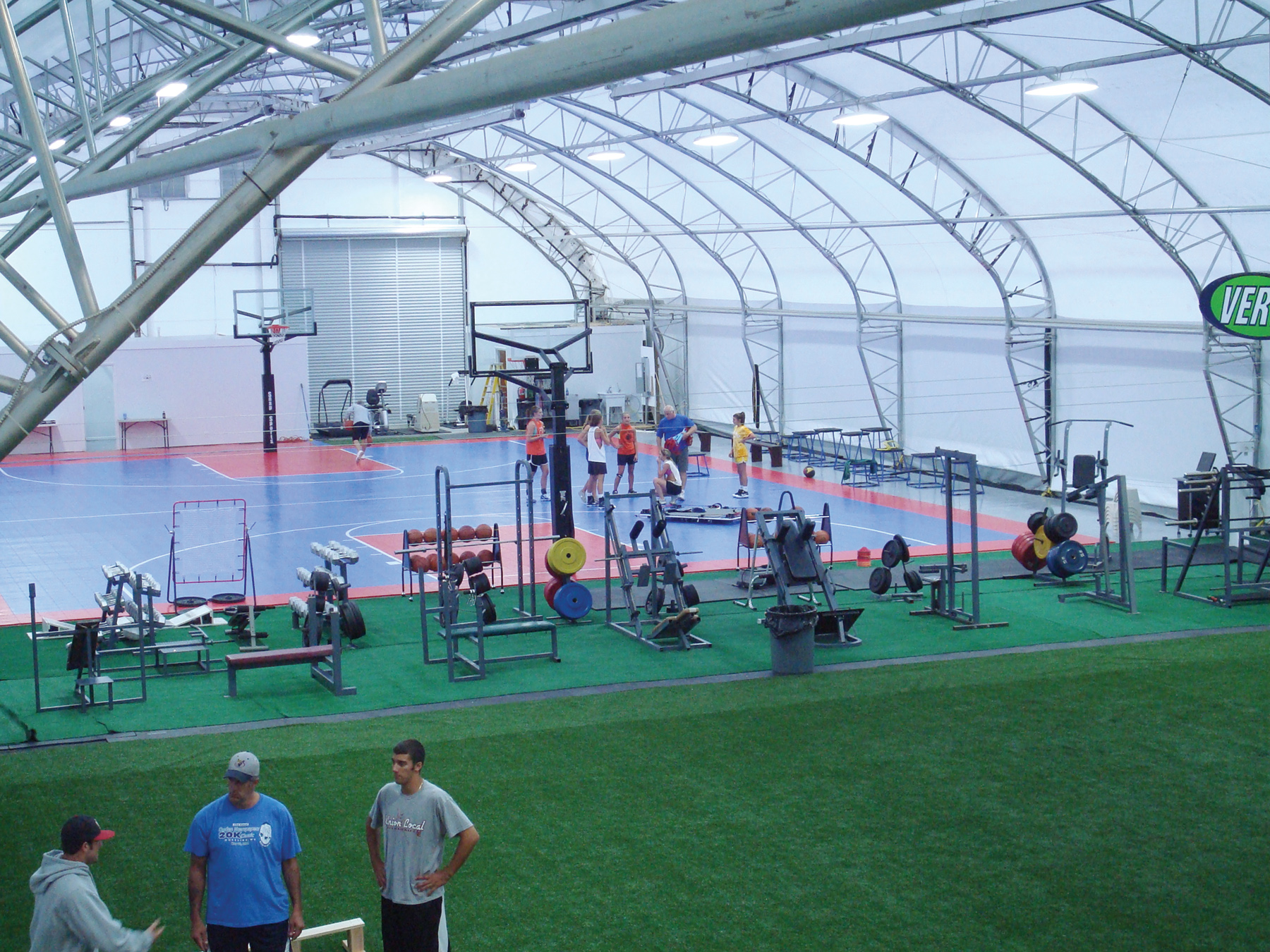 For an athletic facility, having enough room available for equipment and training is essential. The Hercules Truss Arch Building's structural design creates a complete lack of internal support posts within the structure, allowing maximum usable space. Plus, the structure's arched design adds ample clearance for any and all kinds of play. "The height and openness allow plenty of room for training and equipment," Peluchette said.
Peluchette is more than happy with their ClearSpan structure. "Everyone likes the facility. There's a wow factor when you first walk in the building," he said. "The building is working out well."
Year-Round Protection & Comfort for Texas Country Club – Indoor Tennis Facility
In the lakeside town of Rockwall, Texas, nearly 200 acres of land seated along the edge of Lake Ray Hubbard housed the remnants of a failed country club. In 2012, new management took over the picturesque plot of land. With sights set on reinvigorating existing facilities, the new owners founded the Rockwall Golf & Athletic Club. Their goal was to establish the facility as a family-oriented club with more amenities. The golf course and swimming areas were completely renovated, but the real attractions were the club's tennis programs and facilities.
With eight lighted hardcourts overlooking the beautiful waterfront, tennis was becoming increasingly popular at the Rockwall Golf & Athletic Club. Still, challenges arose. The Head Tennis Professional and Director at the facility, Joey Molina, explained how programs, clinics and lessons were being hindered by inclement weather. "Tennis is a year-round sport," said Molina. Rockwall Golf & Athletic Club needed a way for its members to practice, rain or shine.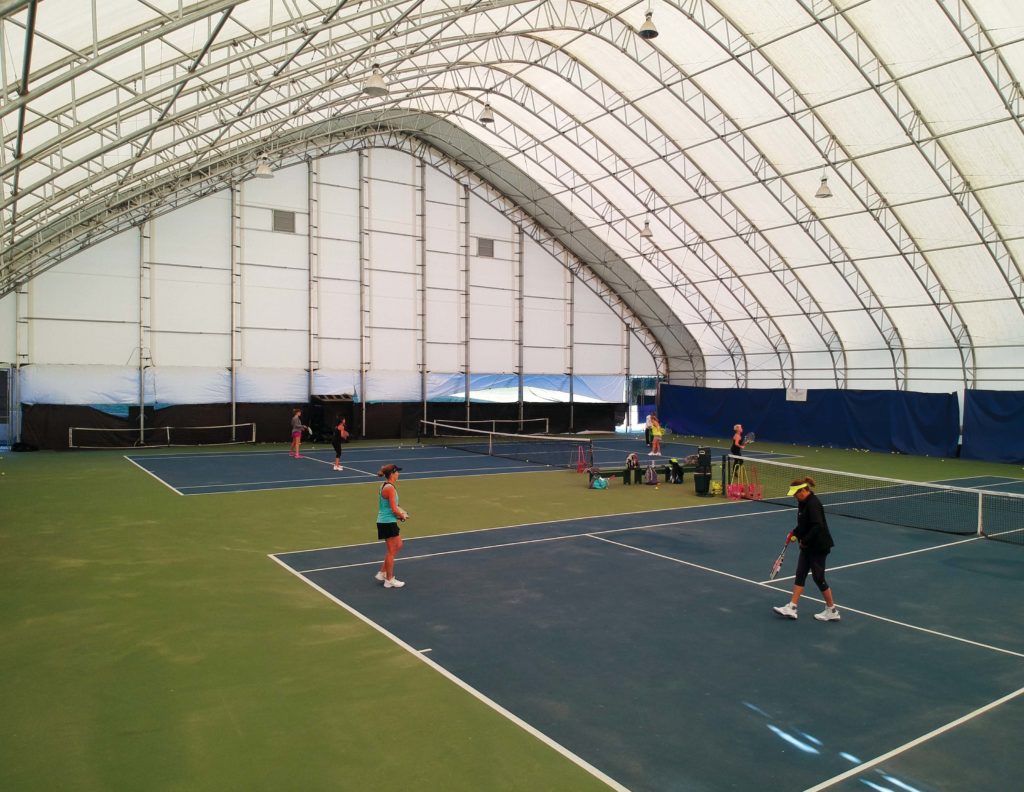 After researching on the internet, Molina found ClearSpan's site. Ultimately, the club chose a 120' wide by 120' long Hercules Truss Arch Building to shelter its tennis facilities. "Now that we have two of our courts covered, we can remain active when it rains." Aside from the weather protection, Molina also cited the fabric cover's light permeability and temperature management as benefits. ClearSpan structures have abundant daytime lighting and can keep temperatures 20 degrees cooler in the summer and 20 degrees warmer in the winter. "The combined natural daytime lighting and comfortable environment really makes this building unique," he said.
Rockwall Golf & Athletic Club and its members are thrilled with their new athletics and recreation building from ClearSpan. "A ClearSpan building is the best and most economical way to go… rain or shine," Molina said.
Expanding Recreation for Youths in the Rocky Mountains – Indoor Gymnasium
Cherry Gulch is a boarding school for boys, providing various therapeutic intervention and prevention programs amongst the backdrop of the beautiful Rocky Mountains. Near Boise, Idaho, the ranch is surrounded by natural wonders, mountains, valleys, rivers and a reservoir, while also being close to the metropolitan attractions. The facility offers professional, personalized care and a variety of therapeutic outdoor activities, such as hiking, water-skiing, biking, swimming, fishing, rafting and camping.
Cherry Gulch meets the needs of its students in the best ways possible. However, they found that their facility was lacking in one specific area. "We've been utilizing an outdoor basketball court for all of our programs," said Kahn Borge, L.M.S.W., Program Manager at Cherry Gulch. The school needed a new structure to house its expanding athletic and recreational activity programs. "We wanted to give our students the opportunity to play sports and enjoy other activities with an indoor facility during inclement weather," said Borge.
Borge began searching the internet for a building that was ideal for various sports, games and team building activities, but was also able to provide students with year-round recreation. Eventually, he found ClearSpan, who offered a lower cost per square foot and superior structures than their competitors. Borge said, "We selected ClearSpan, because of the combination of low cost and quality."
Cherry Gulch is glad to have chosen a 65' wide by 100' long Hercules Truss Arch Building as the solution to their needs. The structure has become the main meeting place for large training sessions as well as its standard use as a recreational facility. "The building has been great, and the students love it," Borge said, "Not only is the building very strong, but it's attractive both inside and out. The ClearSpan building has been a great addition to our facility."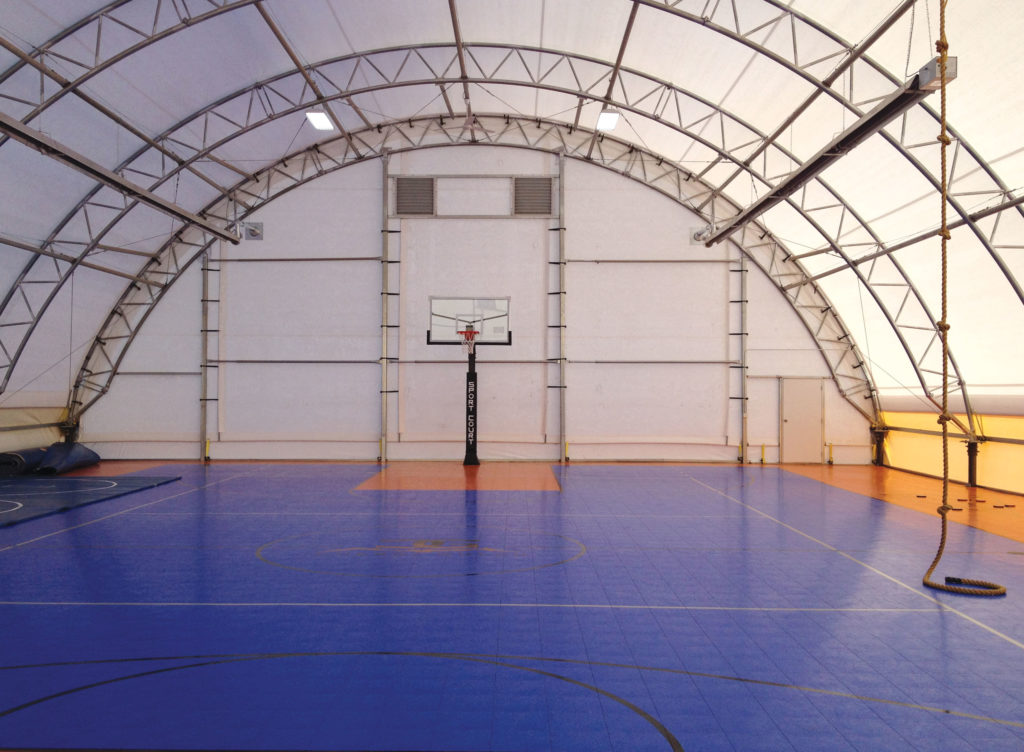 A Sturdy Structure for the Northwest's Largest Skateboarding Ramp – Skateboarding Facility
William Stein is the co-owner of the largest skateboard ramp in the Northwest. The ramp is located in Seattle, Washington and measures in at 56'wide and 13.5' tall. It's a private, non-commercial backyard ramp used regularly by advanced skateboarders. Skaters travel from all over Oregon, Washington and even British Columbia to check out the massive vert ramp, which is enclosed by a ClearSpan structure.
Stein had a lot of positive things to say about working with ClearSpan to find the perfect protection for the ramp. "I chose ClearSpan, because they have an excellent catalog with clearly stated prices," Stein said. "The salespeople at ClearSpan were more professional than other companies I contacted. Also, the online videos illustrating real-world uses of their products were a selling point." Once Stein had decided ClearSpan was the best fit for his next building project, he contacted a ClearSpan Truss Arch Specialist.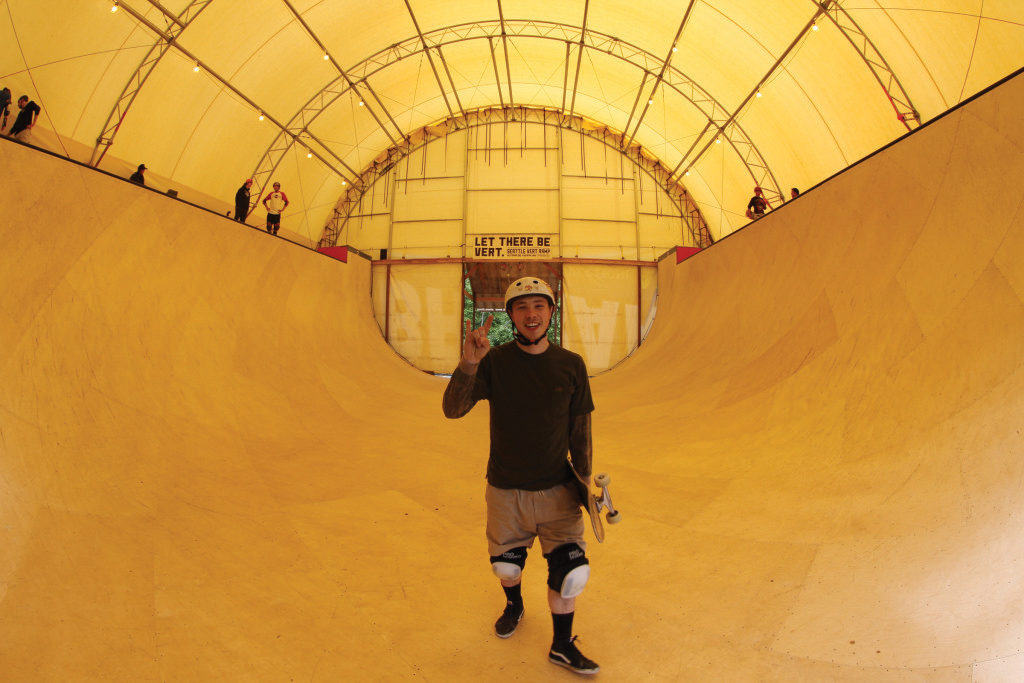 ClearSpan Truss Arch Specialists are always available to help customers find the ideal solution to their needs. In this case, a Truss Arch Specialist was able to help Stein find a building that was capable of using the ramp itself as a foundation. "This building is an integral part of the ramp… the walls of the ramp act as the pony walls of the building," Stein said.
Not only was the structure a perfect fit, but thanks to the Hercules Truss Arch Building's flexibility with foundations, Stein was able to cut costs. ClearSpan's Hercules Truss Arch design is able to withstand extreme weather, and Stein has already experienced this benefit. "The steel frame is rock solid. We've had intense rain, windstorms and more, and the roof has held up without the slightest worry," he said.
Stein also appreciated decreased costs and the environment created by ClearSpan's polyethylene fabric cover. "The cover lets in ambient light, which makes it much less expensive than having to light a facility," Stein said. "Also, the shadows from the trees around the structure look extremely cool. I still have the feeling that I am outside when skating on the ramp."
ClearSpan Structure Shelters Horses and Family Fun in Florida – Equine Riding Arena
Stanley Pond Adventure farm is an outdoor entertainment facility that offers plenty of fun for children and their families. Catch and release fishing, tractor rides, super slides and horse riding are just some of attractions and activities attendees can participate in on the farm. Stanley Pond's most popular attraction is a gigantic bounce pad, where up to 50 children can bounce at once, appropriately named "Jack's Jumping Pillow."
Bob Denis, owner and operator of Stanley Pond Adventure Farm, realized that he needed to protect "Jack's Jumping Pillow" and the horses from inclement weather. Located in Astatula, Florida, just north of Orlando, the farm sees plenty of heavy rain and strong winds. Not to mention, Florida's typical climate is hot and humid. When looking online for cost-effective, protective structures Denis found ClearSpan.
After selecting a 65' wide by 80' long Hercules Truss Arch Building, Denis was impressed by the structure's benefits. The building's open end walls and natural ventilation create a healthy environment for the farm's animals. The fabric cover produces adequate shade to keep attendees and farm animals cool, while still emanating soft, natural lighting. "The open air and circulation you get from the structure is great. There's so much room for the horses, and there haven't been any mildew issues," Denis said.
The structure also lived up to Denis' expectations for weather protection. "Hurricane Irma was a direct hit through Orlando, and it blew down other structures on our property, but not our ClearSpan structure. It's just a strong structure and we've had no problems." With their high-quality frames and rip-stop fabric covers, ClearSpan structures ensure long-term durability.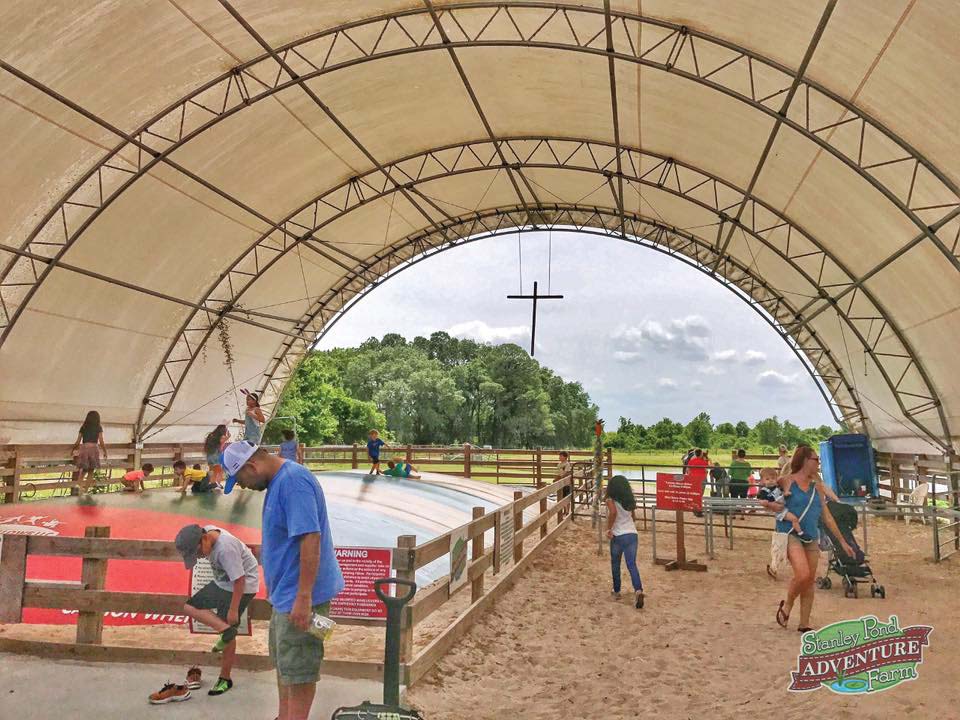 Overall, Denis is satisfied with his investment in a ClearSpan fabric structure. "It's the most economical shade structure you can get with the most strength. It's extremely low maintenance, and we haven't had to do anything since the install back in 2010," he said.
A Versatile Structure for Any Athletic & Recreational Application
ClearSpan customers have found uses for their fabric structures across many industries, earning them the nickname "Buildings of 1,000 Uses." The above testimonials reflect just a few examples of the many ways ClearSpan structures can be utilized in the athletic and recreational industries.
It's easy to see why ClearSpan fabric structures are becoming a popular choice throughout the athletic and recreation industries. No matter what your need is, a ClearSpan Truss Arch Specialist can help you design the ideal structure.
For help starting your next building project, call a Truss Arch Specialist or Request a Quote today.