Fabric Structures: An Innovative Building Solution for Repair Facilities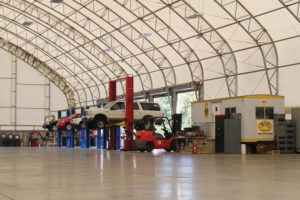 October 2, 2019
Traditional buildings have long been the go-to option for vehicle and equipment repair facilities. However, these structures can cost hundreds of thousands of dollars. Not only are they costly, but traditional structures constructed from wood and concrete have many other detriments when compared to newer, more advanced building solutions. Many owners of vehicle repair facilities have long considered these buildings to be the only option to house their business. When closely examined, the faults of traditional buildings become abundantly clear.
With a high cost per square foot, traditional buildings also have inflated construction costs. Foundations for traditional buildings require extensive excavation and sitework that raises construction costs and lengthens timelines. Traditional buildings have higher utility costs due to poor natural lighting and temperature regulation. Wooden and concrete buildings cannot be relocated or easily expanded. They are considered permanent structures and therefore have higher property taxes. With poor ventilation and increased susceptibility to pests, traditional buildings require regular maintenance.
Fortunately, there is an innovative structure that solves many of the typical problems of traditional buildings. Fabric structures are among the most versatile structures in any industry and are perfectly suited for use as vehicle and equipment repair facilities. If you're interested in opening a vehicle and equipment repair center, read below to see why a fabric structure is the right choice.
From the Ground Up – Fabric Structures Offer Versatile and Easy Construction
Fabric structures are unique in that they can be built almost anywhere. Owners of a fabric structure should choose a manufacturer who provides a wide variety of suitable foundation options, so they can freely choose their building site. More typical foundation options, like concrete blocks or slabs, pillars and pony walls are all commonly used with fabric structures. Some manufacturers design structures that can be built upon existing foundations.
Some fabric structures can also use repurposed shipping containers as a foundation. With this option, customers have a sturdy foundation and added storage. In a vehicle and equipment repair environment, this secure storage can be used for valuable tools and smaller machinery. Utilizing this additional storage can help keep the interior of the structure clean and free of clutter, which is beneficial when working in the fast-paced repair facility environment.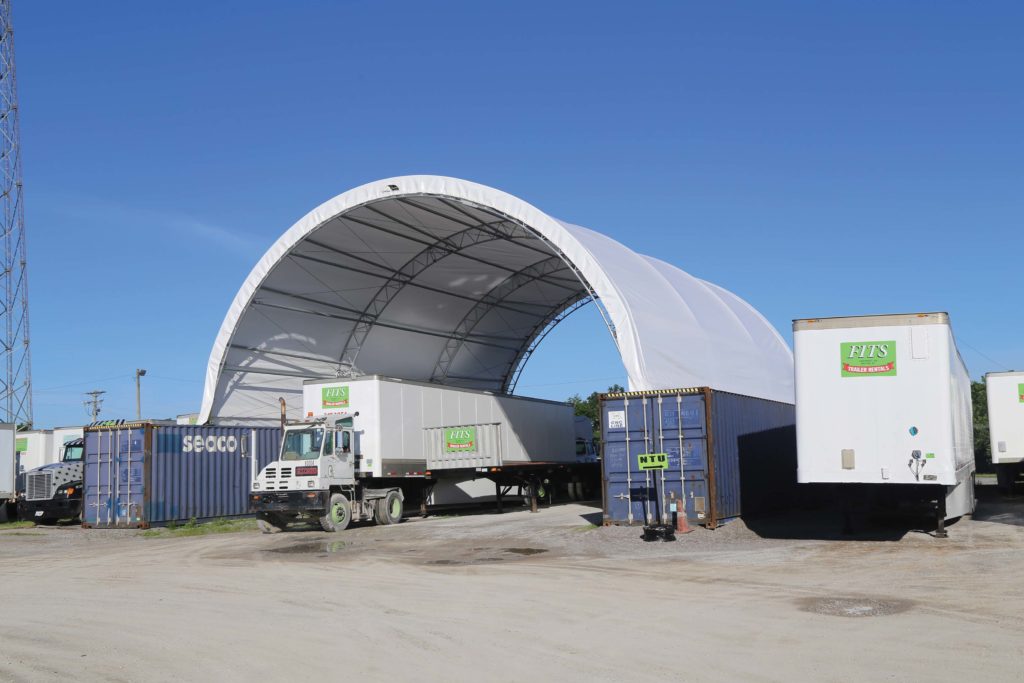 Aside from a range of foundation options, fabric structures also offer several advantages in construction over traditional buildings. While conventional buildings made with wood or concrete take weeks or months to build, most fabric structures are manufactured to be constructed quickly. By using pre-engineered building components, fabric structures can be built in a fraction of the time compared to traditional buildings. Some fabric structures require no special tools whatsoever and can be erected over the course of a few days, so a repair facility can be up and running quickly.
strong, reliable and long-lasting – clearspan's superior structures
Traditional buildings depreciate quickly, and with more regular maintenance, they can eventually become run-down. On the other hand, solidly built fabric structures are durable, offering longer lifespans than other structures. As the leading manufacturer of building solutions, ClearSpan offers the finest fabric structures, constructed with high-quality, reliable materials.
ClearSpan buildings are enclosed by ultra-durable fabric covers. Many fabric covers are woven with ripstop polyethylene or PVC, two composites designed to provide reliability and protection. Polyethylene is known for its extraordinary strength, especially under tension, making it ideal for use in fabric covers. This exceptional strength is important for the volatile environment of a repair and maintenance facility. ClearSpan's covers can reliably withstand high winds and heavy snow loads, ensuring repairs can continue in even the harshest weather conditions. Customers who choose ClearSpan also get the best warranties in the industry, with 20 years on the fabric cover.
The Hercules Truss Arch is ClearSpan's exclusive frame design. Hercules Truss Arch Building frames utilize USA-made, triple-galvanized steel. The frame is constructed from precisely cut steel tubing to reinforce its strength without adding stress to the fabric cover. The frame is corrosion resistant, making it perfect for the environment of a vehicle and equipment repair facility. ClearSpan's frames also feature an industry-leading warranty at 50 years, so customers can rest assured the structure will last their entire career.
For the repair industry, it's often necessary to expand when business is growing. With ClearSpan, customers can simply expand their operation by extending existing structures or they can build entirely new ones. ClearSpan buildings can be built up to 300' in width and at any length, so there is a ClearSpan structure for any size operation. ClearSpan also offers structural designs that are completely void of internal support posts, so a repair facility can take advantage of the maximum usable space. For additional clearance, allowing unobstructed use of lifts and other machinery, customers can opt to use a taller foundation option.
Beyond unparalleled structural integrity, ClearSpan fabric structures also offer a range of benefits specific to the repair industry.
Create the ideal repair facility – clearspan's industry advantage
The innovative design of ClearSpan fabric structures can help improve worker safety, reduce operating costs and improve the overall environment. For a vehicle and equipment repair facility, these benefits can prove invaluable.
In a repair building, a primary way to improve safety, as well as efficiency, is to ensure effective lighting. Visibility is essential for safety in an environment, such as a vehicle and equipment repair facility. When it comes to repairing vehicles, from commuter cars to commercial trucks, being able to see clearly improves efficiency and safety. ClearSpan fabric covers can be semi-translucent, so they allow abundant natural sunlight into the interior of the structure. ClearSpan's natural lighting creates a bright, inviting atmosphere that anyone would feel comfortable working in.
Not only that, but when compared to the lighting costs of traditional buildings, ClearSpan structures offer immensely reduced costs. However, supplemental lighting can still be necessary, so a Truss Arch Specialist is available to help customers design the ideal lighting system for their structure. Fluorescent light fixtures, LED lighting and portable work lights are available through ClearSpan, along with many other lighting options.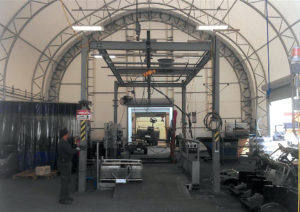 Workers in a vehicle and equipment repair facility are no strangers to dealing with gasses or vapors produced while working. While ClearSpan structures have exceptional natural ventilation capabilities, vehicle and equipment repair facilities can produce substantial odors and fumes that are not easily ventilated. Luckily, installing fans, louvers, shutters and exhausts is simple with ClearSpan buildings. A Truss Arch Specialist can help customers find the ideal ventilation system and layout to ensure the structure maintains a clean, healthy environment for occupants.
Owners of ClearSpan fabric structures experience reduced heating and cooling costs. The fabric covers used by ClearSpan are climate sensitive, so interior temperatures can be up to 20 degrees cooler in the summer and 20 degrees warmer in the winter.
ClearSpan also offers a variety of optional additions that can improve functionality and appearance. Customers needing improved visibility outside of the structure can opt to install windows into the structure. To ensure vehicles have adequate room to enter and exit the structure, ClearSpan offers a range of appropriately sized doors.
If you're ready to start building the ideal repair facility, or if you want to more about ClearSpan's building solutions, Call or Request a Quote today.